"Help if you can, and if you can't help, at least don't harm. Contribute in whatever way you like, but try to leave the world a better place than you found it."
Recently while searching for heroes in Nepal, I met Shirley Blair. It was at the Canada Day celebration at the Shangri La Hotel in Kathmandu. Other people were talking about Shirley and the amazing school she directs… so, with curiosity aroused, I made my way over to her and am so glad I did. After visiting the school in its awesome location in the Tibetan community next to the Boudha Stupa in Kathamandu Valley, it was apparent that The My Hero Project would not be complete without a story about Shirley Blair and the children of the high Himalayan Mountains.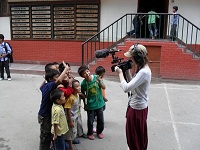 I was in Nepal filming An Inconvenient Youth, the documentary about the global youth environmental movement, with my daughter Slater. Nepal is on the front lines of climate change and already experiencing melting glaciers, erratic monsoons and flooding. As Slater's subject, Alina, teenage leader of the Nepalese Youth Climate, was busy for the day we took Shirley up on her invitation to visit her school. Monsoon season was in full swing and it was excruciatingly hot, humid and difficult with so much film equipment to carry but the minute we entered the sacred Boudha Stupa and were met by Tenzin and Migmar, two of her graduating students, a calm seemed to wash over us.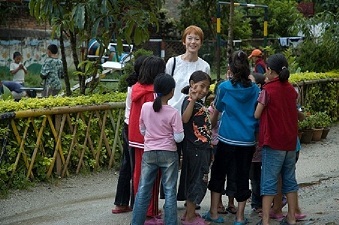 Shirley grew up in Canada and after discovering Buddhism through Thrangu Rinpoche, a Tibetan Lama and founder of the Shree Mangal Divip Boarding School (SMD) at an encounter in Victoria, she moved to Tokyo, Japan to immerse herself in Buddism. Already in Asia, she travelled to Nepal for his annual teachings. "Since SMD is only 5 minutes from Rinpoche's monastery, it became a habit to drop by SMD to see how things were going. Then Rinpoche's annual teachings schedule changed. It clashed with the Japanese school year, so I resigned and moved to Nepal to be closer to the teachings. There was no intention of being involved with the school. But I kept my eye on the school and after a while, it was plain that the school needed someone who could liase between Nepal and the rest of the world."
Can you tell MY HERO about your school and what makes it unique?
The Buddha taught, "study, contemplate, meditate"...one needs to be literate to be a Buddhist. He founded this school to help impoverished Nepali mountain kids reclaim their own language, culture and Buddhist way of life. SMD serves the poorest children in one of the 6 poorest countries in the world. We offer secular and spiritual teaching and aim to help the forgotten people of the Himalayas preserve their unique heritage. I believe we're the only school in the world that integrates nuns, monks and lay children."
Who are the kids that go to your school? how is it funded?
"Our kids come from yak country...above 10,000 feet. Their families are seasonal nomads who augment their livelihood through subsistence farming. They live as they have for centuries, in remote villages without electricity, running water, telecommunications, health care or education.
Although our kids look Tibetan, they're Nepali. SMD incorporated under the Nepali Education Authority but as a private school, so we get no help from the government. All our funding comes from sponsors overseas. Many are Thrangu Rinpoche's disciples."
What does a typical day look like for you?
"Every day is different...the common denominator is email, which takes 4 to 6 hours/day. It's the bane of my existence, but it's the lifeline for SMD.
Tuesday Aug 2 was like this...
*up @ 5:30 or 6;30 (quiet time).
*8:15 at school to see two students & a teacher escort off for a year's study at a Montessori Institute in India. They had to leave SMD for the airport by 8:30. One of the students was a no- show...she was still at the nunnery 45 minutes away. Lots of phone calls and text messages. She made it.
* 9:00 pancake breakfast for 4 of our scholarship kids, home for the summer holidays. this is a tradition. they debrief with me every year over pancakes. This year, one of the kids brought maple syrup. (note from Wendy: All pancakes in Nepal are served with honey… and for those who cannot think about pancakes without maple syrup… this was huge.)
*Noon: to work on the computer, fundraising, sourcing sponsors, writing for the website, etc. Adjusted the salary schedule for changes in staffing. Trouble-shooting via intercom. Working on visas for kids going overseas, planning itineraries/tickets (raising money for all that), & working with schools overseas replacement, counselling, etc.
* 3pm to 6pm : interviewing new teachers & briefing them about our mission, signing contracts, etc.
* 6 to 6:45 hung out with kids at the school, just talking. Best part of the day!
6:45 to 8: trying to reduce the mountain of email. Oy vey.
How important is education?
It's fundamental. for Himalayan kids, it opens doors to a brighter future and gives them the tools to help themselves & their own people. Education lifts them out of the 14th century.
How does education differ in Nepal from North America?
Education in Nepal is 80 years behind. Critical thinking, analysis and creativity are squashed by rote memorization & extreme deference to authority (caste, gender & age). One of our greatest challenges is teacher motivation.
Who is your hero and why?
"Thrangu Rinpoche. He lives what the Buddha taught, never stinting in his generosity. He's 79 years old, and travels the world 9 or 10 months of the year, to help beings.
Other heroes: HHDL, the head of our lineage, HH Karmapa, Jane Goodall and Richard Gere is a quiet hero."
What brings you joy? Makes you angry?
"Deep joy comes when SMD kids fly with their own wings & anger rises in my mind when I see unkindness.
If you had the attention of the world for 5 minutes, what would you do or say?
"What the Buddha taught, "Help if you can, and if you can't help, at least don't harm. Contribute in whatever way you like, but try to leave the world a better place than you found it."
Shirley Blair is definitely making the world a better place! Visiting her at SMD school and hanging out with the students there was a highlight of our month in Nepal. The joy and love of life and learning was so prevalent inside the walls of this oasis of calm in the middle of Kathmandu, Nepal.