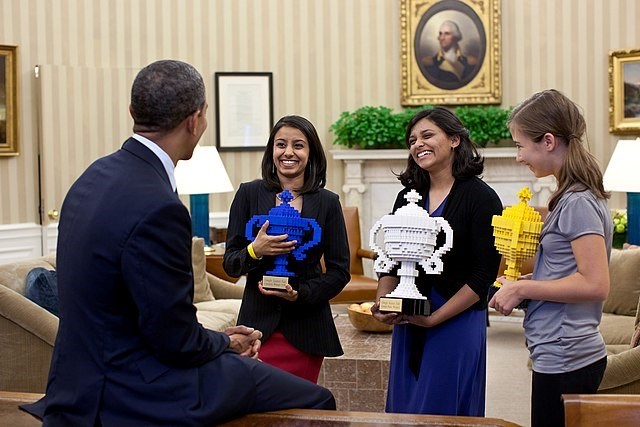 President Barack Obama congratulates Google Science Fair winners, from left, Naomi Shah, Shree Bose, and Lauren Hodge (left to right) in the Oval Office, Oct. 3, 2011.Pete Souza/Wikimedia CommonsShree Bose is an American scientist, currently working towards an MD from the Duke University School of Medicine in Durham, North Carolina, and has been included in Forbes' 2023 30 Under 30 list.
In 2011, Bose competed against over 10,000 competitors and became the Grand Prize Winner of the first inaugural Google Global Science Fair, with her research on cisplatin. Cisplatin is a chemotherapy drug, most commonly used to treat people with ovarian cancer. Through her research, conducted under Dr. Alakananda Basu at the University of North Texas Health Science Centre, Bose hoped to tackle cancer cell's increasing resistance to the drug over time. She explains on her resume, "Working with cisplatin sensitive and resistant ovarian cancer cell lines, we used Western blot procedures, immunological staining, and fluorescence activated cell sorting (FACS) to elucidate the extreme importance of AMP kinase in cisplatin resistance. This may be a potential therapeutic target in the future."[1]
Bose was just 17 years old when she became the Google Global Science Fair's first winner; she received $50,000 for her research and had a main-belt asteroid, 25178 Shreebose, named in her honor. She also presented the winning research to President Obama, the National Institutes of Health, and students across the globe. Bose gave a speech along with Lauren Hodge and Naomi Shah, the other two winners of the science fair, as a part of the TED X Women series.
Spurned by this experience, Shree Bose became a prominent advocate for the development of better STEM education and so, co-founded Piper Learning Inc., a company that creates engineering kits for children through the popular game, Minecraft. She continues to act as co-CEO. Between 2013 and 2014, she also served as a Global STEM Ambassador for Girlstart, an American non-profit that empowers girls and young women in science, technology, engineering and maths.
In May 2016, Bose graduated from Harvard University, with a BA cum laude in Molecular and Cellular Biology, before enrolling onto the Medical Scientist Training Program as an MD/PhD candidate at the Duke University School of Medicine. She recently completed her PhD on "understanding metabolic changes in ovarian cancer metastasis,"[2] and expects to complete her MD in May 2023.
Since winning the Grand Prize at the Google Science Fair, Shree Bose has received an array of special accolades; in 2015 she was featured in Glamour Magazine's list of Top Ten College Women in the Nation, in 2018 she was invited to attend the Futures Congress as a speaker by Michelle Bachelet, the President of Chile, also in 2018 she was featured in an International Advertising Campaign for Microsoft Windows PC 10.
Most recently, Shree Bose has been featured in Forbes 2023 30 Under 30 in the science category. Her contribution to not only science and medicine, but to the developing of STEM education to young people makes her more than deserving of such a recognition, and her future in medicine is already looking bright.
---
[1] Bose, Shree. Shree Bose Resume. [Online] Available https://www.shreebose.com/_files/ugd/f4b1e0_c7c58c900a2540719d1f0c898e11274e.pdf.2023.
[2] Bose, Shree. About Me. [Online] Available https://www.shreebose.com/.2023.
Page created on 2/16/2023 6:25:58 PM
Last edited 2/20/2023 10:52:15 AM