Francisk Skaryna
by
Aleska from Minsk, Belarus
There are a lot of people in Belarus who have done many great things for our country and who could be our national heroes. In many opinions, one of them is Francisk Skaryna. I have chosen him as my hero because he was one of the greatest scientists of Belarus. He was born in Polatsk in 1490 in the family of a Polatsk merchant. In 1504 he entered the university in Krakow where he got his bachelor's degree in philosophy, and in 1512 at the University of Padova, he was conferred the degree of Doctor of Medicine.
Francisk Skaryna was the man who printed the first books in Eastern Europe. The first book printed by him was the Bible. It was printed on the 6th August 1517. Francisk Skaryna wanted to make knowledge available to the people in their own language. He said, "I vow it shall become a language of books, not only of speech."
He published 23 books of the Bible in the Belarusian version of the Church Slavonic language in 1517-1519 at a printing-house founded in Prague. About 1520 he founded a printing-house in Vilnya, a historic Belarusian capital, and he published The Small Travel Book in 1522 and The Apostle in 1525. The prefaces and epilogues of his editions expounded many advanced ideas on state sovereignty, patriotism, equal rights, religious and moral freedom and responsibility, "natural law," and self-value of the human life on the earth. Skaryna believed service to society to be equal to service to God, hence he interpreted his translating, writing and publishing activities as a spiritual sacrifice to his Motherland.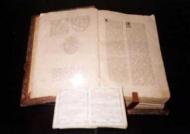 The creative work of Skaryna accounts to a great extent for the specificity of the Belarusian culture of the 16th-17th centuries; it promoted book printing, humanism and Reformation. The great citizen of Polatsk has been commemorated in various countries of the world. For instance, there is a monument to him in Polatsk, and memorial plaques in Vilnya, Krakow and Padova. Francisk Skaryna accomplished a lot for book printing and education in Eastern Europe. He died in 1551, but every person in Belarus nowadays knows his name and remembers him.
.
Page created on 5/25/2015 12:00:00 AM
Last edited 1/9/2017 9:18:48 PM
The beliefs, viewpoints and opinions expressed in this hero submission on the website are those of the author and do not necessarily reflect the beliefs, viewpoints and opinions of The MY HERO Project and its staff.