Skip Blumberg
by
Margaret Dean
Civic engagement: Adding one's voice to community conversations. Advocacy on behalf of others. Participation in public life. Encouraging other people to participate in public life. Joining in common work that promotes the well being of everyone.


~ Raise Your Voice Campaign
Another definition for civic engagement ~
Skip Blumberg!
Two years ago, Skip took a group of us from MY HERO on a tour of City Hall Park. Used to open spaces and especially the panorama of the Southern California coastline, I welcomed this respite to breathe deeply and experience being in a beautiful green space in the urban forest of NYC. If my experience even begins to come close to the feelings of the residents of Lower Manhattan, then Skip is truly a hero! He has given the city a gift – an open and historical space to reflect, be renewed and to reconnect with neighbors.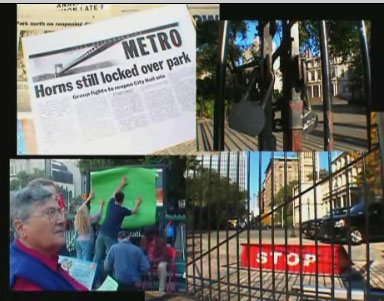 An Emmy award-winning video and TV director/producer, Skip believes in giving back to his community. His odyssey to reopen the northern section of City Hall Park began over a decade ago with a neighborhood coalition he helped to form called Friends of City Hall Park. Their mission – to help keep the park green, clean, and accessible to the community. Early on he recognized the importance of City Hall Park as a place for the community to come together. He knew the value this park would have in creating a cohesive force not only in his neighborhood, but in the city.
With a passion for civic engagement that took root in the 1960s, it was only natural for Skip to get involved in his community and advocate for the reopening of City Hall Park. His concern about the environmental impact of encroaching urbanization fueled his crusade to reopen the northern half of the park and to preserve its beauty as a historic green space and oasis from the harried life of the city. His vision was to create a space that would improve the quality of life for city residents, a vision in which the needs of the people in the community would come first.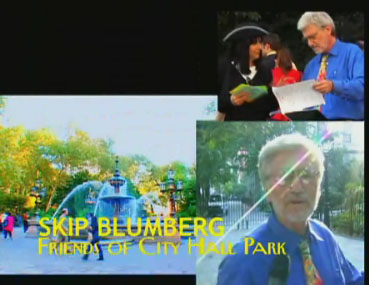 It is impossible for me to imagine Skip without a video camera in his hand, talking to people, giving them a voice, and capturing screenshots of life with humor, empathy, and a challenge to get involved. I believe Skip's knack for connecting with people and giving them confidence to express themselves in front of a camera was responsible for the support he garnered to fight City Hall to reopen a place that had played a key role in New York civic life for centuries.
A public commons in the late 17th century, City Hall Park became a public park at the beginning of the 18th century. It was the place where the public had gathered to hear the Declaration of Independence read five days after it was signed in 1776.
The northern section of the park was closed in 2000 when the courthouse was under reconstruction, and remained closed after the September 11 attacks and the shooting death of Council Member James Davis at City Hall in 2003. The locked gate to the northern half of City Hall Park was not only a constant reminder of 9/11, but closed a chapter in Lower Manhattan's vibrant history as a symbol of liberty and independence.
Skip's energetic and persistent campaign to reopen the northern half of City Hall Park succeeded against all odds. He says that while fighting City Hall was fun, "the winning is glorious." It was civic engagement at its finest – communicating to city leaders what the community cared about, and an effort that promoted the well being of everyone.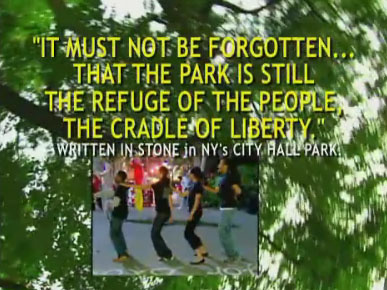 Park Celebration! VIDEO PREVIEW - USA
2 minutes

A contemporary civic celebration of the re-opening of NY's City Hall Park (on October 10, 2007). The park, 2 blocks from the Twin Towers site, had been closed since 9-11. Cameras by Bill Marpet and Blithe Riley. Event and video produced and directed by Skip Blumberg.
Page created on 8/4/2014 2:29:17 PM
Last edited 1/5/2017 8:22:14 PM
The beliefs, viewpoints and opinions expressed in this hero submission on the website are those of the author and do not necessarily reflect the beliefs, viewpoints and opinions of The MY HERO Project and its staff.