Superman, Wonder Woman, Captain America… just a few of the many superheroes young children and numerous adults continue to admire throughout life. However, a hero is not hero because of superhuman abilities they may possess. Strength, invisibility, speed, or flight does not embody a hero. Courageous actions a person accomplishes may range from small to large, however both can result in positive outcomes that benefit the community. Whether one contributes through random acts of kindness or races through dangerous war zones to ensure the well being of the people, these selfless, brave, and kind deeds exemplify a deserving figure. A worthy hero is a person that, even when facing the most difficult of tasks, rises to the occasion, while also empowering men and women across the globe to achieve similar success.
One significant figure that demonstrates great heroic characteristics is Oprah Winfrey. On January 29, 1954, in Kosciusko, Mississippi, Winfrey was born into a less fortunate home where money, shelter, and safety was a constant concern amongst her guardians. From a young age, Oprah was introduced to serious situations that quickly forced her to abandon her childhood and mature at a rapid pace. Despite these difficult events, Oprah managed to work hard and reach an unparalleled level of success. A hero must possess great perseverance towards any task that comes their way. From little labors to tremendous deeds, one must put in tremendous strength into accomplishing the task at hand. In addition, a hero needs to maintain humility while helping others achieve meaningful success. Through the empowering nature she possesses, and her astounding determination to overcome rigorous obstacles, Oprah Gail Winfrey will continue to create long lasting effects as a hero.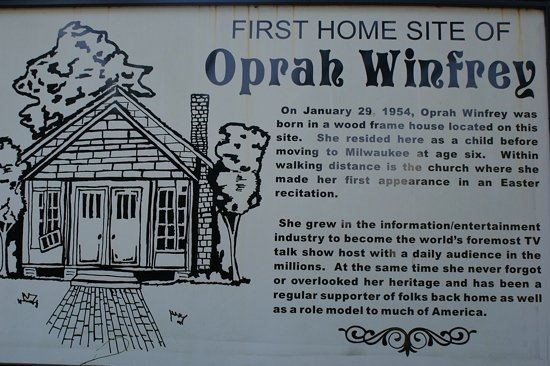 Oprah's childhood home in Kosciusko, MSTrip Advisor.com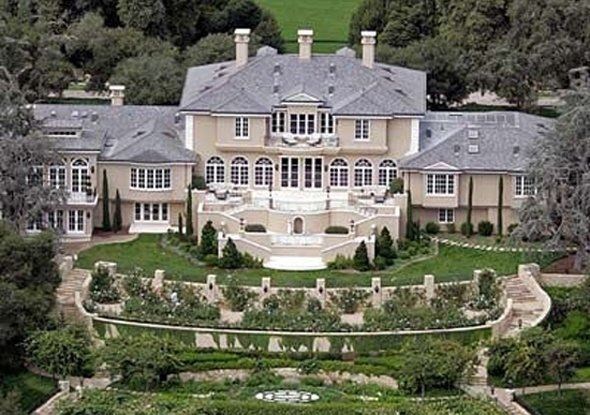 Oprah's current residence in Montecito, CABusiness Insider.comThrough the course of Oprah Winfrey's life, the color of her skin, her gender, her personal background, and her experiences would be seen as a mountain of disadvantages in society's standards; however, Winfrey focused on her goals and never quit. Even as a child, Winfrey expressed great perseverance: "The poor, urban lifestyle had its negative effect on Winfrey as a young teenager, and her problems were compounded by repeated sexual abuse, starting at age nine, by men that others in her family trusted. Her mother worked strenuously at odd jobs and did not have much time for supervision" (Encyclopedia of World Biography). Coming from a family with constant worries about finances and jobs caused young Winfrey an overwhelming amount of pain and sorrow. The stressful environment provided by her hardworking mother left Winfrey with little guidance. She came from a household that worked hard to make ends meet; however, protection and stability was not a priority. Despite these specific circumstances, Winfrey managed to pull herself up from hardships to becoming an influential figure in modern day society. She continued to strive towards success, although others around her doubted her capabilities and gave little support. Winfrey displays an abundance of dedication as she never lost faith in herself and her ability to work towards happiness and a better life. Moreover, Winfrey continues to possess a helpful personality and a strong will: "In 1991 the tragic story of a four-year-old Chicago girl's molestation and murder prompted Winfrey, a former abuse victim, to propose federal child protection legislation designed to keep nationwide records on convicted abusers… Winfrey pursued a ruling that would guarantee strict sentencing of individuals convicted of child abuse. The result was a bill signed by President Clinton that allows child care providers to check the background of prospective employees" (Business Leader Profiles for Students). It is well known that Oprah Winfrey endured sexual abuse beginning at the age of nine. Numerous times, Oprah spoke publicly about the negative impact these events had on her. By doing so, she is able to help other victims cope and come to terms with these occurrences in their lives. However, Winfrey goes above and beyond to provide a system that tracks former predators to ensure the wellbeing and safety of innocent civilians. She overcame her past and now uses her own story, voice, and platform to positively impact and benefit those in need. Winfrey's determination is apparent as she works hard to ensure that nobody will need to endure the painful abuse she dealt with as a child. After achieving the success she longed for in her youth, Winfrey now uses her fame to direct those in need, on a path of dedication and prosperity. Once again, Winfrey's persistence is shown as she spoke about common issues the less fortunate faced on a daily basis: "So I want tonight to express gratitude to all the women who have endured years of abuse and assault. Because they, like my mother, had children to feed, bills to pay, and dreams to pursue" (Oprah Winfrey). Winfrey addresses the constant concerns her family, and many others faced growing up. Decades later, Oprah Winfrey has come to terms with her past and uses her voice to share about topics that improve society. She speaks about these challenges she faced to inspire women and men, to not let anything stand in their path towards success. Winfrey has already achieved great adoration and success. However, she maintains humility and determination to improve the world for the better. Winfrey overcame the stereotypes, abuse, and poverty of her past and continues to improve society through her lifestyle. Her courage to overcome these obstacles show the outstanding and unique character that Oprah Winfrey possesses as a hero.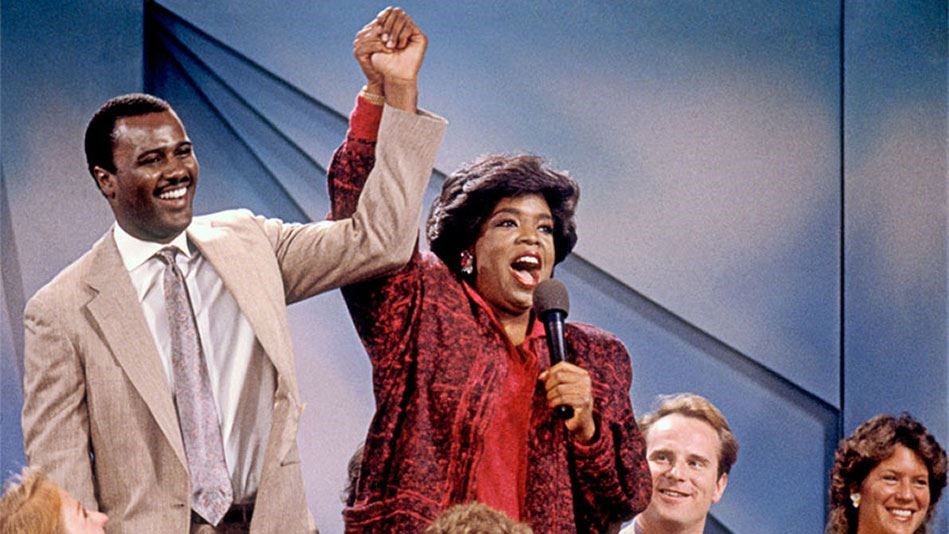 Oprah hosting one of the first episodes of her talk show.oprah.comTo this day, Winfrey's casual demeanor allows her to passionately connect with her audience while inspiring them to achieve greatness in their lives. Winfrey relates with her viewers and uses her genuine personality to spread honesty and strength: "She holds interviewee's hands during difficult discussions and often breaks into tears right along with them. One show's topic was incest, during which she revealed to her audience she had been raped by a cousin when she was nine years old" (Encyclopedia of World Biography). Everyone feels insecure at certain times, especially towards personal topics that cause discomfort. Speaking with sincerity and allowing herself to be put into a vulnerable situation, Winfrey openly discusses the incestual rape she endured as a minor. As a result of this courage, Oprah expresses a comforting mood that gives her the ability to create a familiar connection between her and her viewers. By forming an unspoken relationship between listeners and herself, she is more truthful about the difficult experiences she faced during her childhood. Winfrey motivates each individual to believe in the unique power they contain to overcome any future challenges. Winfrey uses her position to empower all individuals in society to improve their lives. In addition, with all the shows and public gatherings she took part in, Winfrey made it her duty to stay modest and true to herself: "In spite of Winfrey's perceived 'shortcomings,' the ratings for People Are Talking continued to increase and so did Winfrey's size. By the time she left Baltimore for WLS-TV's AM Chicago in 1984, she weighed 160 pounds. After her experience with the broadcasting executives in Baltimore, Winfrey resolved not to let anyone manipulate her appearance or personality again" (Contemporary Black Biography). Over a long period of time, Winfrey struggled with her weight and outward image. Producers and TV Specialists would involve themselves in Winfrey's personal maintenance and appearance. Winfrey would be put on strict and unbeneficial diets that quickly helped her lose weight through starvation. In addition, she was partly bald after stylists who disapproved of her natural curly hair tried to straighten it. Again, the strength Oprah Winfrey has to address these private matters, especially on television, showcases the bravery she possesses. As a result of this bravery, viewers in the audience are inspired to be true to their individuality, never think less of themselves, and never feel the need to change for any person. As Winfrey expresses the idea that everyone was made to be unique and one of a kind, she empowers listeners to be secure and confident with their bodies and minds. Similarly, inspiring messages are spread through her accomplishments: "America's first lady of talk shows, Oprah Gail Winfrey (born 1954), is well known for surpassing her competition to become the most watched daytime show host on television. Her natural style with guests and audiences on the Oprah Winfrey Show earned her widespread adoration, as well as her own production company" (Encyclopedia of World Biography). By becoming the first female talk show host, Oprah Winfrey surpassed many boundaries placed on women during this time. Winfrey was given a job no female has ever been granted, thus expressing the idea that women have equal voice, power, strength, and dedication as any man. As a result of this great accomplishment, Oprah Winfrey encourages women not to be afraid of achieving unfamiliar success. Winfrey inspires the nation as a whole, to look past gender stereotypes and cooperate for the greater good of the human population. She is an amazing woman who is unafraid to show her private feelings, character, and past events to help struggling men and women conquer their fears, therefore displaying marvelous heroism.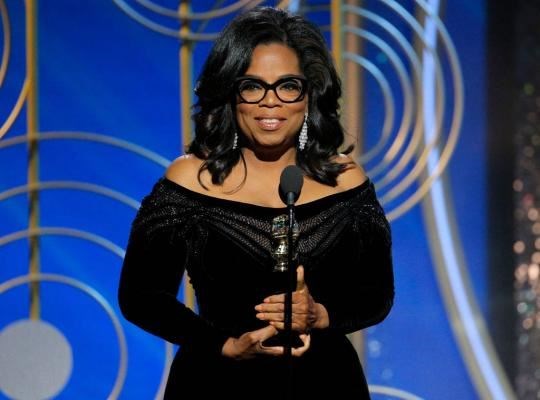 Oprah Winfrey accepts the Cecil B. DeMille Award at the 2018 Golden Globes.kfmradio.comAs a result of the inspiring and empathetic personality she possesses, and her overwhelming dedication towards conquering challenging tasks, Oprah Gail Winfrey shall go on to positively impact the global population as a deserving hero. Overall, Winfrey is a heroic woman with no apparent limitations and uses her personal story to encourage those around the world to work towards their own goals. Despite the various obstacles that stood in the way of her success, Winfrey never made excuses as to why success was unachievable. Instead she took it as a challenge and motivated herself to work towards a better life. During her speech at the 2018 Golden Globe Awards, Oprah exclaimed, "A new day is on the horizon. And when that new day finally dawns, it will be because of magnificent women and some pretty phenomenal men" (Oprah Winfrey). Winfrey is an inspiring figure that pushes past certain boundaries and encourages men and women of all ages, including myself, to passionately work towards our goals until they have been accomplished. She sees the bright side of every situation and encourages me to focus on the positive things life brings our way. Similar to Superman, Wonder Woman, and Captain America, Oprah Winfrey is adored by countless people of all ages, not due to super strength, invisibility, speed, or flight, but through the significant acts of kindness and motivation she displays throughout her daily life.
Works Cited
"Oprah Gail Winfrey." Encyclopedia of World Biography, Gale, 1998. Biography in Context, https://link.galegroup.com/apps/doc/K1631007029/BIC1?u=powa9245&xid=efa11d19. Accessed 8 Jan. 2018.
"Oprah Winfrey." Business Leader Profiles for Students, edited by Sheila Dow and Jaime E. Noce, vol. 1, Gale, 1999. Biography in Context, https://link.galegroup.com/apps/doc/K1604000238/BIC1?u=powa9245&xid=f86205a7. Accessed 8 Jan. 2018.
"Oprah Winfrey." Contemporary Black Biography, vol. 61, Gale, 2007. Biography in Context, https://link.galegroup.com/apps/doc/K1606003719/BIC1?u=powa9245&xid=397c3b3f. Accessed 8 Jan. 2018.
WashingtonPost. "Oprah Winfrey's Golden Globes Speech, Annotated." Youtube, 7 Jan. 2018, www.youtube.com/watch?v=CKuKc7KTt9g.