Tad Agoglia
by
Amanda Molinaro from Irvine
"The greatest hour of need many Americans face in their lifetime occurs in the immediate wake of a devastating storm that destroys their home, community and world as they've known it." - Agoglia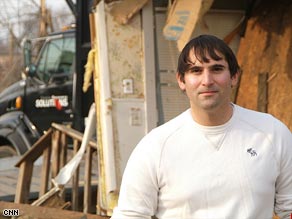 "The most critical phase of a disaster is the first few days." This time period is when people are most desperately in need of food, water, and medical attention. This knowledge is what led Tad Agoglia to start The First Response Team of America, a self-funded, nonprofit, 4-man cleanup crew that provides immediate emergency aid to areas hit by disasters, completely free of charge. Agoglia's company, Disaster Recovery Solutions, was hired in the past to clean up during the recovery stage of natural disasters. During this time, Agoglia noticed that days, sometimes weeks, would pass before local authorities could establish rescue operations. After a natural disaster, local rescue officials are often crippled by a loss of resources, or are unable to reach the town due to road blockages or flooding. If a house is blown into the road, or if half of the town is underwater, officials have to contract a company and wait for them to come and clear the way before delivering aid to the people trapped inside the town.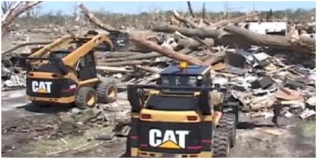 Agoglia says he had a crazy idea to deploy one of his cranes immediately after a disaster to help clear the roads and help the rescue organizations gain access to the area. When he saw the need to clear roads for rescue officials, he decided that America needed an immediate response team that was free from bureaucratic restraint. Agoglia gathered together a small crew, and with over $1,000,000 of equipment began responding to natural disasters. He and his crew track storms and other disasters, and if they determine that the need is severe they deploy their equipment immediately. They use caterpillar loaders, grapple trucks, generators, water pumps, satellite communication systems, off-road scouting vehicles, and hovercrafts. When they arrive at a disaster site, they clear the roads of debris, pump out flooded water, help search for people trapped under debris, and use generators to power hospitals and government buildings, for free.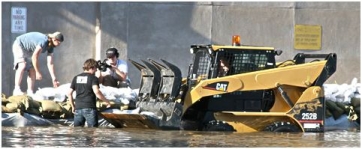 When asked how he is able to fund his rescue operations, Agoglia replies, "For 18 years all I did was work and save money. And then when I saw what happens when disasters hit, I took all that money and put it into this." Agoglia used to have an apartment, but he was away so often that he took those funds and used it for his equipment. His team is on the road 12 months of the year, responding to disasters on both the east and west coast. Since 2007, his team has responded to 15 disasters, helping thousands of people. The First Response Team of America believes that "the real heroes in disaster response are the local emergency and government officials." Their mission is to be an immediate source of help and hope for the local officials and leaders, "helping heroes be heroes."
Page created on 12/30/2008 12:00:00 AM
Last edited 1/6/2017 6:19:02 PM
The beliefs, viewpoints and opinions expressed in this hero submission on the website are those of the author and do not necessarily reflect the beliefs, viewpoints and opinions of The MY HERO Project and its staff.