Teach Twice shares stories with the world
by Molly Driscoll
Staff writer of The Christian Science Monitor

Teach Twice's title echoes its dual purposes: Provide parents with great stories to read to children, and provide financial aid to schools and students in developing countries.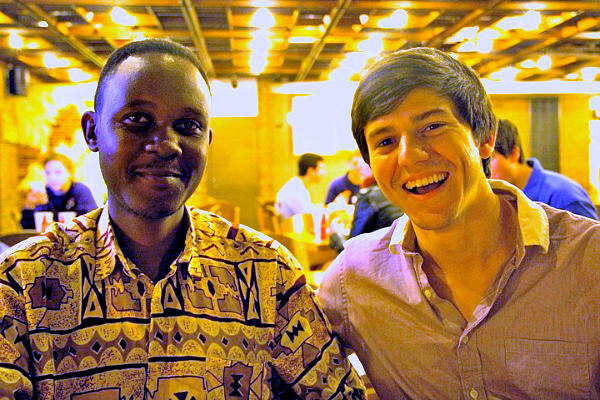 Kenneth Khoo
There's nothing like the power of a good story, says Trevor Burbank, to cross the cultural divides between countries.

Mr. Burbank is cofounder and CEO of Teach Twice, a social venture that aims to publish children's stories from around the world in an effort to spread traditions and tales across the globe. A portion (currently 35 percent) of the profits from the books goes to help schools and students in the country where the story originates.

Teach Twice's title echoes the venture's dual purposes: It provide parents with great stories to read to their children, and it provides financial support to schools and students in the developing country from which the book came. Ideally, both the author and illustrator live in the country where the narrative originated.

"Our real point is sharing the culture and the story," says Burbank, who graduated from Vanderbilt University this spring.

Teach Twice was created when Burbank's cofounder, Teach Twice's chief operating officer and fellow Vanderbilt student Jason Wen, approached Burbank about it. Burbank was able to bring his experience working for community-development projects, such as one that assists orphans in Africa, to the venture. The two developed the idea in December 2010 and January 2011.

Burbank and Wen then assembled a group of 12 Vanderbilt undergraduate and graduate students to get Teach Twice off the ground. The team won third place at a Vanderbilt Entrepreneur Society competition in which they were the only group using undergraduate students and the only nonprofit group, Burbank says.

Along with third place, they received a $250 prize. "It wasn't a huge amount, but it was the first one we won, so it was exciting," Burbank says.

They later placed as semifinalists at a Dell Social Innovation competition, receiving $5,000 in prize money. Through a combination of the money they'd won, grants, donations, and money raised through the fundraising website Kickstarter, Teach Twice was able to publish its first title, "My Precious Name," in March.

"My Precious Name" tells the story of a Ugandan boy who learns the importance of his name. It was written by Eva Baronga, with illustrations by Sam Muganga. Teach Twice found the story through its East Africa regional director, Paul Kabanda. Burbank had met Mr. Kabanda when he traveled to Uganda on a trip sponsored by his church.

Kabanda contacted the Ugandan Children's Writers and Illustrators Association to find a local team to write the book. Money from the book's sales will go into the construction of a school in Nakikungube, Uganda.

Members of Teach Twice find the story, market it, and design the narrative, Burbank says. The printing is handled by Worzalla, a book manufacturer based in Stevens Point, Wis.

Printing books isn't Burbank's area of expertise, so working with Worzalla was invaluable, he says. "They were really good about holding my hand and helping me understand the details."

The story for Teach Twice's next book, "Tall Enough," comes from South Africa and will be published in October.

Currently, Teach Twice books are only sold through its website, TeachTwice.org, and at business presentations. Teach Twice hopes to have its titles available on Amazon within the next month, Burbank says.

The social venture also wants to continue working on another project, titled Teach One, in which volunteers teach and mentor middle and high school students in the United States. Teach One will launch at five colleges this year, Burbank says, with the hope that additional chapters will be started in other communities.

Teach Twice expects to continue publishing children's titles, Burbank says, as well as expand to include photography and fiction books for all ages.

"After that, we really want to take off," he says.
Page created on 10/29/2012 12:00:00 AM
Last edited 1/5/2017 8:38:19 PM
The beliefs, viewpoints and opinions expressed in this hero submission on the website are those of the author and do not necessarily reflect the beliefs, viewpoints and opinions of The MY HERO Project and its staff.