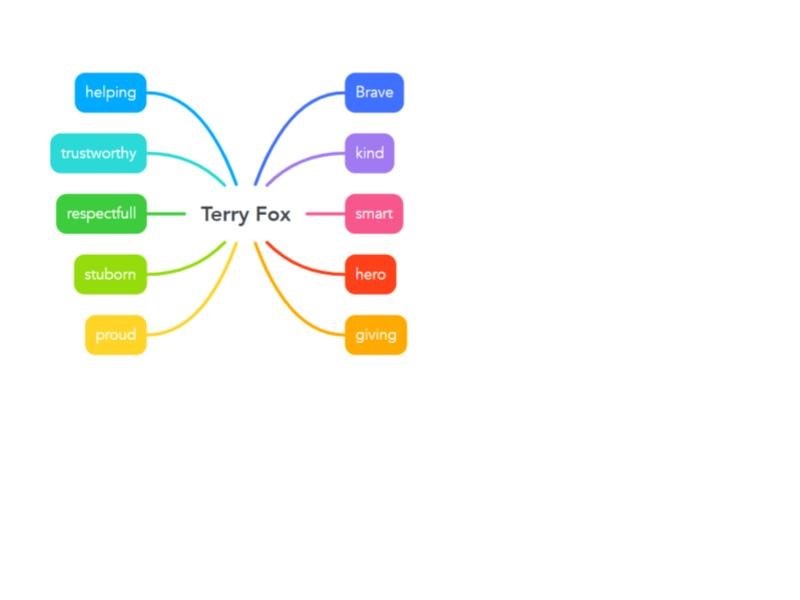 Terry Fox web by Mackenzie By Mackenzie
I chose Terry Fox as my hero because he never gave up and always spread hope worldwide. The biography book Terry Fox; A Story Of Hope, written by Maxine Trottier, is 35 pages long, was first published in 2005, then revised in 2010 with updated photographs and information on Terry Fox's legacy. The Biography's timeline began at his birth, through his Marathon of Hope on April 12. 1980 at 18 and ended his run on September 1, 1980, due to his cancer returning and spreading to his lungs. The book ended with Terry's parents at the 2010 Winter Olympics, where they received the Vancouver 2010 Terry Fox Award. Join me as we talk about the wonders of Terry Fox.

Terry was born on July 28, 1958, in Winnipeg, Manitoba, then moved to Surrey, British Columbia, in 1968 and grew up in Port Coquitlam. Terry was one of four children from his parents, Betty and Rolland Fox. Fred was his older brother, with two younger siblings named Judith and Darrel. For hours, Terry, his friends, and his siblings played on a big field behind his house. Terry spent his summers picking blueberries and saving money to buy clothing, school supplies, and a bicycle. Terry went to Mary Hill Jr. Secondary School in Port Coquitlam,BC,when he was younger, followed by Simon Fraser University. Terry's interests were kinesiology, basketball, rugby, and soccer.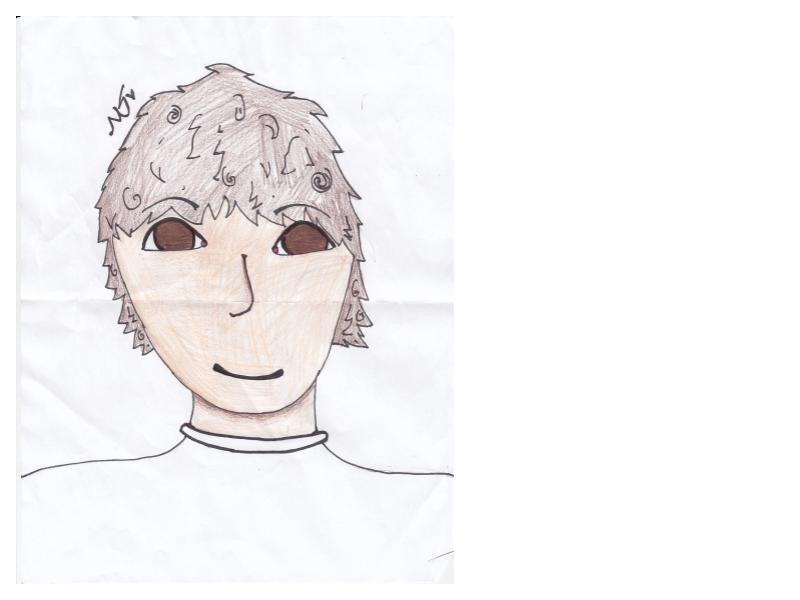 Terry Fox by Mackenzie Mackenzie
Terry grew up with a big passion for basketball and various outdoor games. In 9th grade, he practiced before and after school and during the summer, trying to make the basketball team for his school. Next Fall, all of the work had paid off. Terry had been chosen as a 10th-grade High School Basketball Team member. Later after, he and his friend, Doug, graduated and shared the Athlete of the Year Award. In 1977 when Terry was 18, he started to feel pain in his right leg. He ignored it and continued to play basketball and all sorts of sports. A few months later, the pain was unbearable, and Terry's father took him to the hospital. Unfortunately, Terry and his family found out he was diagnosed with osteogenic sarcoma (bone cancer) and was forced to get his leg amputated 6 inches above the knee. Terry's hopes and dreams were shattered, with no hope left over. Terry was told that his right leg must be amputated six days later. The night before his leg amputation, he read an article from The Runners World about Dick Traum, who ran the New York City Marathon with a prosthetic leg. Terry then decided to run across Canada to raise money for cancer research. Terry wanted to be a P.E. teacher, but after discovering he had cancer, he didn't think he could be one, but new ideas and challenges exploded in his mind. After 16 horrible months of chemotherapy, Terry was lost. It wasn't until Rick Hansen, who has paraplegia, encouraged Terry to participate in wheelchair basketball, where he later received the 1978 Canadian Championship Trophy on behalf of his team, the Vancouver Cablecars.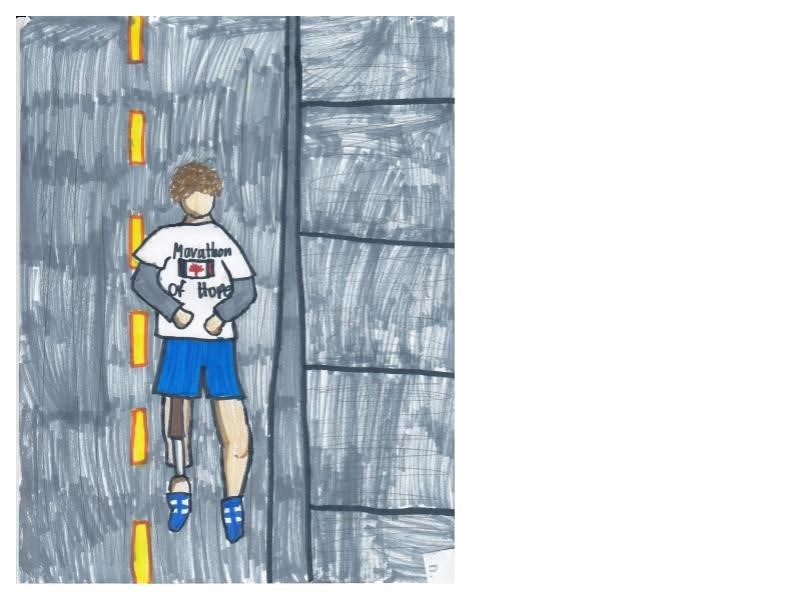 Terry Fox action picture by Mackenzie Mackenzie
Terry has faced many challenges throughout his life, such as a leg amputation within six days of finding out about his cancer diagnosis, chemotherapy, and learning how to walk with a prosthetic leg. Even with all the challenges, Terry remained strong and dedicated to his dreams. Terry trained every day, practicing how to walk and run through all types of terrain. Overall, he trained 5,084 km to prepare for the Marathon of Hope. To put that in perspective, Cochrane, Alberta to New York City, NY is 3,297 km! If it wasn't for Dick Traum, there may not have been the marathon or anything like it. You could say, Dick Traum was Terry's angel of hope. Terry loved to do all sorts of things, wheelchair basketball, practice, go on walks, yet Terry still had not done one step towards his Marathon of Hope, even though he wouldn't give up the feeling of starting. He was so stubborn that he wouldn't begin the Marathon of Hope until he knew he could run the distance from coast to coast. On the chilly morning of April 12, 1980 Terry stepped into the Atlantic Ocean off the shore of St. John's, NewFoundland.
the distance from coast to coast. On the chilly morning of April 12, 1980 Terry stepped into the Atlantic Ocean off the shore of St. John's, NewFoundland.
He brought two glass jugs to collect the seawater. He planned to keep one jar and the other to be poured into the Pacific Ocean upon completion of his marathon. Before he could get the second jug filled, the waves washed it away!
To this day, Terry's parents Rolly and Betty Fox, have the jug safely displayed in their home. Terry has accomplished many things throughout his life, starting with the Athlete of The Year Award in Grade 12, the Canadian Championship Trophy for wheelchair basketball in 1978, and the Vancouver 2010 Terry Fox Award presented at the Winter Olympics. Every year, Simon Fraser University recognizes an SFU student who demonstrates courage against diversity and has been a role model since Terry Fox won in 1980.
As you can see, Terry encompassed many qualities, such as courage, strength, and determination, all the while keeping a smile on his face. He only wanted to bring light to children's possibilities through cancer research. To this day, Terry and his foundation have raised more than $850 million for the movement for cancer research.
After reading about Terry Fox, I felt happy that he always looked on the bright side, even with extreme challenges ahead. I did not feel disappointed with Terry because he did what he wanted in his heart. Even though cancer came back during the Marathon of Hope, he knew he wouldn't make it, so he continued even though he was sick. If I were to meet Terry Fox, I would have many questions, such as: why did you not stop when you knew cancer had spread? Why did you do a Marathon instead of a regular charity? Why did you run a marathon and not become a P.E. teacher? I wouldn't want to be Terry Fox's child because he was a child when he died. Terry was diagnosed at 18 years old and passed away at 22 years. There would not have been enough time to build a relationship as a father in between training, University, and sports. It would be hard living without a dad, especially with a considerable legacy over your head, living through the memories of others.

Readers may enjoy the book Terry Fox; A Story Of Hope by Maxine Trottier because it shares precious information about a young man's journey that changed Canadian history and pioneered how we raise money for cancer research. I am happy that I chose this book because it helped me understand Terry Fox's legacy and why we still celebrate him today by participating in the Terry Fox Run. Terry Fox is someone to look up to as a role model because he inspires action and is dedicated to his vision. As Terry said it best: "Nobody is ever going to call me a quitter." - Terry Fox. (pg.9)
Reference Web Links:
Page created on 3/2/2023 8:44:14 PM
Last edited 3/5/2023 3:12:54 PM