For Immediate Release
Contact:
Abigail Richardson
Editor and Staff Writer
07366377451
[email protected]
Five students from Catmose College, Oakham, Rutland have been honoured in the MY HERO Mattie J.T. Stepanek Poetry Contest.
The educational charity based in California USA, The MY HERO Project, hosts the Mattie J.T. Stepanek Poetry Contest annually in honour of 'heartsong' poet and peace activist Mattie Stepanek. Before Mattie passed away, just before his 14th birthday, he had become a New York Times Bestselling author and a celebrated guest on Oprah, Good Morning America, and the Muscular Dystrophy Association's (MDA) Telethon. His mother, Jeni Stepanek, continues his legacy with the Mattie J.T. Stepanek Foundation and is the judge for the MY HERO poetry contest.
The Poetry Contest seeks 'heartsongs' about heroes working for peace, human rights and the environment. "A heartsong," Mattie explained, "doesn't have to be a song. It can be your message, your feeling—some people might even call it a conscience. Even though that's not really what it is. It's what you feel you need to do."
The 2022 MY HERO contest took place this summer in Laguna Beach, Los Angeles via the online platform. On hearing about the contest, Judith Green, English Teacher at Catmose College and Harrington Sixth Form, invited some of her students to write their own 'heartsong' and asked the students to submit their poems to the student-friendly, commercial-free educational site www.myhero.com.
Even though there were many participants from around the globe, all of the Catmose students were chosen as finalists. But four poems really stood out. Chiara Reedha came joint first in the Middle School category with her acrostic poem 'A Great Hero' and commendations were awarded to Isaac Mackinnon, Ned Evans and Hannah Wilcox and Nathan Harper.
Said Jeni Stepanek, "These students from the UK have written beautiful poems addressing the human condition and the necessity for all people living on this planet to keep faith and hope in mankind. With these poems, the spirit of Mattie Stepanek's 'heartsongs' lives on."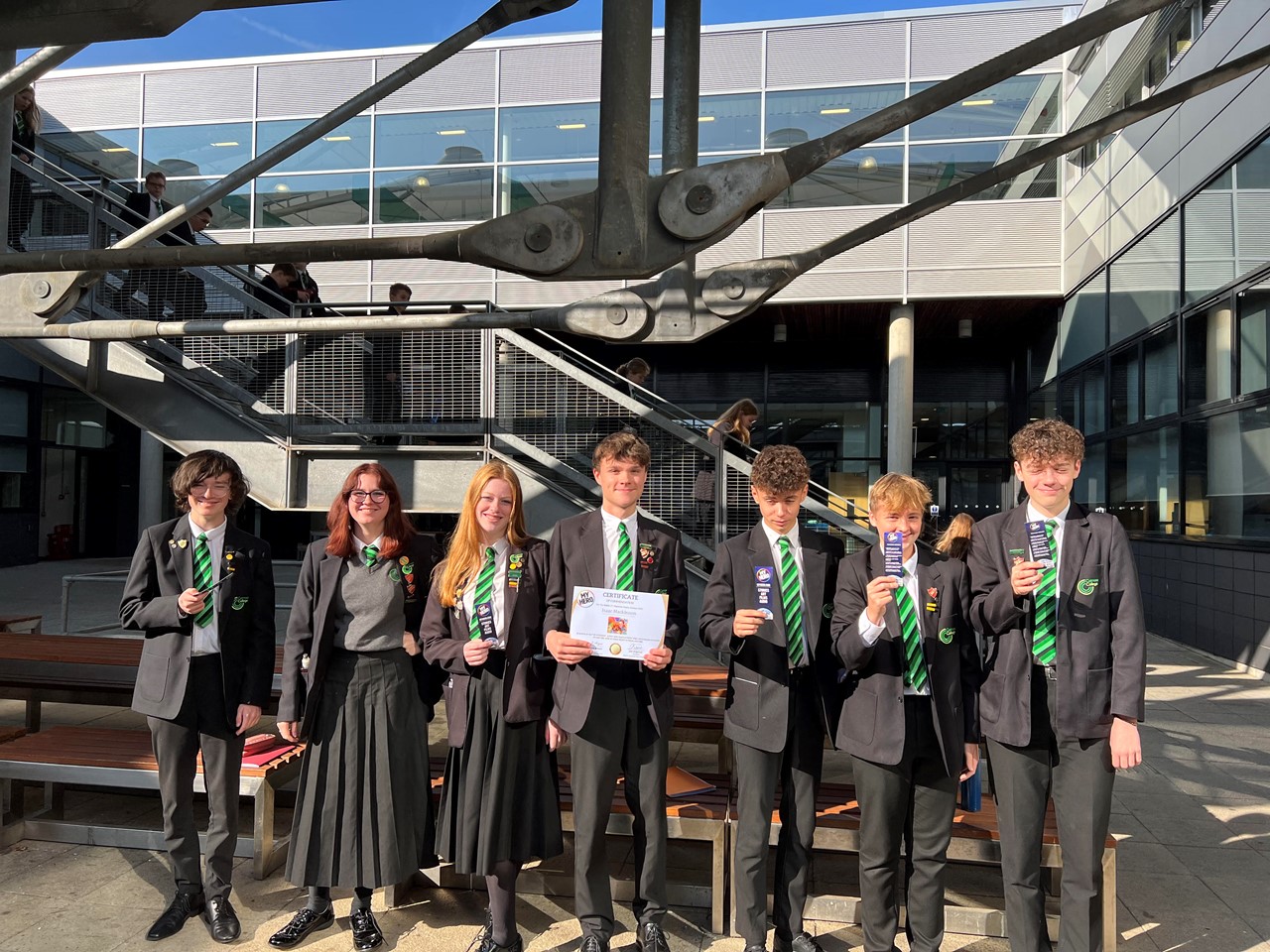 Catmose College Year 11Catmose College
Year 11 Student finalists: Ned Evans, Hope Boud Self, Tara Slattery, Isaac Mc Kinnon, Harry Cryer, Christian Blythin, Alexander Tradewell
Said Mrs Green:
When an ex-colleague introduced me to MY HERO, and specifically their poetry competition in honour of Mattie Stepanek, I was enthusiastic to share it with my department and my students. It transpired that the prospect of writing a poem about a hero was too much for our students to resist. 30 or so took on the challenge and voluntarily participated, writing about heroes-from their parents to Desmond Tutu. They chose to complete this activity in their own time, and we were delighted to observe the enthusiasm and the range of subjects that inspired them, and which revealed the desire to thank their heroes.
Knowing the busy schedule of our students' timetables, we were thrilled that all of those who participated were considered of a standard worthy of a bookmark to record their involvement. Special mentions were given to Chiara Reedha, Nathan Harper, Isaac McKinnon and Ned Evans. They were inspired by MY HERO's ambassador Mattie Stepanek to celebrate a hero of their own. What is thrilling about this is the way that poetry links young people across continents and time: Mattie was a young man from the United States who died at a young age, but not before inspiring a nation.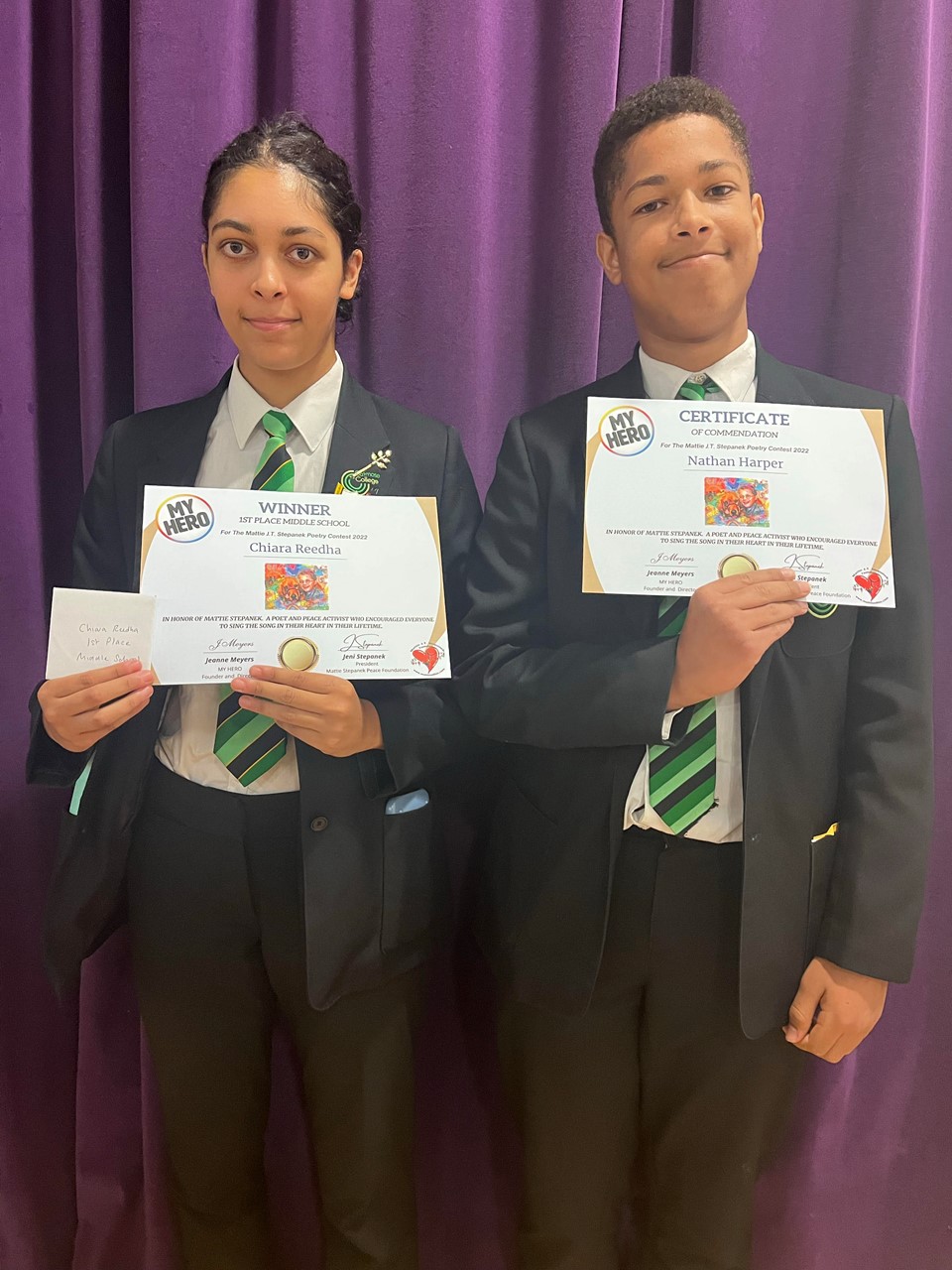 Catmose CollegeChiara and Nathan Year 9Chiara Reedha did particularly well as she won in the Intermediate Section, writing a thoughtful piece, showing talent and a sensitivity to the power of poetry to make us see afresh. Her poem displays extreme talent and an incredible individual voice, both of which characterize everything that this young student does on a day-to-day basis. We would like to thank MY HERO for encouraging our students and students around the world not only to celebrate the lives of their heroes but to also believe in themselves.
The poem 'Their Stones' by finalist Ned Evans will also appear prominently on the MY HERO website in October in honor of activist Marsha P. Johnson.
The MY HERO Mattie J.T. Stepanek Poetry Award Contest is unique in that it is open to poets, artists, filmmakers, and spoken word artists. To find out more go to: www.myhero.com/poetry-contest. Local musician Paul McClure also came joint first in the adult section with his song, "I Love You in The Morning."
To see all the finalists go to: www.myhero.com/the-mattie-jt-stepanek-poetry-award-2022-winners
Ends
…………………………………………………………………………………………………………………………
For more information on MY HERO visit the website: myhero.com
For more information about the poetry contest go to: www.myhero.com/poetry-contest
Page created on 10/1/2022 12:22:03 PM
Last edited 10/3/2022 4:53:47 PM