Resources for Younger Elementary Students
Share the following short animated films with younger elementary students to introduce them to two of the global Sustainable Development Goals: #6 Clean Water and Sanitation and #14 Life Below Water. A downloadable coloring book is included.
Students watch this animated video "The Ocean We Want To Know," which takes them on an adventure around the world to some of the planet's most exotic ocean locations, singing a song of ocean celebration to the tune of Gotye's "Somebody That I Used To Know." The story presents stunning facts about the ocean in a fun and unique way, speaking to a young audience.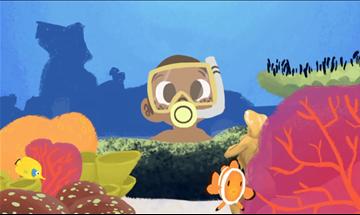 The Ocean We Want To Know
One World One Ocean's new animated video celebrates the wonders of the ocean with stunning facts about our connection to the planet's lifeline.
When someone pollutes the ocean floor, it's up to a group of dedicated ocean dwellers to set things right. An ocean crab takes action when the seafloor is covered in plastic, and along the way the crab helps other sea animals that are affected by the plastic.
Mouk and Chavapa are in the Atacama Desert in Chile. As they help their friend Pepito repair a leak, they discover the clever cloud-catcher system which provides water for people living in the desert. Part of a series produced by Millimages.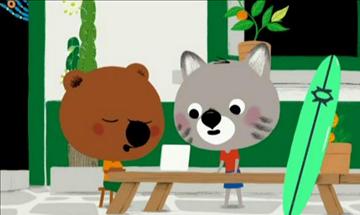 Mouk - The Cloud Catcher
Mouk and Chavapa are in the Atacama Desert in Chile. Part of a series produced by Millimages.
127 Marine Conservation zones is an animated short film that demonstrates how designating areas in the ocean as a Marine Conservation Zone is beneficial to sea life.
Download and print this coloring and activity book to extend elementary student learning about the importance of Kelp as a habitat for marine life.
Resources for Upper Elementary Students
At age 8, Milo noticed that whenever he ordered a drink in a restaurant, it would come with a straw. This seemed like a huge waste because he did not usually need a straw. He was concerned about the millions of straws that pollute waterways and harm ocean creatures. So Milo went on a campaign in his hometown to have restaurants ask if someone wanted a straw. He has convinced restaurants to go "straw-free" and has addressed Congress on the matter.
One 11-year-old girl can make a difference—as budding ornithologist, author, and artist Olivia Bouler has proven. She raised $200,000 for the Gulf oil spill recovery. Olivia sent out 500 of her bird paintings to people who donated to Gulf recovery, which were then published in her book Olivia's Birds: Saving the Gulf.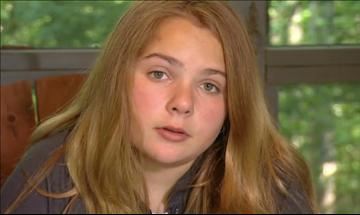 Olivia's Birds and the Oil Spill
Young Olivia loves birds, and creates over 500 paintings of her feathered friends to raise funds for Audubon's bird rescue.
A look at how plastic is ruining the ocean with ideas of how and why we should help save our water. Follow Captain Charles Moore in his ocean journey. Plastic pollution is threatening the oceans and marine life.
How can you cut down on the plastic you and your family and community uses?
Who is working towards a solution for the pollution from plastic the ocean is facing?
As a young girl, Slater had the opportunity to meet and interview her hero marine conservationist Jean-Michel Cousteau. Today Slater is an environmental filmmaker and credits this experience as her starting point in developing her passion for filmmaking and taking care of the environment.
Marine biologist Nancy Caruso, also known as The Kelp Lady, led the move to replant Orange County's kelp forest. She's involved in many different causes aimed at replenishing sea life along California's coast.
Student Suggested Activity: Students create their own kelp forest using the art medium of their choice and write a few sentences or a paragraph about your poster. Submit to MY HERO through the Create Program. Students may want to download the Laguna Bluebelt Coloring and Activity Book.
Ecological Interactions and Biodiversity of Kelp Forests Lesson Plan: Grades 3-5 (for additional activities related to kelp forest and why is it important for ocean health)
Read the story Trash Heroes about an international, volunteer-led organization that mobilizes youth in over 12 countries to clean and prevent plastic waste in their communities.
Are there any volunteers in your community who work to remove plastic waste in their communities, especially plastic pollution in waterways? What can you do?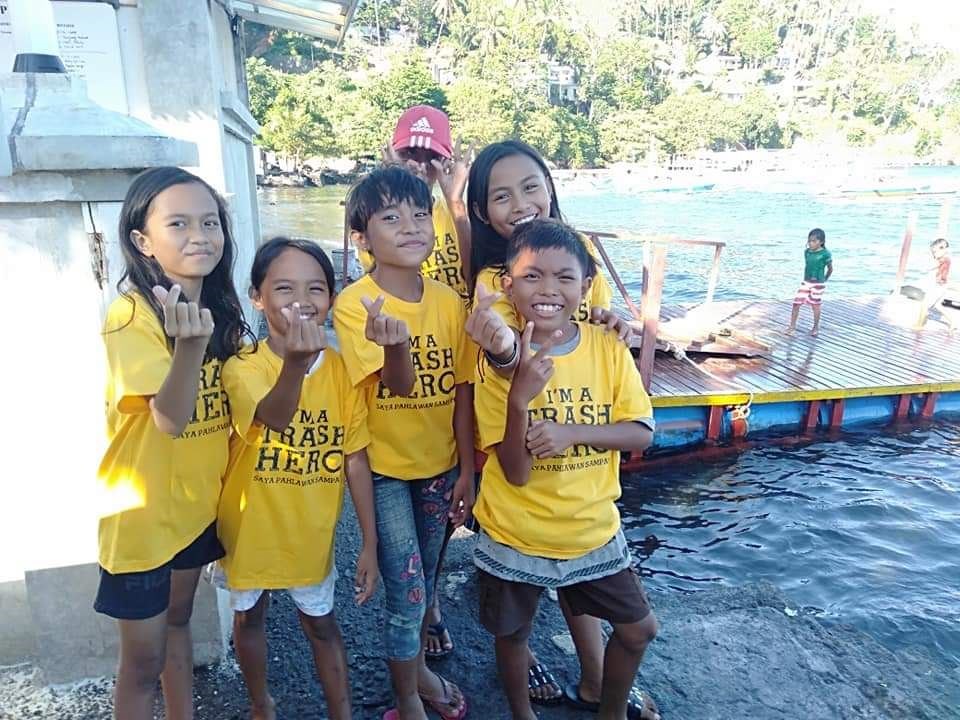 Trash Heroes
Trash Heroes is an international, volunteer-led organization that mobilizes youth in over 12 countries to clean and prevent plastic waste in their communities.
Discussion Questions
1. Which of the films left an impression on you or surprised you?
2. In the film The Last Straw, Milo Cress identified a problem, got others involved and created an action plan. Reflect on the usage of plastic straws in your community. Are there ways you can be inspired by Milo and reduce the use of straws where you live?
3. What detrimental effect has plastic had on the health of our oceans? How has this problem developed over time? What can be done to improve the situation?
4. Identify bodies of water in your community or part of the world. Who is working towards keeping these bodies of water clean and protected? What can you do to help?
Elementary Students Are Invited to Submit Posters to the MY HERO Poster Contest
Kindergarten to 2nd grade students are invited to create a poster for Goal #14 to submit to the Poster Contest
3rd grade to 5th grade students are invited to create a poster for Goal #6 to submit to the Poster Contest
Tutorial About How Students Use the Create Program to Submit Their Posters
Organizer created on 2/22/2021 11:26:57 AM by Laura Nietzer
Last edited 3/30/2021 3:48:39 PM by Laura Nietzer