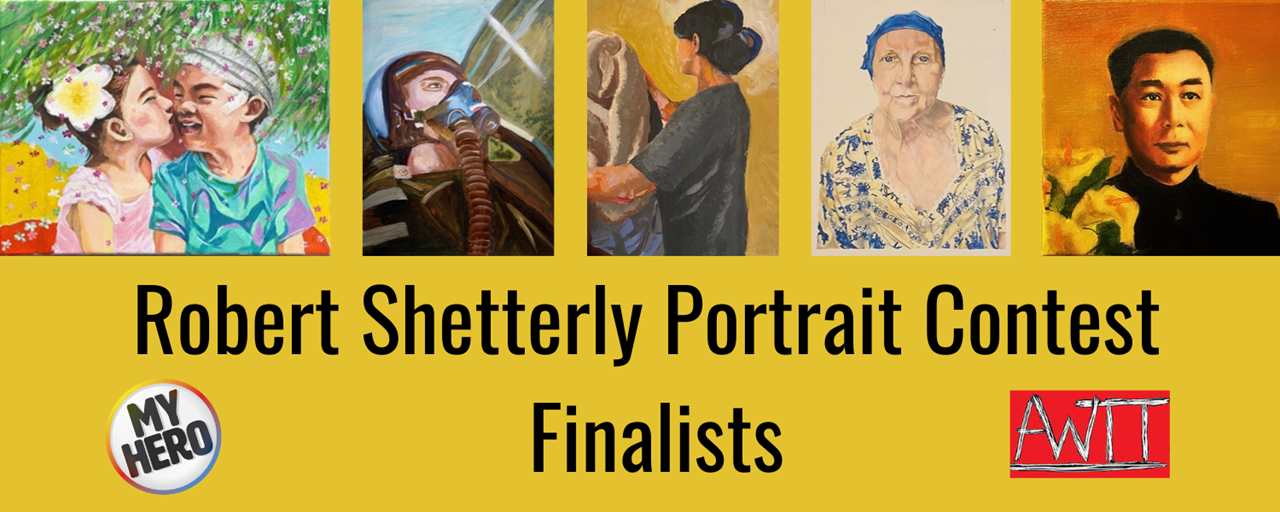 Portrait Contest FinalistsMY HEROFor Immediate Release
Contact:
Naomi Gledhill
Staff Writer
07368291723
[email protected]
The MY HERO Robert Shetterly Portrait Contest Finalists 2022 are announced
Robert Shetterly, American artist and activist has been a friend of MY HERO for a number of years and generously partners with MY HERO as sponsor of the Robert Shetterly Portrait Contest, held annually.
About Robert Shetterly:
American artist Robert Shetterly is best known for his portrait series, Americans Who Tell the Truth, along with his book of the same name. Shetterly's portraits are exhibited in a number of public places around the U.S. such as schools, libraries, museums, and galleries. As well as art, Shetterly has a love of activism, with democracy, the environment, social and economic justice, all close to his heart. He has partnered with a variety of figures and organizations to carry out humanitarian work, often pairing this with portraits of said partners.
He has been working on best-known work, Americans Who Tell the Truth, for approximately 10 years, and the exhibit has been traveling around the country since 2003. Venues have included everything from university museums and grade school libraries to sandwich shops, the Cathedral of Saint John the Divine in New York City, and the Superior Court in San Francisco. To date, the exhibits have visited 26 states. In 2005, Dutton published a book of the portraits by the same name. In 2006, the book won the top award of the International Reading Association for Intermediate non-fiction.
The portraits have given Shetterly an opportunity to speak with children and adults all over this country about the necessity of dissent in a democracy, the obligations of citizenship, sustainability, US history, and how democracy cannot function if politicians don't tell the truth, if the media don't report it, and if the people don't demand it.
Shetterly has engaged in a wide variety of political and humanitarian work with many of the people whose portraits he has painted. In the spring of 2007, he traveled to Rwanda with Lily Yeh and Terry Tempest Williams to work in a village of survivors of the 1994 genocide there. Much of his current work focuses on honoring and working with the activists trying to bring an end to the terrible practice of Mountaintop Removal by coal companies in Appalachia, on climate change, and on the continuation of systemic racism in the US particularly in relation to the school-to-prison pipeline.
Since 1990, he has been the President of the Union of Maine Visual Artists (UMVA), and a producer of the UMVA's Maine Masters Project, an on-going series of video documentaries about Maine artists.
Americans Who Tell the Truth has been an active partner of The MY HERO Project Gallery, specifically promoting activism and compassion through the vehicle of fine art.
2022 Robert Shetterly Portrait Contest Finalists:
This year's finalists are of all ages and from across the globe, including Hong Kong, United States, Australia, India, UAE, Pakistan, Thailand, Ukraine, Canada, Sri Lanka, United Kingdom, China, and Oman.
View all of this year's finalists here: /portrait-contest-finalists-2022
Call for entries:
Professional artists and students- you are welcome to submit one or more hero portraits as an entry or multiple entries!
Works of art submitted will be judged by Robert Shetterly, artist founder of Americans Who Tell the Truth and the MY HERO Gallery staff!
Each work of art can represent someone you admire who has done something significant - for you, for your community or for our planet.
Each of work of art can illustrate a heroic act that has impacted your world or our society as a whole.
All winning entries will also be shared with students around the world online on www.myhero.com/Art & www.AmericansWhoTelltheTruth.org
Page created on 10/27/2022 8:23:26 PM
Last edited 11/1/2022 4:47:46 PM