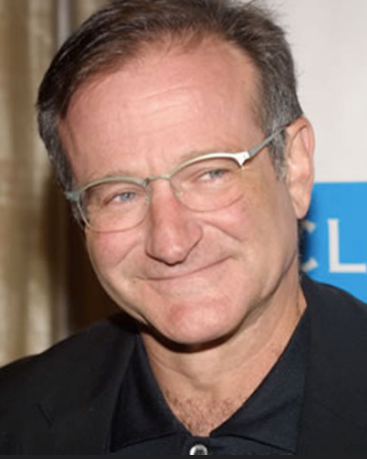 Robin Williams smiling for a picture.flickrRobin Williams was one of the best actors to ever live. Not only did he have huge talent, he had a huge heart too. Robin McLaurin Williams was born July 21, 1951, as an only child, in Chicago Illinois and grew up with his Father, an executive for the Ford Motor Company, and his Mom, a former Fashion Model. Williams said his mother was all "wonderful and rosebuds" but his father on the other hand was less optimistic and always told him "It sucks! Get used to it!" (David Brown, 2017). As Williams got older, they moved to San Francisco and that's when he first got into improvisation. Williams had been cracking jokes since he could speak, but his interest in acting and becoming a comedian didn't grow until later in life. He went to Claremont Men's College; soon dropped out because his interest for theater grew, and attended a community college theater program. Robin thrived in this environment and years later got offered the opportunity to attend Juilliard School of performing arts in New York City on a full ride scholarship. This is where he met Christopher Reeve, a soon to be close friend of his. Christopher said "I'd never seen so much energy contained in one person. He was like an untied balloon that had been inflated and immediately released." After that, he moved back to California and started taking part in comedy clubs during the 1970's. After performing in comedy clubs for several years Williams started getting small acting jobs starring in TV shows and making guest appearances. One of his most important appearances was on the show Mork & Mindy, where he played Mork the alien. From then on Williams' career started to skyrocket and he was booking jobs one after another. He continued through his acting taking on more serious roles as well and became one of America's favorite actors (Encyclopedia Britannica, 2021). Robin Williams was Heroic in so many ways including the fact that he used his fame to help others, talked openly about his journey with depression, and took on so many different roles.
Robin Williams donated and represented so many charities over the span of his career and spent his own time supporting his beliefs as well as making them happen. Over the years many of the charities he supported included the Red Cross, St. Judes Children Hospital, and the Christopher and Dana Reeve Foundation- which was an organization dedicated to curing spinal cord injuries. His friend Christophere Reeve had become paralized, and passed away in 2004 which made Robin so passionate about the topic. He supported women's rights in many ways and also worked with the United service Organizations to perform for American troops stationed all over the world (Encyclopedia Britannica, 2021).He also founded Comic Relief, USA, a charity that helped the homeless and raised over $80 million (Biographics, 2017). Brian Lord, the president of the premier speakers Bureau, wanted to hire Robin Williams for an event. Williams sent him a redier before agreeing which is a contract that gives the performer specific requests like wanting to have certain foods available at the event, or transportation to get there.Though, the rider that williams gave to them stated that anyone hiring him, would also have to hire a certain amount of people who were homeless. Lord spoke out about this and said "I'm sure that on his own time and with his own money, he was working with these people in need, but he also decided to use his clout as an entertainment to make sure that production companies and event planners also learned the value of giving people a chance to work their way back" (Timothy Roberts, 2020). Williams was not one to brag about his charitable work, or the things he did for others, but he wanted to give people a chance, and make others laugh. He wanted to help make the world a better place, but he did so just by being in it.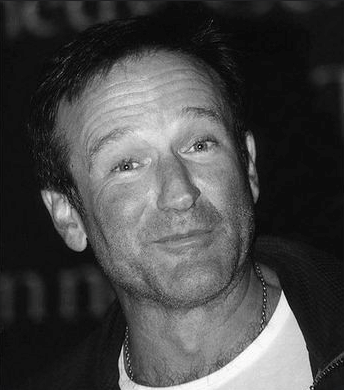 Robin Williams smiling towards the camera.flickrRobin Williams struggled with depression his whole life, and struggled with drug addiction as well, but he stayed strong for so long and tried to reach out, talking openly about it and not being afraid. As an only child, William spent a lot of his time alone in a huge mansion, where he lived. He was also overweight at the time, which led to him getting bullied at school. Williams' said his middle school years were the hardest. "There were times when I was in tears and didn't want to go back to school. But I did" says Williams. He did have many friends at the time either, and this is where his deep rooted depression began. Robin's mother, Laurie, had a sense of humor which was a mix of sarcasm and wit and after time he started to use this same humor as a defense mechanism. Years later they all moved to Tiburon, California and William attended Redwood high school, where he started doing drugs, but for the first time he said he felt like he belonged, and fit in. In 1976 Williams went on to do stand up comedy, and although he loved it, he found it extremely stressful and at some point started using drugs and alcohol to help him fight his stage nerves. As he moved on with his career, gaining more jobs and working on set he continued living the party life. One night he indulged in doing some of his co-stars cocaine with him. The next morning, he walked onto the set of Mork & Mindy and was told that his co-star Belushi had died of a drug overdose. Robin was shocked and made immediate changes in his lifestyle. He soon discovered cycling, which he said saved his life alongside his son, Zachary being born. In 1986, he and his wife got divorced, one of the reasons being that he had had an affair. Robin Williams re-lapsed in 2003 and started drinking again. After three years his family and friends convinced him to check into a substance- abuse rehabilitation center in Oregon. There he came to terms with himself and realized he was an alcoholic. After sixty days he went home and had a sober companion by his side to make sure he didn't relapse again. It didn't last long though and he soon began drinking again to try to avoid his depression. He was in and out of rehab, and was diagnosed with Lewy Body dementia as well. Robin himself said that he thinks "the saddest people always try their hardest to make people happy" (Biographics, 2017). In 2004, Robin was doing a show in Iraq with his new friend Rock. Rock said that the more time he spent alone with him, the more he realized Robin had a completely different side to him. He said he was constantly distraught about his life, "he'd be up, up, up and then sitting down with him, he'd cry and start talking about his personal life." "When he got deep, he got deep," says Rock. Overall, Williams was pretty open about his struggles saying he went to monthly meetings and in one interview in 1988 he said "Oh, I don't have inner peace, I don't think I'll ever be the type that goes, 'I am now at one with myself'." Williams always seemed to leave the impression that he was in control, making people seem like he had a handle on it (David Brown, 2017). Robin Williams was a man with many talents, but along with those came a lifelong struggle with depression and drugs and sadly, he lost his battle in 2014 at the age of 63.
Williams was an outstanding actor and you could feel his passion through the screen. He was talented, and inspired so many people by the variety of roles he was able to take on and play, as well as that he was determined and kept moving towards his goals. Whether it was on a stage in the bar as a comedian or an actor on the big screen Robin performed so many different characters and personalities that inspired so many people. One of Robin's best performances was in Good Will Hunting as a physcologist and he even won an Oscar for Best supporting Actor. He had also been nominated for the film Dead Poets Society and The Fishers King. One of the reasons his characters felt so real was because Williams improvised many of his roles. He did an astonishing job understanding the characters he played including a recently divorced dad who takes on the persia of an elderly scottish housemaid to get closer to his children in Mrs. Doubtfire. He was able to take his real life experiences of knowing what it feels like to be divorced, and put those emotions into his character. His mannerisms in that particular movie were also very detailed showing he spent a lot of time analyzing his role. They were actually working on a sequel before William's death. Whether it was his acting in Good Morning Vietnam or One Hour Photo, his acting showed that he was able to act out extremely different characters with perfection. Williams also dabbled in voice acting, taking part in the disney animated musical Aladdin, voicing Aladdin as well as Dennis the dog in Absolutely Anything. Aladdin specifically, showcased some of Robin's amazing vocals and the character had actually been specifically written for Williams, although he ended up improvising large parts of the dialogue anyways. Most of the time, he had a very positive attitude towards work; playing roles in 74 movies within his 38 year career. He said, "Sometimes over things that I did, movies that didn't turn out very well- you go, 'why did you do that?' but in the end, I can't regret them because I met amazing people. There was always something that was worth it." (Biographics, 2017). Robin Williams was able to take on funny, goofy roles, but was also able to just as easily take on serious and intense roles. Having that balance is extremely impressive and shows the diversity in his talent. People grew up with him in so many shows, and he left behind a number of movies, including the Third Night at The Museum, and Merry Friggin' Christmas (Nolan Feeney, 2014). Williams showed us his astounding talents taking on his job as a comedian and actor.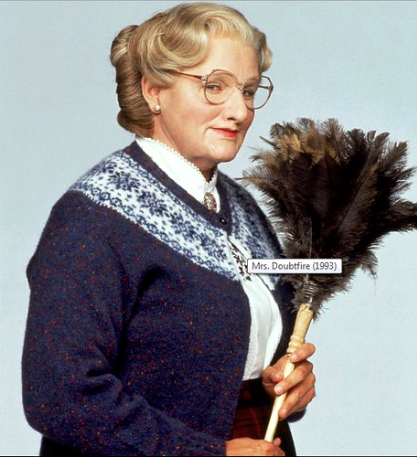 Robin Williams in costume as Mrs. Doubtfire from the movie Mrs. Doubtfire.flickrRobin Williams used his fame to help others and brighten up the world, talked openly about his journey with depression and alcohol; took on so many different personalities of characters while acting that inspired people and he will forever be remembered. All these things combined make Williams heroic. Afterhis death in 2014, many people spoke out about Robin and expressed their condolences. President Barack Obama spoke out, " Robin Williams was an airman, a doctor, a genie, a nanny, a President, a professor, a bangarang Peter Pan, and everything in between. But he was one of a kind. He arrived in our lives as an alien — but he ended up touching every element of the human spirit. He made us laugh. He made us cry. He gave his immeasurable talent freely and generously to those who needed it most — from our troops stationed abroad to the marginalized on our own streets. The Obama family offers our condolences to Robin's family, his friends, and everyone who found their voice and their verse thanks to Robin Williams." Steven Spielberg said "Robin was a lightning storm of comedic genius and our laughter was the thunder that sustained him." This went to show how many hearts Robin had touched throughout his lifetime and I think he will continue to do even if he is no longer with us. "This morning I lost my husband and my best friend, while the world lost one of its most beloved artists and beautiful human beings," she said in the statement. "On behalf of Robin's family, we are asking for privacy during our time of profound grief. As he is remembered, it is our hope that the focus will not be on Robin's death, but on the countless moments of joy and laughter he gave to millions." said Susan Schneider (Nolan Feeney, 2014). Susan spoke out again weeks later and stated that Robin was killed by "the terrorist inside my husband's brain." (Biographics, 2017). Robin Williams had a skill like no other, and inspired so many young people to keep going with his talent, but also his kind heart for others. We were just lucky enough to be able to see it all.
Bibliography
Biographics. "Robin Williams Biography: His Life Was a Dark Comedy." Biographics, 21 Nov. 2017, https://biographics.org/robin-williams-biography-life-dark-comedy/.
Britannica, The editors of Encyclopaedia Britannic. "Robin Williams." Encyclopædia Britannica, Encyclopædia Britannica, Inc., 13 May 2009, https://www.britannica.com/biography/Robin-Williams.
Browne, David. "Robin Williams: The Triumphant Life and Painful Final Days of a Comedic Genius." Rolling Stone, Rolling Stone, 11 Aug. 2020, https://www.rollingstone.com/feature/robin-williams-death-suicide-2014-cover-story-1042671/.
Feeney, Nolan. "Robin Williams Dead: Suspected Suicide at Age 63." Time, Time, 11 Aug. 2014, https://time.com/3101990/robin-williams-dead-63/.
Roberts, Timothy. "Robin Williams' Rider Required Companies to Hire Homeless People in Order to Book Him." The Hunger Site News, 7 Feb. 2020, https://news.thehungersite.greatergood.com/robin-williams-helping-homeless/.