"Tell me your story. I want to hear your voice, and I want to hear your conviction. No matter who you are, where you're from, your skin colour, gender identity: speak yourself.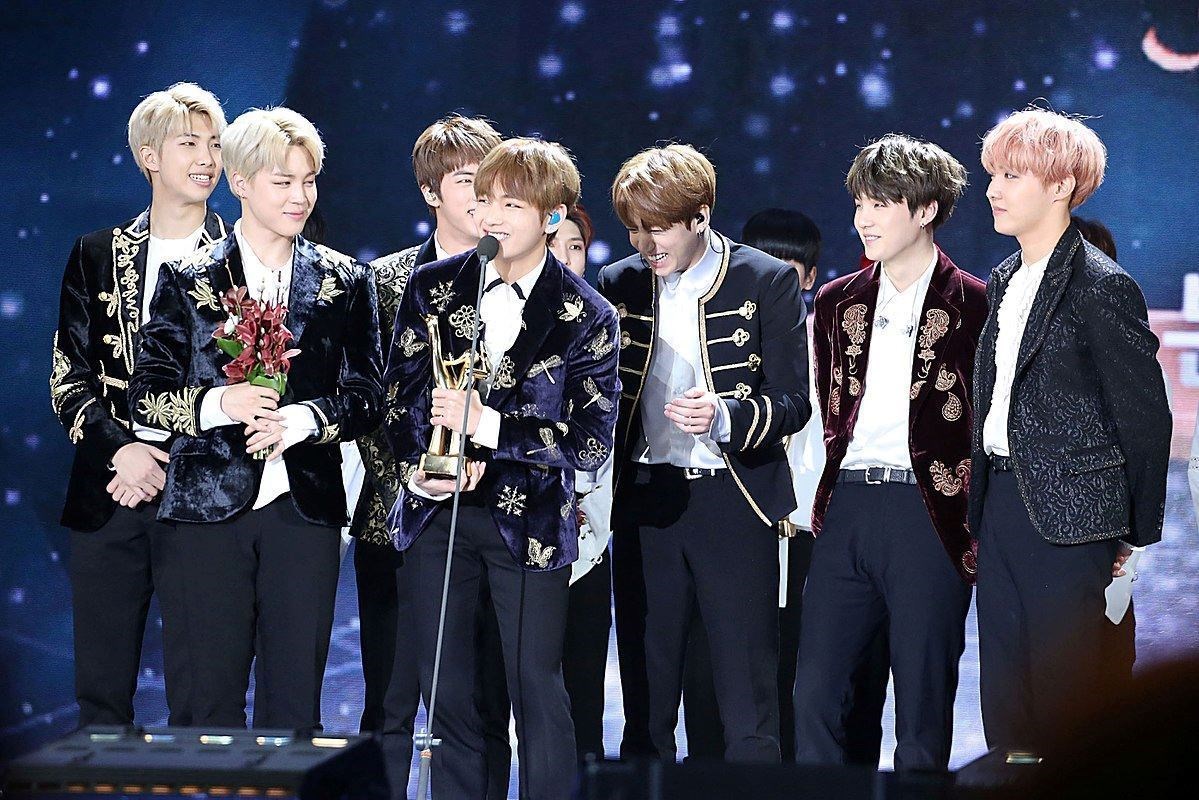 BTShttps://en.wikipedia.org/wiki/BTS_(band)
BTS is not just a boy band; they have won multitudes of awards, broken tons of records, and made lots of achievements, but they also have a huge impact on the world in other ways. BTS have, and continue to, save people with their lyrics and the actions they take. Lyrics like "It's okay come on when I say one two three forget it / Erase all sad memories / Smile holding onto each other's hands" from their song "2!3!" in their Wings album has reassured and encouraged so many over the years. However, that's not all they've done. They've become a hero to me and thousands of others. A hero to me is someone who comforts and is honest with others, uses their publicity for good, and inspires philanthropy in others.
A hero should comfort people so they can feel safe and happy, especially in dark times, such as those right now. BTS comforted me a countless number of times with their lyrics and reassuring demeanor. In times when I am panicking, I'll play "Moon" and immediately calm down, or when I'm feeling sad and alone, I can play songs like "Magic Shop" and "Mikrokosmos" and feel significantly better. I know that I'm not alone because other fans feel the same way. Here are some of their reactions to the new BE album:
"I can't explain the feeling and emotion in me when I first heard it. / it was a feeling of happiness and comfort…" (Weverse user shriya_07).
"Each member shined and each member brought me a sense of comfort through their individual styles. this album will see many armys through many struggles currently, and as they continue on with life." (Weverse user moon✨✨)
"It feels like a blanket in autumn night, give so much comfort to me." (Weverse user Nae_22).
People have received so much comfort from this album, which was released during the COVID-19 pandemic. During that dark time, BTS spoke earnestly and encouragingly at the "Dear Class of 2020" speech and to spread some hope and comfort. "Dear Class of 2020" was a virtual commencement featuring performances and speeches from famous people to the graduating class of 2020 that didn't get to have a ceremony due to social distancing restrictions and covid safety.
If one is publicly known and looked up to, they can use that to raise awareness of certain issues and encourage others to take action as well. BTS had partnered with UNICEF, a humanitarian aid association, for the LOVE MYSELF campaign. "Our LOVE MYSELF campaign is all about encouraging every young person to find the love from within themselves and spreading that love to others... We want everyone to take part in ending violence by sharing love and kindness" ("BTS...."). Along with the Love Yourself albums, the campaign's goal is to encourage self-love and to treat others with such love in hope for a better world. BTS and BigHit pledged 500 million KRW to the UNICEF campaign and donated 3% of the Love Yourself series' physical album sales income. The campaign raised 2,600,000,000 KRW (roughly 2,357,850 USD) as of 2019.11.30. BTS and UNICEF also created the hashtag #ENDviolence, which has been used over 10 million times, to encourage an end to bullying. UNICEF asked the youth about their experiences and the children shared experiences and provided advice to adults on how to remedy the situation. Using publicity to do this is very admirable and a great way to spread messages.
BTS gave me something to be excited about, something to look forward to each day. At times where I was so unmotivated and I felt like nothing I did was of significance and took too much effort, I knew I could listen to a song, watch a few videos, and get excited about something again. There was a big period in my life where nothing excited me. No matter how much I wanted it, I couldn't be truly excited about things; visiting family, holidays, vacations, it just felt like passing through life in a blur, not being able to savor any moment because life is just so fast moving and it's hard to live in the now. But when I found BTS, through my sister, I found something that gave me hope that, someday, things would be better. Music has always affected me deeply, the melodies more than the lyrics, so it didn't bother me that their music is in a different language, in fact it makes it so much more important when you actually sit down and read the translations. If I had a nickel for every time I've cried because I felt so safe and happy listening to BTS or watching a video where a member expresses their love for Army, I would have a lot of nickels. It's so fun to be a part of something where you feel welcome because everyone is in a similar situation to you and I have BTS to thank for creating such an amazing, safe, community. I think I owe a lot to them and I don't know if I would be in the place I am currently without them, as they helped me come to terms with my anxiety and depression and feel more confident in myself as a nonbinary person. BTS are really amazing role models not only because of the love they show but because of how they express themselves. They helped me to realize that clothing has no gender and a person can wear whatever they want and how someone perceives you doesn't define who you are. Express yourself, love yourself, speak yourself. I have since moved on from being a huge fan of BTS, but the first year I was introduced to them changed my life and I am so glad I got to spend my time on them and would never give it up from the world. It was so incredibly important for me to learn these things, and I think now that I have I can move on a bit. I'll still always come back to their music and watch funny videos of the members and find comfort there, but now I don't need to rely so heavily on them; they taught me to trust myself and love myself, so that's what I'll do.
These public actions inspire others to make a difference in the world as well. I think a hero needs to do this so that the community can work together to solve big problems easily. BTS and Bighit donated 1 million USD to BLM on Saturday, June 6th, 2020 and ARMY (BTS's fans) wanted to match it. They raised 1.2 million by the following Monday. BTS, with that one act, inspired hundreds of people, across the world, to follow in their footsteps and match a million. Inspired and motivated by BTS's donations and campaigns, a group of ARMYs began to work on projects under the name "One In An ARMY." Thus, the fan collective of volunteers began their work. In a little over a year, One In An ARMY raised over 46,000 USD to donate to various non-profit organizations across the world for services like meals, schooling, and medicine for those in need. "Our motto, 'I am ONE in an ARMY', plays with the idea that many people giving small amounts can create a substantial impact when we work together" ("One…"). In this age, with our current technology, the world is more connected than ever, and BTS has inspired the public to utilize that connection to help people across the globe.
BTS has proven themselves to be heroes; they've saved so many people from violence, discrimination, loneliness, and self-hate. They've made a safe place within their fanbase and made a community that looks out for each other, spreading BTS's love. I aspire to be able to comfort and help people as BTS has done and be a safe place for those who need one. A hero to me is someone who comforts and is honest to others, uses their publicity for good, and inspires philanthropy in others, and that is what BTS has done.
Works Cited
shriya_07. Weverse, 20 Nov. 2020.
moon✨✨.Weverse, 20 Nov. 2020
Nae_22. Weverse, 20 Nov. 2020
"BTS and UNICEF Call on Young People to Spread Kindness on International Day of Friendship." UNICEF, 4 Dec. 2020, www.unicef.org/press-releases/bts-and-unicef-call-young-people-spread-kindness-international-day-friendship.
"One In An ARMY." Home, www.oneinanarmy.org/.
Page created on 5/18/2021 12:10:43 AM
Last edited 5/19/2021 3:00:45 AM