by
Samir Raicy

from

San Deigo, California in United States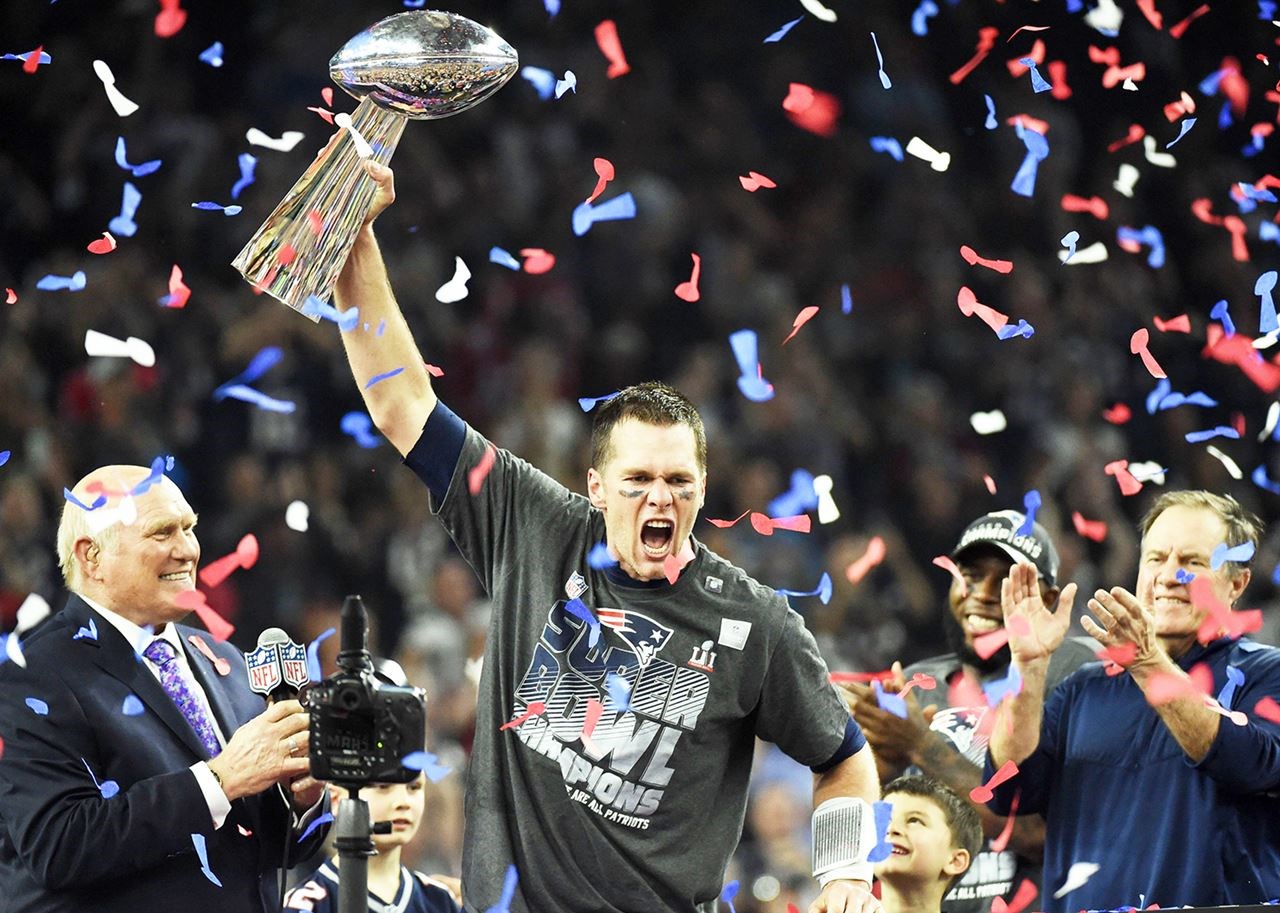 Tom Brady Super Bowl winusmagazine.com"""[Tom Brady] is a great player and he's been a great leader for us. He does many things for our football team on and off the field and he's been a tremendous competitor, tremendous player," professed coach Bill Belichick (New England Patriots). Tom Brady was born into an athletic and competitive family. Thomas Edward Patrick Brady was the youngest of four children, the other three being sisters. He was born August 3, 1977 in San Mateo, California to Tom Sr. and Galynn Brady. Brady attended Junipero Serra High School were he played both baseball and football. On his high school football team, Brady threw for 3,514 yards and had 33 touchdowns. He graduated in 1995 and chose to play football at the University of Michigan. After college, Brady was drafted in the 6th round of the 2000 NFL Draft as the 199th pick overall. A hero who is a professional athlete must possess determination and dedication to be the best of the best. Tom Brady should not only be defined as one of the best quarterbacks of all time but should be seen as a determined and dedicated leader therefore his is a hero.
The odds of making it into the NFL are less than one percent. It takes hard work, perseverance, and determination in beating those odds and having a career in the NFL. Brady's career at the University of Michigan prepared him to play in the NFL. Tom Brady received a chose to play football at the University of Michigan, although his first two years he received very little playing time: "Though he considered transferring, Brady remained at Michigan" ("Tom Brady"). Tom Brady was considering on transferring but he was determined to achieve his goals of becoming a starter for his college. In his junior year he became starting quarterback and in his senior year he guided his team to a victory in the Orange Bowl. Tom Brady received national recognition for his time at the University of Michigan. His hard work and dedication led him to the NFL draft: "The New England Patriots chose Brady in the sixth round of the 2000 NFL Draft, 199th overall" ("Tom Brady"). Although he was a outstanding player, he was not drafted very high in the NFL. He had to prove to the New England Patriots that he would not let anything get in his way of becoming a starter quarterback. When the New England Patriots quarterbackTom Brady proved that his dedication by becoming a starter for the New England Patriots in less than two years.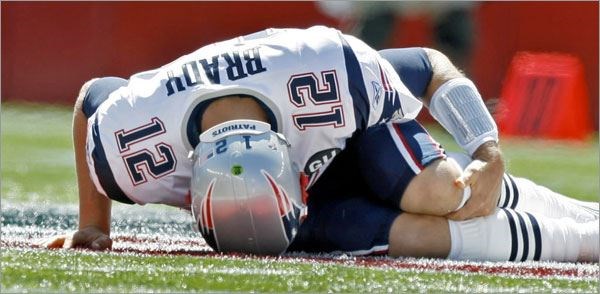 Tom Brady knee injuryblog.mmarmedical.comBeing injured is very likely to happen to most athletes at some time in their career. But when Tom Brady got injured and came back from it and he did not stop until he reached his goal of getting his starting position back. After Tom Brady tore his knee and recovered from his injury he still came back to the New England Patriots and kept training after a long rehabilitation process. "Brady tore his left knee in 2008 when Bernard Pollard of the Kansas City Chiefs tackled him. Brady missed the entire season but was expected to play in 2009 following two surgeries and rehabilitation. That year, he logged almost 4,400 passing yards and scored six touchdowns. He performed similarly in 2010 but in the next few seasons improved his game, with passing yards between 4,000 and 5,200 and a total of 18 touchdowns in 2011 and 24 in 2012" (Tom Brady, Newsmakers). Tom Brady had serious injuries that he was able to recover from, he is currently 40 years old and continues to play in the National Football League. This injury in his career led to create a the TB12 Method to help other athletes to become stronger and get less injuries. He continues strives to be the best after his injury by returning to the Super Bowl. Tom Brady and the New England Patriots won in overtime by a miracle catch in the fourth quarter in the Super Bowl LI: ¨Fittingly, the first-ever Super Bowl overtime was set up by one of the more incredible catches in Super Bowl history. The Patriots have been the victims of miracle catches in the Super Bowl. In the fourth quarter of Super Bowl LI, one injected life into their attempt at a historic comeback"(Kilgore). Once again Brady breaks another record for the first ever overtime in the Super Bowl. If you are the on the opposing team you should never feel comfortable in your skin when you are around Tom Brady when he has the ball in his hands.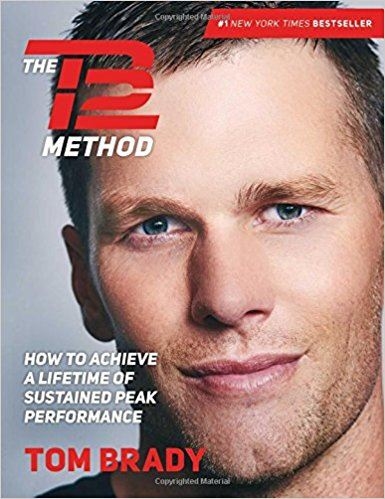 Tom Brady's diet bookamazon.comTom Brady is dedicated to his football career and his TB12 Method. After football he will dedicate his future to making athletes stronger physical and eliminating injuries. Determination and dedication are vital qualities for professional athletes, Tom Brady is the perfect example of utilizing these qualities to become the greatest quarterback of all time.Throughout his career, Tom Brady has been awarded, five Super Bowl rings, three league MVP awards, four Super Bowl MVP Awards and has been chosen 13-times as a Pro Bowler, and has also twice led the NFL in passing yardage, which exemplifies his determination and dedication. Tom Brady is inspirational because he trains athletes who are injured and are not able to continue in their football career. They go to Tom Brady and ask for advice and also train with him to get stronger and faster. When Tom Brady won his fifth Super Bowl championship that inspired me to try my hardest to make it to where Tom Brady is and achieve that amount of Super Bowl wins. When Tom Brady got accepted into the New England Patriots that inspired many other athletes to try hard to get drafted into the NFL Draft. Tom Brady proves that he is not only determined and dedicated to his profession but also cares about his well being of his teammates and other NFL players. He has also found a way to help all athletes and has shared that in his book, TB12 Method. Tom Brady is one of the greatest quarterbacks of all time and amazing leader in and off the field. That is why Tom Brady is my hero.
Boren, Cindy. "Tom Brady, Best Buddies Reportedly Have a Mutually Beneficial Relationship." The Washington Post, WP Company, 23 Apr. 2017,
Kilgore, Adam. "Brady, Patriots close impossible deficit to win Super Bowl 51 in OT."
Washington Post, 5 Feb. 2017. Biography In Context,
New England Patriots. "15 Legendary Bill Belichick Quotes about Tom Brady." New England Patriots, Patriots , 3 Dec. 2015, www.patriots.com/news/2015/08/03/15-legendary-bill-belichick-quotes-about-tom-brady.
"Tom Brady." Gale Biography in Context, Gale, 2002. Biography In Context,
https://link.galegroup.com/apps/doc/K1650002409/BIC?u=powa9245&sid=BIC&xid=28441b8b. Accessed 10 May 2018.
"Tom Brady." Newsmakers, Gale, 2002. Biography In Context,
https://link.galegroup.com/apps/doc/K1618003564/BIC?u=powa9245&sid=BIC&xid=0a0f3dba Accessed 9 May 2018.
Page created on 5/24/2018 6:31:14 PM
Last edited 5/27/2018 3:01:35 PM
Related Links
usmagazine.com
- Tom Brady was known as the best quarter back in the NFL but here are some things that he had to deal with and accomplish to be known as the best quarter back in the NFL