Tove Jansson
by
Nicole Petrovsky

from

Texas in United States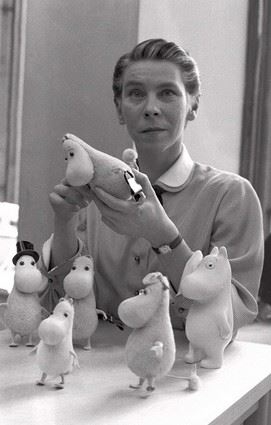 Tove Jansson with figures of her Moomins charactershttps://commons.wikimedia.org/wiki/File:Tove_Jansson_1956.jpgTove Jansson was a Finnish author, novelist, painter, illustrator, and comic strip author, best known for being the creator of the Moomins book series. Jansson was born into an artistic family, her father was a sculptor, and her mother was a graphic designer and illustrator. She and her siblings would follow in their footsteps in pursuing creative fields, and Tove wrote and illustrated her very first picture book when she was only 14, to later be published during her career as an artist. Her career started in the 1930s when she worked as an illustrator and cartoonist for Garm, a Finnish satire magazine, and her political cartoons garnered her some international notoriety. She also began to display her paintings and illustrations at exhibitions from the 1930s and was commissioned to create a series of murals and other public works. It was in her political cartoons that she first drew what would become a "Moomin" as a character by her signature.
It was in 1945 when Jansson wrote her first Moomin book, The Moomins and the Great Flood. However, the books would not be a success until her two follow-up stories, Comet in Moominland and Finn Family Moomintroll, in 1946 and 1948, respectively. As the Moomins grew in popularity, Jansson continued to write more novels, short stories, picture books, and Moomin comic strips. The series would continue to grow as it gained a theatre play, several animated TV series, and even an opera and a theme park. Over the years, continuing into 2020, Moomins has become an internationally beloved series for all ages, and Jansson's work has become an inspiration to myself and many others.
Tove Jansson's influence with her work does not only stop at cute characters and loveable stories, as her work from the Moomins to her paintings reflected her feelings about the second World War, and her family and friends and their closeness to nature, as well as her relationships with her same-sex partners. Many of the Moomins books dealt with great natural and supernatural events, such as comets and floods, which seem to be allegories for the horrors of war and the nuclear weapons used during World War II. Many characters were based on those in her life; Moominpapper and Moominmamma were portraits of her parents, which she saw herself in Moomintroll and Little My. The character Snufkin was based off Tove's past boyfriend Aros Wirtanen and his personality as a wandering political philosopher. Then, there were Tofslan and Vifsla, or in English, Thingumy and Bob, who were direct parallels of Tove herself and her past secret lover Vivica. As Tove and Vivica had to hide their love affair, the characters carry a shining gem hidden in a suitcase that they cannot let anyone else see. Then, finally, there is Too-Ticky, who was based on Tuulikki Pietilä, the woman who would be Tove's life-long partner.
Tove Jansson's ability to express queerness and other complex themes in her children's stories paved such an important path for the future of media in general, and to a queer artist like myself, she serves as an inspiration and a role model to create works that can have the same influence on the world and create changes to better our future.
Page created on 12/13/2020 11:41:40 PM
Last edited 12/17/2020 3:54:24 AM
The beliefs, viewpoints and opinions expressed in this hero submission on the website are those of the author and do not necessarily reflect the beliefs, viewpoints and opinions of The MY HERO Project and its staff.