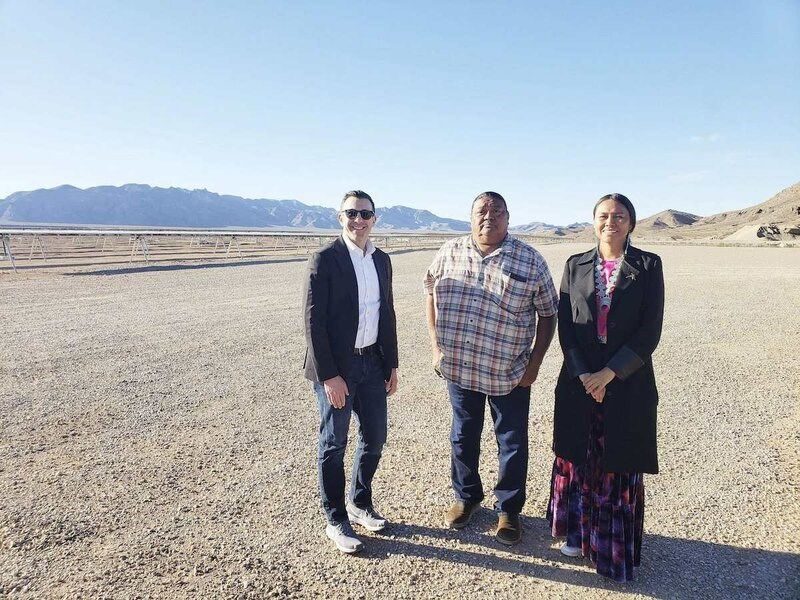 Wahleah Johns (right) director of Office of Indian Energy, and Jeff Marootian (left) a senior adviser, pose with Moapa Band of Paiutes Chairman Gregory Anderson Sr., during a visit to a solar facility on the Moapa River Indian Reservation near Moapa, Nevada, April 6.U.S. Department of Energy/AP
April 18, 2023
Nearly $15 million in federal grants aims to boost clean energy development at tribal colleges across the United States. The installations would provide learning opportunities for students, while also bringing the renewable energy economy to rural areas.
Tribal colleges and universities around the United States will be able to tap nearly $15 million in grant funding to boost clean energy development as part of the federal government's latest investment in creating more reliable and sustainable electricity generation for Native American communities.
The U.S. Department of Energy announced the new funding opportunity last week. It comes on the heels of another $50 million round of grants for deploying clean energy technology across Indian Country, where many communities have long been without basic services such as running water, electricity, and broadband internet.
"We know that there is a huge need for energy reliability but also for energy access in Indian Country," said Wahleah Johns, director of the agency's Office of Indian Energy.
Ms. Johns, who is from the Navajo Nation, described it as an energy crisis in which families – and tribal governments – often have to be creative when finding ways to operate on the fringes of major grids that supply Phoenix, Las Vegas, and other cities with power.
That means developing micro-grids or installing solar panels so residents can power refrigerators or charge up cellphones and laptops, she said.
With the latest grants, officials at the Office of Indian Energy said the idea is to use tribal colleges and universities as a conduit to build systems that can cut down on campus electricity costs while training Native American students who can support a renewable energy economy in tribal communities.
The Blackfeet Community College in Montana already has found success with the construction of a smart building that houses math and science classes and the installation of solar panels on campus buildings.
"The way I tend to see it is that we have a living lab here," said Melissa Little Plume Weatherwax, director of institutional development at the college. "Tribes are looking to deploy commercially, and that workforce is going to grow. So we need to be ready as the ones who need to train them. I think we're on the right track."
Thelma Wall was a student when she helped to install solar panels on campus. Now she works as a tribal design associate with a large nonprofit, having worked on projects in New Mexico, Colorado, and South Dakota.
Ms. Weatherwax said the training program also is translating to other parts of Montana's rural economy as more farmers use solar to operate systems that provide water for livestock.
Ms. Johns said tribes have been leading the way when it comes to renewable energy development, and it's been out of necessity given the lack of infrastructure in rural areas. Many small projects have led to commercial-scale projects, with the next step being tribal ownership of the power produced, she said.
Between 2010 and 2022, the Office of Indian Energy invested more than $120 million in over 210 tribal energy projects across the U.S.
This year's funding marks a significant boost, Ms. Johns said, adding that her office serves as a hub for tribes to access new money or connect with other agencies as they navigate the challenges of development and deployment.
Tommy Jones, a deployment specialist with the office, pointed to the Moapa Band of Paiutes in Nevada, who have already developed several hundred megawatts of solar power and are looking to develop more.
The glimmer of the panels in the desert outside of Las Vegas looked like a mirage to officials with the Office of Indian Energy during a recent visit. Along the dirt roads crossing the facility were speed limit signs warning about the possible presence of desert tortoises.
"There's a lot of important factors related to sacred sites and cultural resources that folks, rightly so, are concerned about protecting, particularly when you're talking about a really large-scale solar project," Mr. Jones said. "And so having the community buy-in is critical to land use planning, making sure that what's important, the vision of energy fits with the community."
Ms. Johns said that had been a consideration for the Moapa Band of Paiutes as well as for the Navajo Nation, which signed an agreement with the federal government in December that calls for charting out that tribe's transition to renewable energy as more coal-fired power plants and coal mines in the Southwest are shuttered.
The infrastructure needed to address the energy crisis for Native American communities stretches into the billions of dollars, with access being just one part of the equation, Ms. Johns said. She also pointed to mounting pressures from climate change and the need to be culturally sensitive to developing projects in Indian Country.Bottom of Form
"On our end, we are all about trying to come up with a long-term strategy that will support the energy resilience of tribes and their planning process, and that's going to take a huge investment," she said.
This story was reported by The Associated Press.
Related stories