FOR IMMEDIATE RELEASE
Contact: Wendy Milette
949-376-5964
[email protected]
USC Writer/Director Wins at The Annual MY HERO International Film Fest
LOS ANGELES, CA November 20, 2010 - Writer and Director Ryan Coogler won first place in the Student Narrative division of The 6th Annual MY HERO International Film Festival. Coogler's film,"Locks" tells the story of a young Oakland man with a full head of dreadlocks that defines his self-image and provides a connection to his culture. The young man pauses beneath a large billboard that advertises a barbershop. Reluctantly and sadly, he goes inside to have his long dreads shaved off. Coogler brilliant visual clues lead the viewer along one path but a plot twist reveals the true source of the young man's pain. Coogler, a graduate student at the University of Southern California's School for Cinematic Arts, reminds us not to allow preconceived notions to limit our thinking.
The MY HERO International Film Festival showcases the world's heroes as seen through the eye of the camera. The festival took place November 20, at the George Lucas Building on the USC campus. Since 2005, the festival has attracted filmmakers of all ages and abilities from the countries including Jordan, Senegal, Australia, Mexico and Montenegro.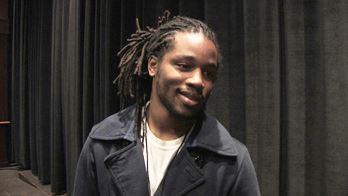 The festival is part of The MY HERO Project, a non-profit 501(c)(3) organization that celebrates the exceptional people who motivate and inspire us by working to make the world a better place. MY HERO is now celebrating its 22nd year of promoting cultural awareness and fostering personal expression and international communication through its award winning web site www.myhero.com. Students and adults from around the world use this free, universally accessible resource to share written stories, artwork, music and short films about the heroes who have touched their lives. Teachers from more than 190 countries use MY HERO curriculums in schools, after-school programs, community workshops, libraries and media centers.
Entries are now being accepted for The MY HERO International Film Festival. Filmmakers may submit films of up to 10 minutes in length in the following categories: Narrative, Animation, Experimental, Documentary or Excerpt. The deadline to enter is May 1, 20118 For more information, visit the festival web site at: www.myhero.com/filmfestival.
To view Coogler's and other award winning films, visit the MY HERO screening room at: https://myhero.com/winners
Page created on 1/18/2011 12:00:00 AM
Last edited 2/21/2018 8:48:04 PM
Related Links
Locks
- Watch "Locks", the 1st Place College Narrative winner