Venus Williams is an amazing tennis player, and I admire her very much. She set her mind to playing tennis when she was younger, and now she has grown up to be an amazing athlete. Tennis is one of my favorite sports, so I watch her play on television and I go to the US Open every year. I also love the tennis outfits that she wears, and I think it is cool how she designs them herself. I also like how her father is her coach. Even though Venus seems better than her sister Serena, I admire them both and think that they are equally good. They also play doubles together, so those are the matches I like watching the best. It's also fortunate that Venus and Serena get along and don't let tennis matches get in their way of being the best sisters that they can be!
Born on June 17, 1980, this young athlete grew up in Compton, Calif. Before Venus was born, her father, Richard Williams, was flipping through the channels, and spotted a tennis match on TV. He began watching it, and when he saw Virginia Ruzico win the tournament, he decided that he loved the sport and wanted to teach his next daughter how to play tennis. He hoped she would become a pro. While she was still young, Richard would collect tennis books and videos to prepare for when he would teach her how to play the sport when she got older. Shortly after Venus turned four, she received her first tennis racket and they drove to the public courts. After some practice and words of advice, she was able to hit the ball over the net almost every time.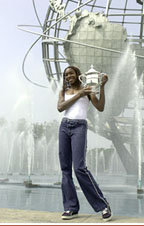 Venus loved tennis so much because that was a time that she could have her dad all to herself, without her three older sisters interfering. When Venus was six, she could slam backhands and forehands over the net with great accuracy, speed, and consistency. Venus also loved to watch tennis matches on TV and on tapes. From these matches, she tried to copy the pros' footwork. She also noticed that the most successful players were the ones who could find their opponent's weakness, and then keep hitting the ball in their weak areas over and over. Venus played many sports in school, such as soccer, softball, and gymnastics. When she was 10, her parents told her that she needed to decide on one sport that she wanted to play, so that she could focus on it. She chose tennis because she thought that she could be number one of all time. She was offered deals from agents, including cars, a bigger house, and money, but Richard turned them all down.
Venus also played in junior tournaments for the US Tennis Association, but her father wouldn't allow her to get professional training. He thought that he taught her well enough. Venus even managed to get straight A's in school. Finally, Richard gave in and got a professional coach who ran a tennis school in Florida, so the Williams family moved 4,000 miles to Florida.
Venus and her sister Serena stopped playing in the USTA junior tournaments, but the USTA insisted that she and Serena play in them so they would get used to the pressure of competition. Their dad refused, saying that they shouldn't feel pressured at a young age. Venus didn't even spend that much time on the court. She would spend as much time off the court as on. She sometimes only practiced for an hour a day. If her grades went down, she wouldn't even practice at all, and this upset her coach very much.
When she was 14, she entered the Women's Tennis Association Tournament in Oakland, Calif. She and her family went to Disney World the week before the tournament, and the coach was very upset about this also, and felt that she still needed some fine-tuning for the tournament. This trip made her feel very relaxed. At the tournament, she won the first match but lost the second. Venus played in more and more tournaments as the years went on, and in 1997 she was in the US Open. She made it to the finals, but lost to Martina Hingis. She also won the Grand Slam Cup in 1997. Venus also won the Lipton Championship in 1998 against Anna Kournikova.
After all of these wins, Venus was ranked fourth of all tennis players. Venus also won 4 doubles titles with Serena in 1998. In 1999, Venus and Serena played against each other in the finals of the Lipton Championship, and Venus won. Venus and Serena won in the US open doubles tournament, too. At the end of 1999, this intelligent and athletic tennis player was ranked third. Venus Williams has had a very victorious life so far, and will probably win more championships and medals as the years pass.
Page created on 6/9/2004 4:25:21 PM
Last edited 1/9/2017 4:17:04 PM