by
Amani Shah

from

San Diego, California in United States

You can push yourself much further than you ever thought, and you can make the impossible happen.

- Venus Williams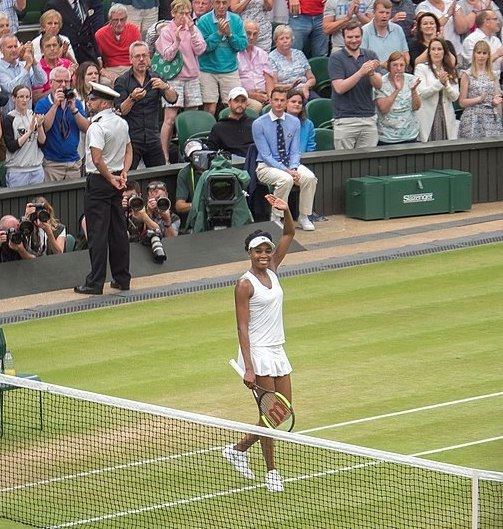 Venus WilliamsPhoto by Charles Ng CC BY 2.0 [Public Domain]On Atlantic Avenue and Compton Boulevard, there are two faded, cracked tennis courts. They are in a park where forgotten drug addicts lay unconscious on the grass, and gang members engage in violence. There's nothing here to indicate that this park, in this infamous neighborhood, was home to one of the most renowned tennis players of all time ("Venus Williams"). Venus Ebony Starr Williams, in my opinion, is the brightest star the world has ever seen. Though her sister Serena may have won more tournaments, no one has done more for women's tennis than Venus. Her bravery and determination have led her to not only break racial boundaries, but also to become one of the greatest athletes ever. She is a sensational African American tennis player who forever revolutionized the game. Venus won multiple Grand Slams and Olympic medals, but above all, she combated racism and gender inequalities. She pioneered her way to being the first ever African American ranked number one in the world ("Venus Williams"). Heroes are those who exemplify praiseworthy virtues; by example, they inspire others to become better versions of themselves. Venus embodies confidence and resilience that have made her the role model she is today. Courageous women have the power to make positive changes in society, overcoming others' doubts and their own fears. However, their ability to persevere through all of life's challenges sets them apart. Venus Williams is a true hero because her testament to the power of confidence and resilience will continue to inspire generations to come.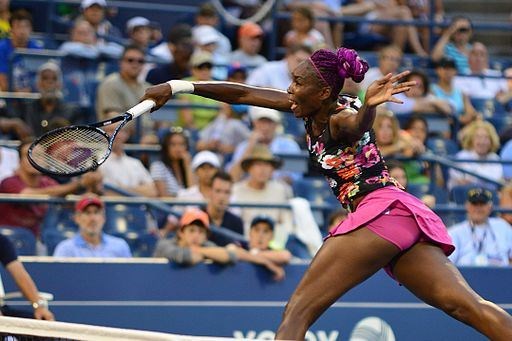 Venus WilliamsPhoto by Edwin Martinez CC BY 2.0 [Public Domain]The confidence she portrays has allowed her to overcome adversity on and off the court and accomplish her dreams against all odds. Despite being a poor black girl in a rich white man's sport, she confidently strode in the direction of her dreams. At only 14 years old, she made her first appearances on the professional circuit. The young Venus discusses her upcoming match with a news reporter: "'I know I can beat her,' a smiling Ms. Williams tells Mr. McKenzie. 'I'm very confident.' Mr. McKenzie seems surprised at her answer. 'You say it so easily,' he tells her. 'Why?' 'Because I believe it,' she replies" (Arrieta). Even at such a young age, Williams had a strong sense of self that is expressed through her unwavering belief in her abilities. She's about to play a match and has no doubt she can win. This faith eventually led her to claim the number one spot in the world, because in trying moments, she had faith that she could perform. Arguably, the Williams sisters are tennis icons, and Venus notes they add a new dimension to the game: "'Serena and I are exactly opposite of anything that ever happened before in the game. The old tennis world was pretty reserved, but Serena and I are bold. We stand out - we have color. We're strong - we're pretty'" (Simons). Venus Williams is an unorthodox tennis player, and for this, she has faced racial discrimination all her life. However, her self-worth allows her to not take these comments to heart. The views of others have never impeded on her achievements. Instead of letting boundaries define her, she has the courage to break the stereotype of a country club player. Her confidence has opened up doors for ethnically diverse athletes. Former world number one Billie Jean King comments on how tennis has changed after the Williams sisters: "'When players take the court today, they do not look like each other,' King said in an email to The Associated Press. 'They are more reflective of our global society. That is a big improvement from my day'" (Murphy). Venus is heavily responsible for changing the face of tennis and continues to promote equality all around. She is not afraid to fight for her beliefs. Her confidence has allowed her to empower herself and other women of color. Those who are bold enough to stand for what is right improve society in positive ways. Venus Williams' confidence and courage have propelled her tennis career and drove her to resolve racial injustices.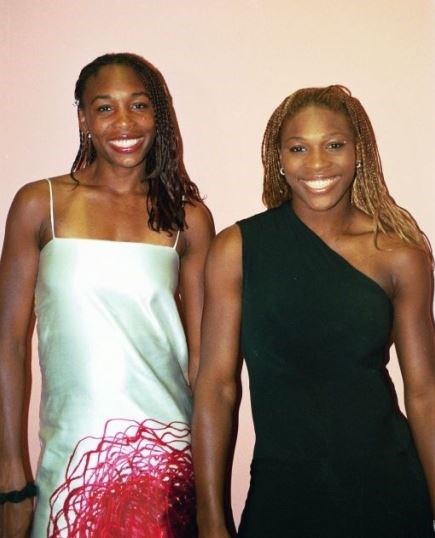 Venus WilliamsPhoto by Kingkongphoto CC BY-SA 2.0 [Public Domain]The resilience of Venus Williams prevents her from derailing off the path of her dreams, and instead, struggles encourage her to grow. In the midst of her career as a professional athlete, "Venus was diagnosed with Sjogren's Syndrome, which causes fatigue and joint pain. How astonishing it is that she's still competing - what an inspiration" (Simons). As a professional tennis player, having constant fatigue and pain would not only be devastating, but also hindering to your abilities. After being diagnosed with this chronic illness, Williams could've given up or retired. Instead, she saw her illness as a challenge and is still battling through it on the court. She has found ways, including a diet change and exercise regimen, to cope with the disease and continue playing professional tennis (Cash, Masters). The tenacity and determination it takes to fight against something out of your control is praiseworthy. Instead of letting challenges stop her, Venus has a different outlook on adversity. She says, "Of course, I would love to mow down all my opponents and have all the wins and reach every sales goal, but that's not always the case. And it's all those other moments, the obstacles and challenges, that make you greater" (Wong). Venus Williams acknowledges that she has faced many challenges along the way. Being an athlete is no easy feat, as you are constantly fighting against challenges of the sport and of life. However, she understands that she grows and learns through these hardships. This positive outlook allows her to continue pushing forward until she has reached her goals. For Venus to accomplish what she has takes unbelievable persistence, and she has learned to embrace a challenge. What sets champions apart is their ability to persevere through struggles, while others regret their bad luck.
The self-assurance and determination of this esteemed woman have allowed her to shine in her life and inspire others to persevere in the direction of their dreams. Coming into the tennis world, Venus Williams stood out not only because of her remarkable talent, but also because of her race. She stunned the world with her success, which is highly attributed to her work ethic. Her fearless pursuit in the direction of her goals is an inspiration to all women, especially athletes. As a tennis player, I idolize her virtues and what she has done for the sport. Venus Williams once said, "Sport is a little microcosm of life, and it shows the human spirit, just being out there on the court, fighting against all odds. If you're down, you keep going" (Simons). She has shown me to not stop battling until I've reached my own goals. Young girls can learn to dream big and believe in themselves, despite judgement from others. In a world where I can be anything, Venus has taught me to be two things: confident and resilient. Venus Ebony Starr Williams is an icon, a legend, superstar, and she is my hero. Through her commendable life, I have witnessed that "you can push yourself much further than you ever thought, and you can make the impossible happen" (Venus Williams).
Page created on 5/10/2019 4:14:03 AM
Last edited 5/20/2020 11:32:47 PM
Related Links
Venus Williams
- Click here for more on Venus Williams
ESPN
- Learn more about Venus Williams' athletic career
Extra Info
Works Cited
Arietta, Armando. "Venus Williams: Confidence Can Be Learned." The New York Times, The New York Times, 6 Dec. 2018, www.nytimes.com/2018/12/06/opinion/venus-williams-self-confidence.html.
Hajek, Danny. "Before Superstardom, Williams Sisters Stunned On Compton's Courts." NPR, NPR, 5 Sept. 2015, www.npr.org/2015/09/05/437810358/before-superstardom-williams-sisters-stunned-on-comptons-courts.
Masters, James, and Pat Cash. "Venus Williams: The Champion Trying to Slam Sjogren's Syndrome." CNN, Cable News Network, 21 Mar. 2014, edition.cnn.com/2014/03/20/sport/tennis/venus-williams-sjogrens-syndrome/index.html.
Murphy, Melissa. "Venus and Serena Williams Help Inspire Diversity in Tennis." Chicagotribune.com, 4 Sept. 2018, www.chicagotribune.com/sports/breaking/ct-spt-serena-venus-williams-tennis-diversity-20180902-story.html.
Simons, Bill. "A Pilgrim's Guide to Planet Venus." Inside Tennis, 20 Mar. 2019, www.insidetennis.com/2019/03/a-pilgrims-guide-to-planet-venus/.
"Venus Williams." Newsmakers, Gale, 1998. Biography In Context, https://link.galegroup.com/apps/doc/K1618002424/BIC?u=powa9245&sid=BIC&xid=d429c959.
"Venus Williams." Notable Black American Women, Gale, 2002. Biography In Context, https://link.galegroup.com/apps/doc/K1623001093/BIC?u=powa9245&sid=BIC&xid=e4408e21.
Wong, Hollie. "Venus Williams: Everything Makes You Stronger If You Allow It To." CNBC, CNBC, 25 Oct. 2017, www.cnbc.com/2017/10/25/venus-williams-everything-makes-you-stronger-if-you-allow-it-to.html.