by
May Chenh

from

San Diego, California in United States

May Chenh

Christopher

HHSE2: 2

29 May 2018

The Desire to Inspire

Walt Disney once said: "If you can dream, you can do it. Always remember that this whole thing was started by a mouse" (Goalcast 11). Heroism is the ability to inspire others with one's story, achievements and traits. It is the desire to make a positive impact on the world and every difference is an important one. A hero must be courageous and willing to overcome their own personal obstacles. This concept is further developed in the article "What Superheroes Tell Us About Ourselves" by James R. Fleming: "Defined broadly, 'a hero is someone who rises above his or her fears and limitations to achieve something extraordinary ... this definition is applicable to most heroic figures, whether they're entirely fictional heroes such as Batman or Superman who live in a world that is quite obviously not our own, or 'real world' firefighters who go storming into burning buildings on a regular basis fully aware that they could be maimed or killed" (2). As stated, heroism is found deep inside a person and demonstrated through his or her actions. Courage and a desire to make a difference are a hero's greatest weapons. A person can be heroic by simply choosing to make a difference in the world that can affect one person or a million. Though being heroic can be a one-time event, being a hero lasts a lifetime. It is one of the main differences between the two: being heroic is an action, and being a hero is a lifestyle. If an individual were to rescue a child, he or she could be described as heroic; however, if he or she were to ignore a child's life the next day, he or she is not a hero. A hero would not exist if not for a want to change the world, and a hero could not inspire without the willingness to face one's fears.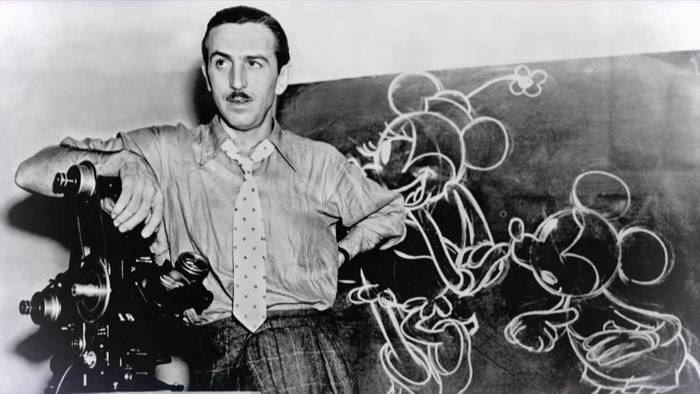 Walt Disney with his drawings of Mickey and Minnie Mousehttps://www.pbs.org/wgbh/americanexperience/films/walt-disney/Walt Disney was born on December 05, 1901 and developed a strong passion for drawing at a young age. He came from a humble origin and had parents who were unsupportive of his passion. Despite his parents' disapproval, he continued to follow his dreams and pursued a career in the entertainment business. He opened his first film studio in Kansas City in 1922, which eventually went bankrupt. He then moved east to California where he and his brother, Roy, opened the first Disney studio. In 1927, Walt Disney created the first animated feature film, "Snow White and the Seven Dwarfs". He then created Mickey Mouse in the following year. After many years of hard work and struggle, Walt Disney finally opened the first Disneyland in Alhambra, California in 1955. Walt Disney became a household name and helped shape many childhoods in both the 20th and 21st centuries through his influential films such as Mary Poppins and Pinocchio. Though he died on December 15, 1966, at the age 65, his legacy continued to live on long after his death. Walt Disney is a hero because he possessed an admirable personality that included traits such as courage and altruism; he followed his dreams and utilized opportunities to make an impact on others.
Walt Disney is a hero because he exemplified courage when he pushed aside fear in order to follow his passion. In a memory that Walt Disney recollected from the start of his career, he stated that his father did not approve of his dreams: "-his dad called it a waste of time. 'He scoffed at me' and contended that wanting to become a commercial artist was foolish, Disney recalled. His dad said he should get a 'real job,' … [Walt later] returned to Missouri and became a working commercial cartoon artist" (Mink 16). Disney's father insulted Disney's dream job by calling it "foolish" and a "waste of time". He also told Disney that "he should get a 'real job'" which is a thinly veiled insult that asserts: becoming a commercial artist is not practical. However, Walt Disney did not let his father's discouragement influence or hinder him from following his dreams and later became a commercial cartoon artist. His courageous decision to disobey his father and go against his father's wishes made Disney a hero because he overcame this obstacle that required him to gain confidence in himself and pay no attention to what his father, a large part of Disney's life, thinks. Walt Disney further demonstrates his courage when he explored the unknown animation field and refused to give up after he encountered obstacles: "He experimented with realistic animation, developed special effects and new processes and techniques all in pursuit of a film that would meet with his expectations. Production started on Snow White and the Seven Dwarfs in 1934 and continued for three years before the studio ran out of money. Disney was able to get a loan to finish the film by screening a rough cut" (MacQuarrie 17). MacQuarrie uses the words "experimented", "developed" and "new processes and techniques" to describe Walt Disney's struggle when he first started his animation career. Animation was a difficult, unexplored business and was difficult because technology, at the time, was unreliable and under-developed. However, rather than letting the unknown intimidate him, Disney used unprecedented technology to make films. In addition, Disney did not let fear of failure affect him and continued following his dream despite bankruptcy.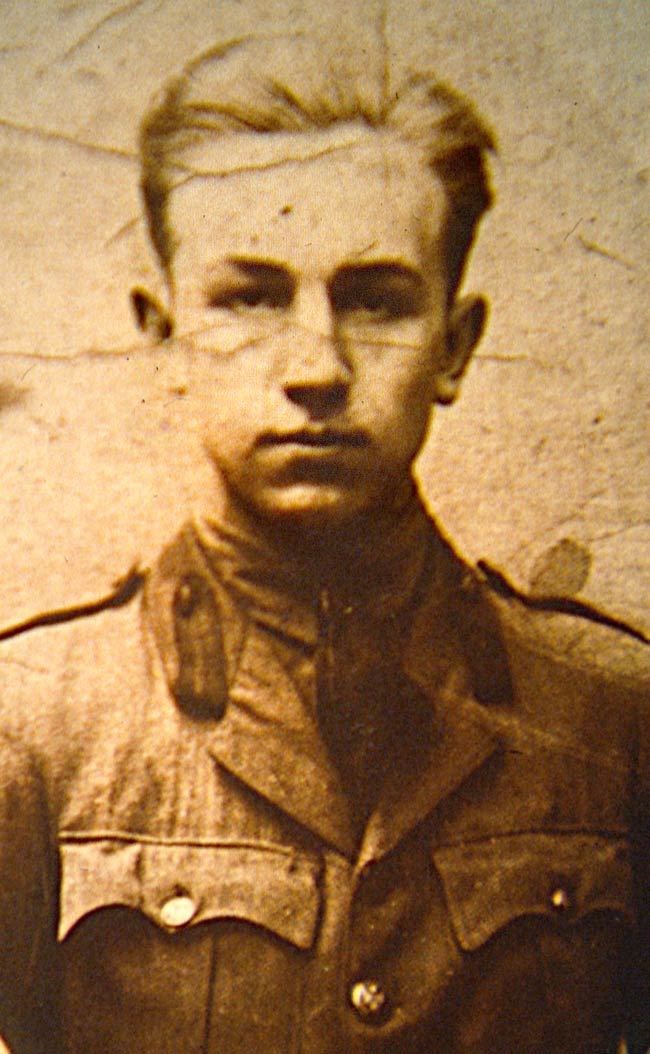 Walt Disney during WWIhttps://shsmo.org/historicmissourians/name/d/disney/Walt Disney also displayed altruism, the most important trait of a hero, when he attempted to fight in WWI and utilized his creativity to fulfill his desire to make a difference in people's lives. In the biography, by Krasniewicz, Walt Disney demonstrates his want to help others when he attempted to join the navy: "But World War I was raging and Walt, faking the birth date on his birth certificate because he was too young to join [the navy] eventually ended up with the Red Cross in Europe" (Krasniewicz 5). When faced with the obstacle of the age requirement, Disney did not let it hinder him. He took the liberty to alter his birth certificate in order to fight for his country. Though he lied, Walt Disney's decision to willingly fight in a war and risk his life to save others shows his altruistic, heroic personality because he lied in order to help others. He showed his desire to make a positive impact on the world and acted on that desire which made him a hero. Disney once again displays his intention to benefit others on the opening day of Disneyland, when he gave a speech that stated the purpose of the theme park: "Here age relives fond memories and youth may savor the challenge and promise of the future. Disneyland is dedicated to the ideals, the dreams, and the hard facts that have created America … with the hope that it will be a source of joy and inspiration to all the world" (Walt Disney). In the speech, he mentions that he created Disneyland with the intention to make it a "source of joy and inspiration to all the world." His good intentions and wish to make Disneyland a place of hope and joy displays his desire to improve the lives of others even for just a moment. With his creativity, Walt Disney was able to create an escape from daily life as well as memorabilia about childhood in the form of Disneyland. Disney's attempts to make a difference on others in any way he can made him a hero and an inspirational role model.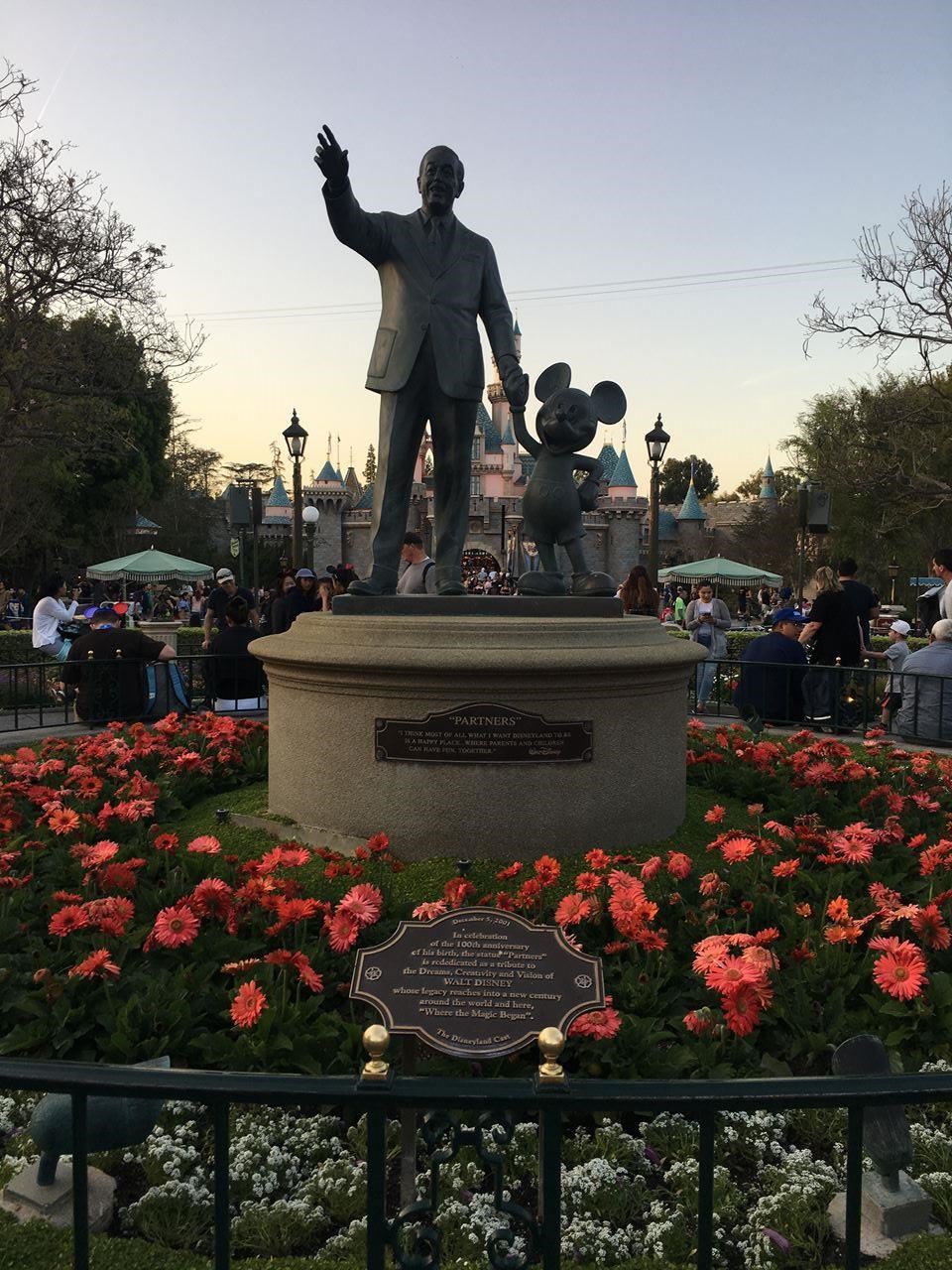 Statue of Walt Disney and Mickey Mouse at DisneylandMayWalt Disney's desire to make a positive impact on the world made him an inspiration. By dedicating his life to benefit others, he exemplifies one of the most important traits of a hero. Walt Disney's story inspirational because he followed his passion and used it to make a difference. As I look back at my childhood, I remember the magical feeling that would consume me when my family and I visited Disneyland. It was one of the few moments I got to spend time with my family, and it was there, on the happiest place on Earth, where I made memories that are impossible to forget. As I grew older, most would think that my interest in magic and fairy tales would decline. Most would believe that I would no longer harbor such a strong emotional connection towards Disneyland as I once did. I began to develop this mindset as well, but I could not have been more wrong. Visiting Disneyland again, I surprisingly discovered that I still experience the same excitement. Now I may be older, but now I was able to see my brother experience the magic for the first time. Through my 5-year-old brother's expression, I saw the awe and happiness in such intensity that it rekindled my own emotions. It was then I realized that fun and magic does not discriminate against age. This experience inspired me to create a difference in the world as well. Disney had made a huge impact on society and shaped a large part of my childhood. Not only did he inspire me to create a difference in the world, but he also he inspired me to follow my dreams. In one of his famous quotes, he states how to make dreams a reality: "All our dreams can come true, if we have the courage to pursue them." In a society that places so much value on money and fame, it often discourages individuals from following their dreams due to fear of failing. Walt Disney did not let his financial situation deter him, and he followed his passion and turned it into a way to help others. Without courage, Disney would not have been able to follow and achieve his dreams. Walt Disney did not only create cartoons and movies. He created change. One cannot create change without the want to create change. To be a hero, he or she must want to make a difference and inspire others to do so as well. Just like Walt Disney did with a remarkable mouse, "First, think. Second, believe. Third, dream. And finally, dare" (Goalcast 13).
Page created on 5/30/2018 4:37:12 AM
Last edited 6/1/2018 6:37:06 PM
Related Links
The Walt Disney Family Museum
- This is a website that has a lot of history and unknown facts or stories about Walt Disney.
Disney Dreamer
- This website is a tribute to Walt Disney and contains many articles that show the history of Walt Disney as well as Disneyland.