Seventh-grader Shubham Banerjee became the youngest entrepreneur to receive venture funding based on a prototype design that uses Lego Mindstorms parts to print braille materials for the blind.
JANUARY 20, 2015 - Because young minds are less likely to fall prey to what psychologists call "functional fixedness" or the inability to utilize an object for something other than what it was originally intended, they can sometimes make better inventors than adults.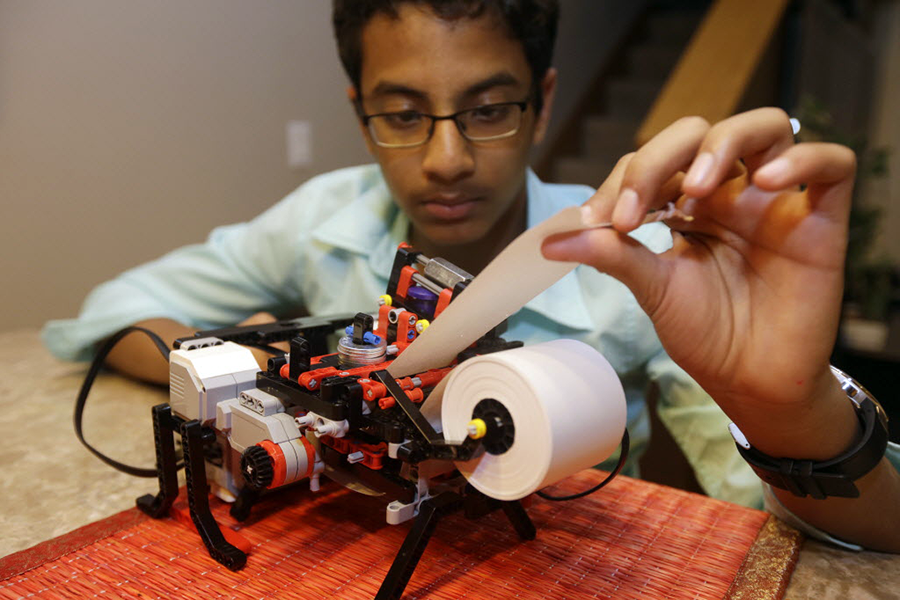 Shubham Banerjee works on his lego robotics braille printer at home, Jan. 6, in Santa Clara, Calif. Banerjee launched a company to develop a low-cost machine to print braille materials for the blind. It's based on a prototype he built with his Lego robotics kit for a school science fair project. Last month, tech giant Intel Corp. invested in his startup, Braigo Labs, making the 8th grader the youngest entrepreneur to receive venture capital funding.Marcio Jose Sanchez/AP
A case in point is Shubham Banerjee, a 7th-grade student from Santa Clara, California, who developed a braille printer called BRAIGO using Lego Mindstorms programmable robot kits.
The 12-year-old's invention makes the assistive technology not only more accessible for education, teaching, and home use, but more affordable. Braille printers can cost more than $2,000, but the BRAIGO cost around $350, according to a press release on the BRAIGO website.
"Kids' brains are not fully developed at the age of this young inventor [Mr. Banjeree] and what's great about that is the flexibility and the ability to tap into creative play for problem solving," said Kristin J. Carothers, clinical psychologist at the Child Mind Institute in Manhattan, New York. "As we get older, we do less and less creative play, get set in our thought patterns, and lose that ability to a great extent."
Carothers says many adults just become "functionally fixed," stuck, locked into their way of thinking, and then are afraid to change, which results in a failure to adapt to demands or capitalize on opportunities.
When we read about child or teenage business prodigies, like Banerjee, some may harken back to the 1988 film Big, which starred actor Tom Hanks as a teenager who becomes an adult literally overnight thanks to wishing on a magical "Zoltar" machine at a carnival.
Hanks runs into the CEO of a toy company while shopping in a famous scene shot at FAO Schwartz toy store and wins a plum job as a toy consultant for being able to play his way into the role of creative brand manager.
According to Ms. Carothers, adults don't need a magic time machine to regain that kind of mental plasticity and get their creative problem solving mojo back.
One way is to be lucky enough to be employed in an environment like the one at the Google work campus where a playground-like workspace and free-range thinking environment are standard.
"You don't have to have a slide in the middle of your office in order to regain that kind of creative thinking process," Carothers explained. "You need to be mindful of taking mind breaks, not just standard lunch breaks. Watch a YouTube video. Play a game. Read a book. Take your mind out of the box."
At the Child Mind Institute a yoga instructor was brought in to help employees regain their physical and mental flexibility via brief body and mind yoga sessions.
"It really helped us to focus on something other than work issues, and to have that mindfulness and body time," she explained. "However, if your office isn't going to do it for you, you can do it for yourself right now."
Carothers also clarifies that to have play time built into your work day does not mean tossing emotional maturity to the wind.
"This teenager demonstrated a sophisticated, but by no means unusual, level of emotional maturity," she said. "Part of regaining being able to successfully put that newfound creative flexibility to work for you is finding the ability to take input and build the opinions of others into your creative repertoire."
Carothers suggests this exercise: try and think of a presentation or project you have done in the past or are working on at present in the way a teenager or child might approach it, without the financial restriction, self-judgments and critiquing we have in the adult workplace. "Try and find ways this presentation could be fun for you and those who are watching it. Integrate music, cultural aspects, and art into your thinking when looking at how to do a presentation that you might have a habit of doing in one set kind of way."
"Kids' brains are wired to think creatively, without restrictions," she said. "We can get that back. We just have to become more mindful of our processes and how much time we spend without those really important mind and body breaks during the work day."
To summarize, Carothers said, "When confronted with a problem, specifically try and think outside the box, challenging yourself to come up with as many ways to solve the issues as you can without self-monitoring, self-judgment, and worrying about what's feasible."
Page created on 1/2/2020 8:29:37 PM
Last edited 1/2/2020 8:39:19 PM