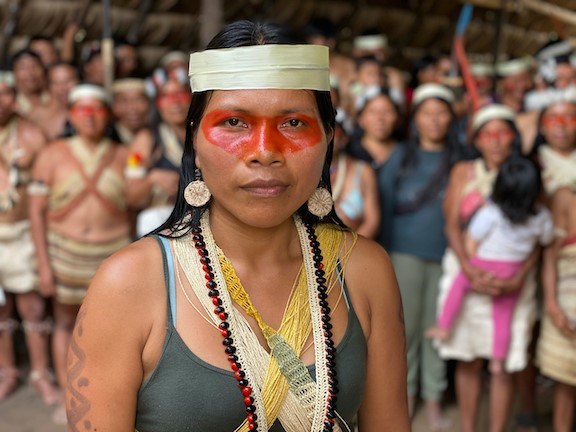 Nemonte Ceremony InterviewWill Parrinello, Goldman Prize, with permission
The film, Rainforest Action, produced by Will Parrinello of the Mill Valley Film Group for the Goldman Environmental Prize, has been awarded Best in Fest at the 2021 MY HERO International Film Festival for its portrayal of the remarkable accomplishments of Nemonte Nenquimo, a 2020 Goldman Environmental Prize winner.
"We are the protectors, we walk under the trees. This is life," sings Nemonte Nenquimo at the beginning of the film. It's not only their land that the community is fighting for, but all the indigenous Amazon communities and for the world: Nemonte is concerned about safeguarding the lungs of the planet, as she refers to the rainforest, for all of us.
Nemonte is a member of the Waorani community of Nemonpare, a group of about 4,000 men, women, and children who live at the headwaters of the upper Amazon River. Formerly gatherers and hunters, the Waorani have been forced to move into permanent forest settlements to protect their people from the dangers of disease and invasions by oil companies and illegal loggers.
Nemonte received global attention after reaching a landmark victory in a lawsuit against the Ecuadorian government, which was trying to lease Waorani territory to oil companies. In the end, they were able to preserve half a million acres of rainforest and create an indefinite suspension of the option of using indigenous land for oil. This set a huge precedent for indigenous rights, the environmental movement, and the self-determination of indigenous people throughout the world. It was for this that Nemonte won the Goldman Environmental Prize in 2020 and that the film, Rainforest Action was made.
In 2020 Nemonte Nenquimo was named one of Time's most influential people of the world. She was inducted by a major supporter, Leonardo DiCaprio, and it was a win for Indigenous Rights across the region and the globe.
Parrinello said of Nemonte, "She is a force of nature—intelligent, strong, and warm. Nemonte is a voice and advocate for her community and she works for all of us. She is an incredibly inspiring woman. It makes you want to do everything to support her."
He added, "Two keys to Nemo's effective leadership are her traditional indigenous knowledge and respect for her wise elders, with whom she consults on all major decisions. At the same time, she understands how non-indigenous culture works and is able to straddle both worlds to communicate her people's objectives and goals."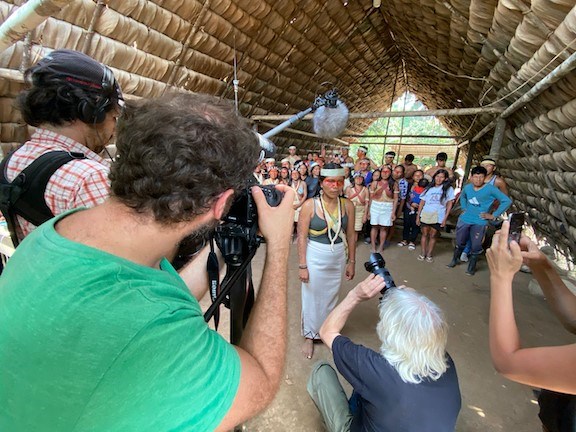 Filming NemonteWill Parrinello, with permissionFilming in Nemonpare
Will Parrinello, Producer/Director at Mill Valley Film Group, told MY HERO that Nemonte's village, Nemonpare, was one of the most remote places he has ever filmed.
Parrinello described his first meeting with Nemonte:
We flew in from Shell over this pristine virgin rainforest, and then suddenly there was an airstrip cut out in the jungle: it was stunning. There was a group of women and children waiting there for us.
Once the engines shut down, Nemo and three women elders walked up to greet us. Nemonte offered her hand in greeting: "I am Nemonte Nenquimo. My name means 'Many Stars.' My people are the Waorani and this forest is our home. Welcome! I am a Waorani woman and a mother." Then, staring me straight in the eye, as if she was going to say something profound, she said, "You may have heard of us? We are the Amazonians!"
Nemonte didn't wait for my response before smiling broadly, then burst into laughter. The women all joined in too, laughing hysterically. It was one of the best greetings we've ever received--indicative of Nemonte and the Waorani's welcoming ways, wicked sense of humor, and good spirit. The Waorani are known as fierce warriors, determined to stop at nothing for their own survival and the survival of our planet. As fierce they are, they are joyous—they are always laughing.
"They said we were too serious," Will added, smiling at the memory: "They were always making fun of each other and playing practical jokes. One time when we were out filming in the forest, walking for ten minutes through a dense grove with no footpath, they asked us to try to find our way back. It was remarkable because we were immediately lost, but of course our guide knew the way. We asked him how he knew and he showed us a small broken twig on a branch on one of the trees we had passed."
Will said the Waorani have their antennas out, and that their way of being in the world tends to be always sensitive, aware, and focused.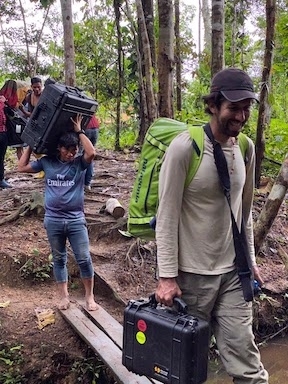 Schlepping Gear in NemonpareWill Parrinello, Mill Valley Film Group, with permission
Parrinello told MY HERO that the intimate access provided by his work filming for the prestigious nonprofit, the Goldman Environmental Prize, has truly been a gift. The crew stayed in Nemonpare for ten days and thanks to the organization, Amazon Frontlines, it was one of the best shoots he's ever produced.
Parrinello's gratitude is palpable. How many people are able to have this amazing experience, traveling to the headwaters of the Amazon and sharing deep and moving moments with indigenous people? And to have everything dialed in and organized for filming when you arrive?
As filmmakers, Will says, "It's rare that we travel to such a remote location and find that we're able to know with certainty, before we arrive, that everything will be okay... but it absolutely was all that and more working with Mitch Anderson and Jerónimo Zuñiga of Amazon Frontlines."
As the crew was getting ready to leave, they were in for a stunning surprise: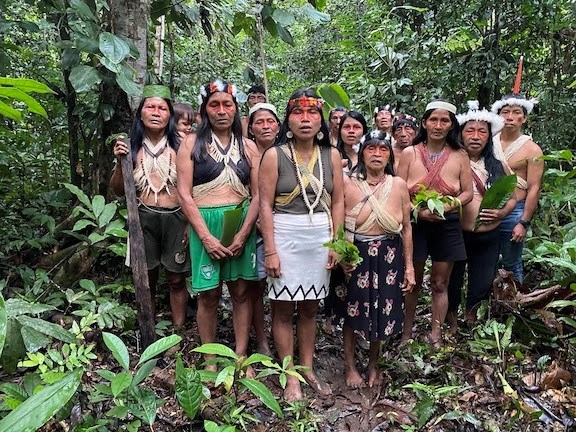 Singing in the forestWill Parinello, Goldman Prize, with permission
The community greeted us just before dawn, waking us with song on our final morning in Nemonpare. We filmed the scene in the rainforest a few hundred yards away from the community. It was an emotional moment…We stepped outside, film gear in hand, to find most of the community's elders, both men and women, dressed in traditional regalia, singing and waiting for us to film that beautiful scene.
Nemonpare elders said they wanted to support us because we had given so much of ourselves during our days in the community. They appreciated that we were open to their lifestyle, food and culture and that we fit in relatively easily, without any drama. That was a special moment we will never forget.
This is the scene of the women singing in the film's opening.
Parrinello also told MY HERO about the crew's experience going on Nemonte's "Toxic Tour," where they visited remote sites outside the town of Shell (yes, That Shell), long abandoned by the oil refineries.
We saw waste pools of residual crude that were spoiling the landscape, fouling the water, leaching carcinogens into the ground, water, and atmosphere. Nemonte looked heartsick and disgusted. When I asked if she was okay she said, "I'm angry with these companies! They don't see the forest. They don't see us. They only see what they want to see. They see oil wells where we see gardens. They see money where we see life."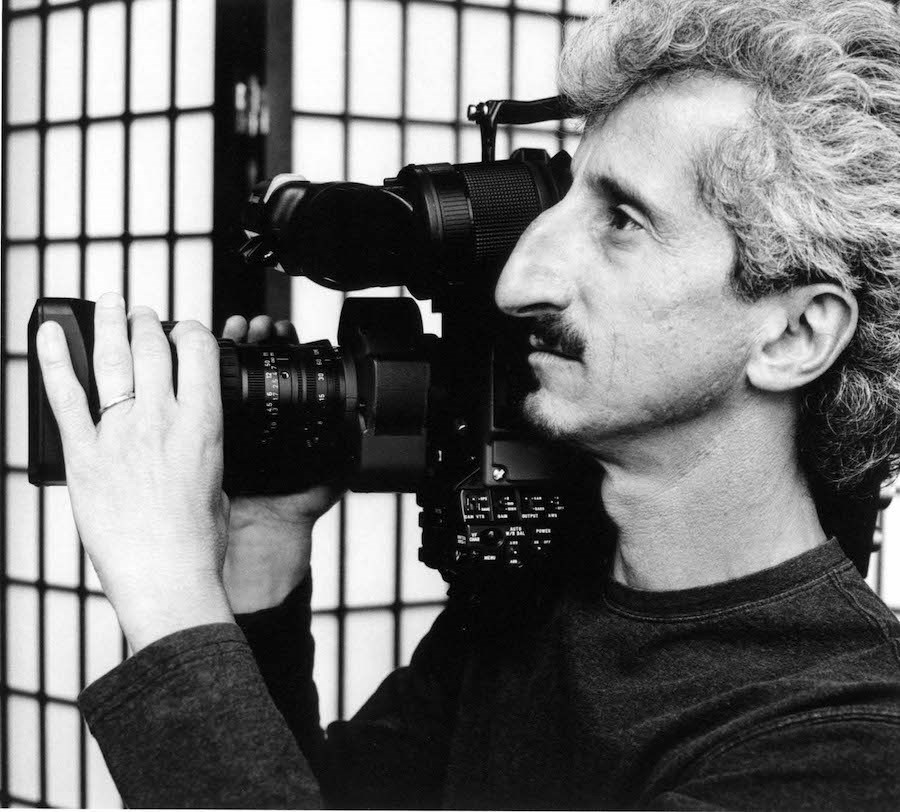 Will ParrinelloReid Yalom, with permission
Will Parrinello
Will Parrinello has been producing and directing documentaries with his partner John Antonelli in the Mill Valley Film Group for 35 years. He has made award-winning films for theatrical distribution, television, and home video. His credits include Dreaming of Tibet, an intimate portrait of three Tibetan exiles, which received an Audience Award at the Amnesty International Film Festival. Their multiple Emmy Award winning PBS series The New Environmentalists, narrated by Robert Redford, profiles Goldman Environmental Prize recipients and received the Persistence of Vision Award at the Wild & Scenic Environmental Film Festival and Sol d' Or Award at the Barcelona International Environmental Film Festival. He was honored by the Chicago International Film Festival with a Gold Hugo Award for Little Italy, an affectionate exploration of Italian American identity. Parrinello co-produced and edited Antonelli's feature length documentary Kerouac. This profile of the beat generation author was broadcast on PBS, A&E, and The Learning Channel and played theatrically across the U.S. He shot and edited In The Light of Reverence, a film about Native American sacred lands, which was the top rated program in PBS/POV's 2001-summer season. Parrinello was a director of photography on the Academy Award nominated documentary Tell The Truth & Run: George Seldes and The American Press.
Parrinello's most recent film, Water for Life, powerfully tells the stories of three Indigenous water keepers in Central and South America, fighting to protect the land of their ancestors against the interest of the state, foreign governments and multinational corporations. All are Goldman Environmental Prize recipients. It's a story of courage and determination, betrayal and corruptions, death threats and murder, and of unexpected victories in the countryside and in the courts. It is a story that asks how economic development can grow in harmony with environmental protections and why we tolerate unbridled greed and profiteering at the expense of human life and our precious planet. Above all, Water for Life illuminates a growing recognition of Indigenous Rights and a rising demand for corporate responsibility and environmental justice that's being seen around the world. It is a story that begins and ends with water.
"I like to tell stories about people, places and cultures that reveal the commonality in us all," Will says on his website.
Film Credits:
Will Parrinello, Producer / Director
Goldman Environmental Prize, Executive Producer
Vicente Franco, Director of Photography
Sarah Kass, Writer
Quinn Costello, Editor
Mitchell Anderson, Field Producer
Francisco Gangotena, Sound Recordist
To view other Mill Valley Film Group films on MY HERO:
/mill-valley-film-group-goldman-environmental-prize-and-other-short-films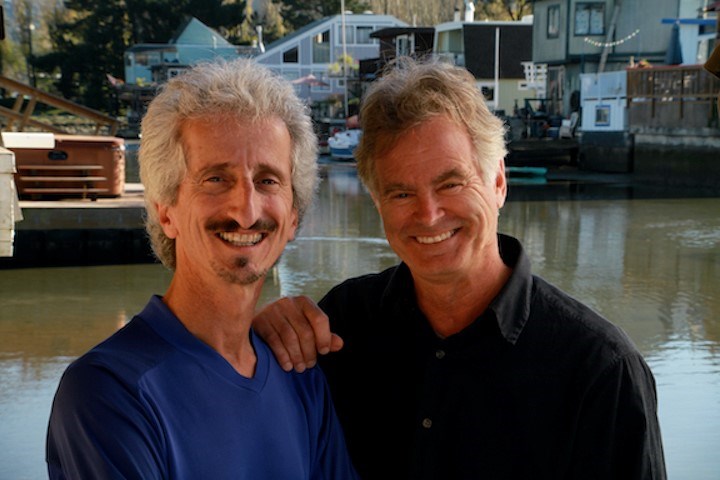 Will Parrinello and John AntonelliMill Valley Film group
Mill Valley Film Group: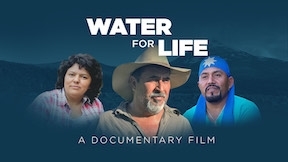 Water for LifeWill Parrinello, with permission
View Parrinello's new film, Water for Life:
https://waterforlife.film
Make a Donation
https://secure.donationpay.org/documentaries/film_no_stats.php?f=waterforlife
Facebook
https://www.facebook.com/waterforlifedoc
Twitter
@waterforlifedoc
Instagram
https://www.instagram.com/waterforlifedoc/
MY HERO International Film Festival:
To view the 2021 award winning films, go to https://myhero.com/Winners
For more details about MY HERO's International Film Festival, please visit myhero.com/FilmFestival