I want Black people to be proud of what their families sacrificed and how they survived. I want people who have lived in the South to talk about their history. - Winfred Rembert
Winfred Rembert was born on November 22, 1945, in Cuthbert, Randolph County, Georgia. He was raised by his aunt and worked in the cotton fields, making as little as twenty cents per day and causing him to miss school twice a week.
At the age of 16, he left school in order to join the Civil Rights Movement. During a march in the 1960s, Rembert was arrested without being charged but spent seven years on a chain gang where he survived a lynching. As a prisoner, he learned to make leather wallets and to design with leather. During this time, he also met his wife, Patsy, who years later would encourage Winfred to draw and paint scenes from his youth using leather tooling skills that he had learned in prison.
After Rembert's release from prison, he and Patsy joined the second great migration of Black Southerners up north, finally settling in New Haven, Connecticut. Rembert worked as a longshoreman and handyman, among other jobs and it wasn't until he was in his 50s that he crafted his tool.
According to the New Haven Independent, Rembert developed 'a painstaking method, drawing from 100 hand tools to produce bright, vivid, colorful scenes. He would wet cow hide, cut into it with an ivory-tipped blade, then soften the edges with a bevel, a matting tool, and a ​"spoon." He finished by dying the leather and applying a protective sheen. The colors were bright, the scenes active and vivid. In the above video, he demonstrated the approach.'[i]
Rembert's paintings, which have been compared to the work of Jacob Lawrence and Romare Bearden, depicted memories of his youth, - 'Black life in the Jim Crow South,' as well as his encounters with racial and police violence in the aftermath of the civil rights protest and the years he spent on the chain gangs.
Before his death in 2021, Rembert stated:
I've been sharing my story, as an artist, for the last twenty-five years. My pictures are carved and painted on leather, using skills I learned in prison. Some people in Cuthbert never knew what happened to me. I want people, especially the people I knew, to understand what happened and why I spent seven years on the chain gang.
The more I thought about putting the things that had happened to me on leather, the more love I felt for Mama—Lillian Rembert—and for other people in Cuthbert, Georgia who were good to me. Mama went through a lot in her life, and she gave me great love—all the love she could muster. I want her to be remembered.
It was my wife Patsy's idea for me to become an artist. She kept telling me, listen, you can do it, and she kept pushing me. There were times in my life when it seemed to me there was no future. Every day Patsy pushed me to be positive. She gave me hope. I'd be dragging my feet and then all of a sudden, I come up out of it like a champ.[ii]
And so he did:
Rembert's works have been exhibited at museums and galleries around the USA, including the Hudson River Museum, the Montgomery Museum of Fine Arts, the Yale Art Gallery, and the Adelson Galleries in New York, and have been featured in The New York Times, The Boston Globe, Huffington Post, Vanity Fair, and Hyperallergic. Rembert enjoyed his first one-man show, 'Memories of My Youth,' in April 2010 at the Adelson Galleries in New York City before 'All Me: The Life and Times of Winfred Rembert', an award-winning documentary, was released in 2011 winning a plethora of awards at the Chicago International Film Festival, Heartland Film Festival, Arlington International Film Festival, Hamptons Take 2 Documentary Film Festival and others.
Rembert was honored by Bryan Stevenson's Equal Justice Initiative in 2015, and in 2016 received a United States Artists Barr Fellowship. In November, 2019, NPR's Morning Edition aired a powerful segment featuring Winfred and Patsy Rembert produced by StoryCorps.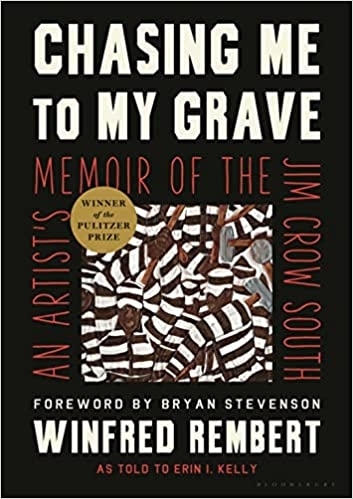 CHASING ME TO MY GRAVEAmazon
And in 2021, Rembert released his award-winning illustrated memoir 'CHASING ME TO MY GRAVE: An Artist's Memoir of the Jim Crow South' as told to Tufts Philosopher Erin I. Kelly. It won the 2022 Pulitzer Prize for Biography or Autobiography as well as: Booklist #1 Nonfiction Book of the Year * African American Literary Book Club (AALBC) #1 Nonfiction Bestseller * Named a Best Book of the Year by: NPR, Publishers Weekly, BookPage, Barnes & Noble, Hudson Booksellers, ARTnews, and more * Amazon Editors' Pick * Carnegie Medal of Excellence in Nonfiction Longlist.
Said Bryan Stevenson, New York Times bestselling author of Just Mercy and executive director of the Equal Justice Initiative: 'CHASING ME TO MY GRAVE' is a compelling and important history that this nation desperately needs to hear."
Rembert passed away on the 31st of March 2021 at the age of 75. He was considered a 'New Haven treasure, an irrepressible man of many talents (including a soulful singing voice) who was impossible not to love.'[iii] He died as a result of a long-term illness, at home by the side of his beloved wife Patsy.
To find out more about Winfred's life and works go to: https://winfredrembert.com/
---
[i] https://www.newhavenindependent.org/index.php/article/winfred_rembert_obituary/
[ii] https://winfredrembert.com/
[iii] https://www.newhavenindependent.org/index.php/article/winfred_rembert_obituary/