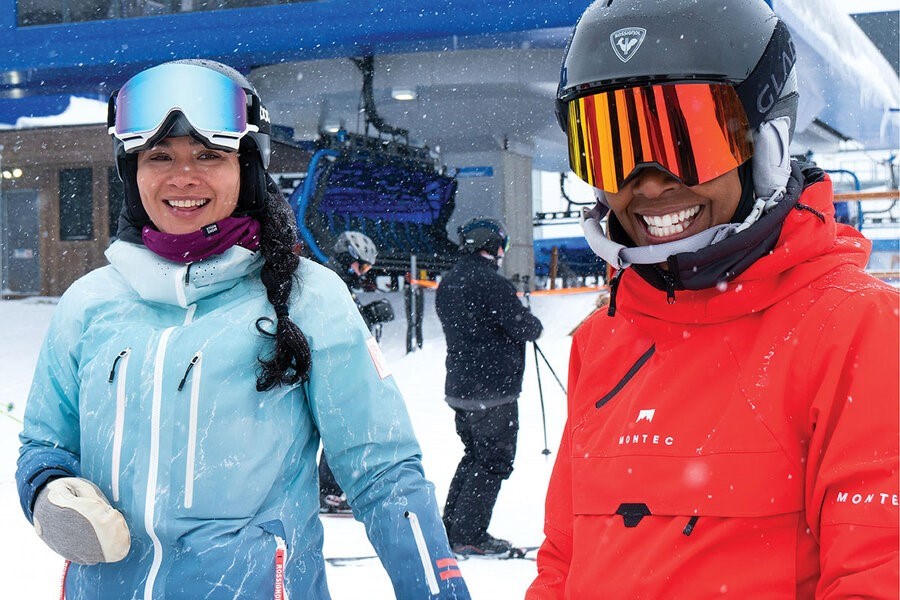 Chris Walch (left), founder of Women of Winter, met this month with Carolyn Stemple, a former WoW student, during the organization's snow-sport instructor certification program for women of color. Jodi Hausen
March 22, 2023
On a recent snowy weekday afternoon, Chris Walch shuffles her skis in a lift line at Big Sky Resort – she's multitasking to the max. Founder of a high-tech business, she texts for work on her smartphone while, in her other role as the founder of Women of Winter (WoW), she's guiding a group of women of color, like her, up to a black diamond bowl at 9,500 feet.
She's one of several snow-sports instructors training women to pursue outdoor adventures and become models for other women not significantly represented on the slopes. Today, she's on one of several runs with this group of Black, Hispanic, and Asian women who've come here from around the country to train for a Professional Ski Instructors Association (PSIA) exam.
The course is meant to produce women ski instructors of color who can take teaching skills back to their local ski hills. For many, the class provides a sense of inclusion on the slopes they've rarely felt.
WoW instills a sense of belonging in the snow-sports environment that has been "predominantly pale and male," says Peggy Hiller, PSIA chief executive officer. "There's a huge opportunity to grow our instructor base to represent our entire population, which includes women and people of color."
Ms. Walch, who grew up in Hawaii, the child of an Austrian father and Filipino mother, learned to ski on the Austrian slopes in her 20s. She stayed in the Tyrol region to teach. With long, midnight black hair and brown skin, she stood out and was easily spotted on the mountain. And, as a new skier, this made her uncomfortable. She says she was considered "exotic," with students often requesting "the Hawaiian instructor."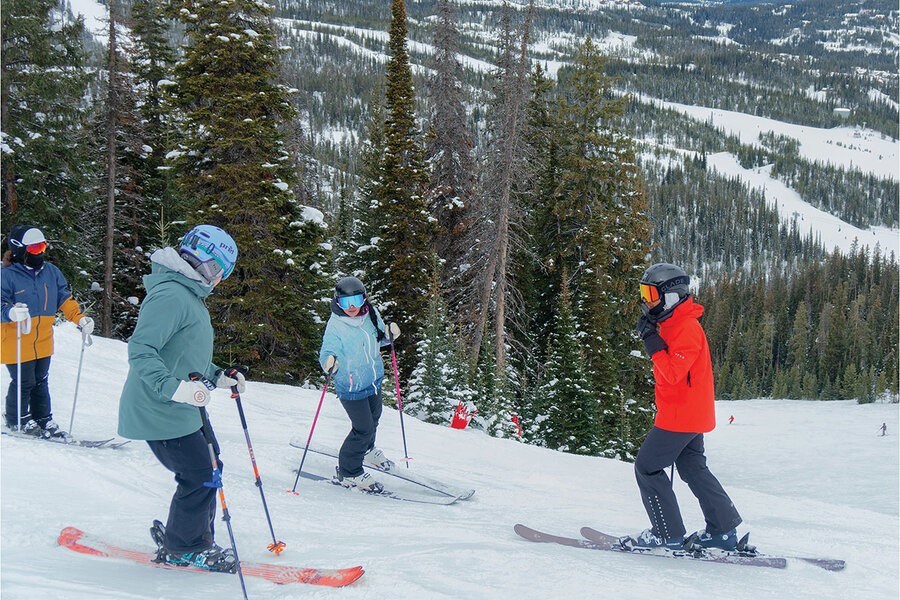 Jodi HausenChris Walch (at center in light blue jacket), teaches women at Montana's Big Sky resort who will take the knowledge back to slopes near their homes.
"I felt like I had a lot of eyes on me no matter what I did," she says. "But I really wanted to ski, and if that's the cost that came with it, that's the cost that came with it ... [it's] not the cost that I want anyone else to have to pay."
Ms. Walch went on to become an attorney for Fortune 500 companies. She decided to use Chris instead of her full given name, Christeen, because, she says, "You'd be surprised how many people take you more seriously when they think you're a white man." She still smiles recalling people's surprise learning she was not only a woman, but a woman of color.
She founded WoW in 2018 while also establishing her own business, LifeScore, an award-winning artificial intelligence music-creation platform used for live-synchronized driving playlists in luxury vehicles and television soundtracks. WoW initially started as an inspirational storytelling event in Bozeman, Montana.
Two years in, Ms. Walch says, the organization pivoted "from inspiration to action," providing opportunities for women to participate in winter adventures with funding from local businesses and nonprofits, as well as sports-equipment companies like Rossignol. Since 2020, WoW has awarded more than 100 scholarships to women of color to attend events including professional snow-sports instructor certification, avalanche safety, and
performance-enhancing mindfulness training. Women participating in snow-sports instructor certification also receive a comprehensive gear package and lift tickets, making an expensive sport more accessible.
The 32 women who participated in this month's WoW trainings arrived from across the country, and their sense of joy was palpable.
Valentina Codrington, a business analyst from Baltimore, wore stylish flowered ski pants and was excitedly anticipating her instructor certification. She recalls once walking by a bus of children of color at a ski resort and intentionally removing her hat to expose her long, dark braids. When they saw someone who looked like them, she says, she witnessed their faces register confidence knowing they were welcome.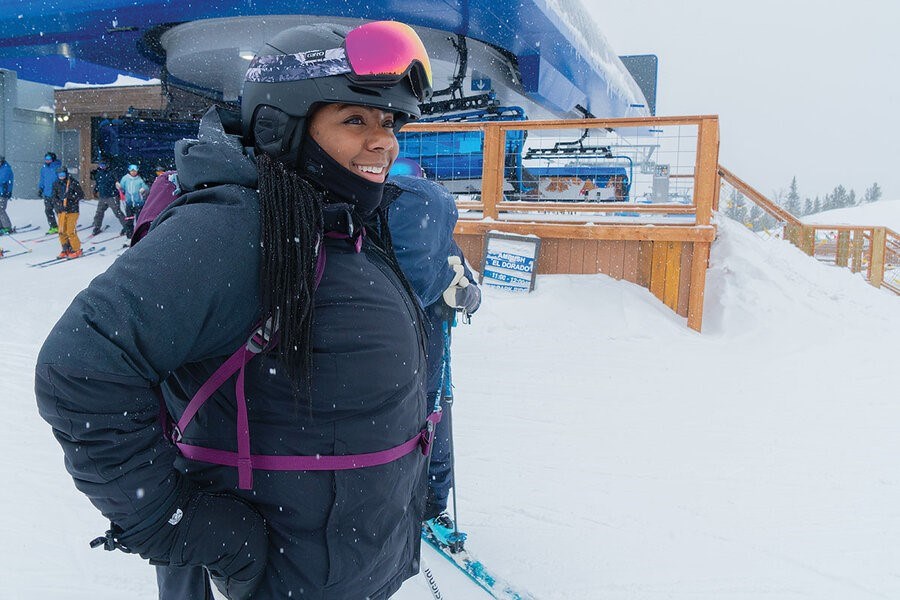 Jodi HausenWomen of Winter gathers women of color from around the country – like Valentina Codrington, a business analyst from Baltimore – to train as snow-sports instructors.
A sense of belonging
Former WoW scholarship recipient Yolanda Carlton, who works in IT security for the federal government, came from Washington, D.C., to ski with this year's students. She teaches at Liberty Mountain Resort in Pennsylvania, an area attracting a diverse clientele. However, out of 200 instructors there, she says, only about five are people of color and only two of those are women.
"When I first came to be with the Women of Winter, immediately I felt a sense of belonging, which is something I've never really experienced on the mountain before," Ms. Carlton says. Seeing women with so much experience in snow sports "opened my mind to all the possibilities and opportunities," she adds. "This, right here, is my retirement plan."
The National Brotherhood of Snowsports (formerly Skiers), founded as a nonprofit Black ski organization, recently welcomed more than 2,100 attendees to its 50th anniversary event for people of color at Vail Resorts in Colorado. Henri Rivers, its president, says people of color, who often live in urban areas, aren't heavily exposed to nature. He explains that part of his organization's mission to offer outdoor recreation experiences is to impart an understanding of climate change and to promote inclusivity.
"It's not about breaking up the monopoly of white people having fun in the outdoors," he says. "It's for everyone."
Ms. Hiller, at PSIA, agrees: "I think it's really important to be welcoming and inclusive to all people who want to join our sport, and instructors are the gateway. [Snow-sports] teachers need to represent our student base."
Shared experiences
It wasn't difficult procuring industry support for the WoW mission. After all, the more people involved in snow sports, the better for the industry. The biggest challenge, Ms. Walch says, was proving that the boost for women of color is needed, because so many people don't believe it's necessary. It is not uncommon for people to post racist or antagonistic comments about the group online, she says.
"I can't change the world," she says, "but I think I can change the world I live in. So, I'm going to focus on that."
That focus, she adds, is that "people want community. And one of the ways that we connect with people is our background, what we've gone through. So, creating spaces where there is community for people of color, specifically, we have a shared experience and we can show up and be vulnerable and be OK and say, 'Oh yeah, we understand the things you've gone through.'"
Related stories