Woody Guthrie
by
Taylor from Boca Raton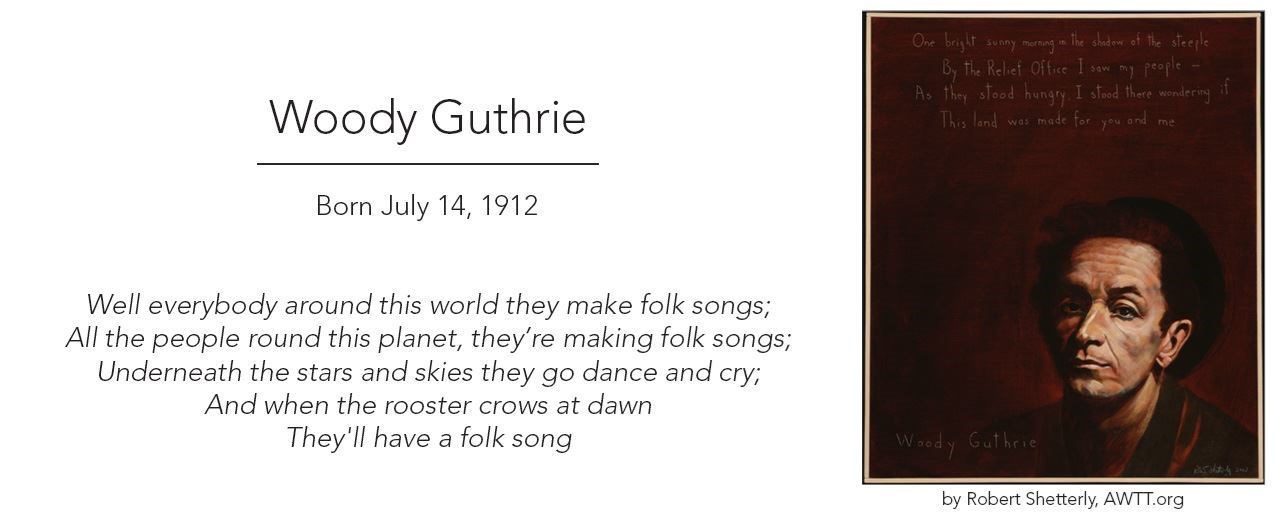 "This land was made or you and me"- quoted by Woodrow Wilson Guthrie, a true American hero. Woody found a way to leave his hometown filled with bad memories and into the big world. His songs were inspiring (and still are) to the common people and showed patriotism with making the world a better place. As a result, he became widely known as he moved people with his music and actions.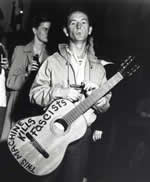 Woody experienced a tragic childhood with the loss of his sister due to a fire, the loss of his mother to Huntington's disease at a young age, and his family's huge financial loss. Woody began to cope with difficult times by making music. Even though it was bad, his childhood made him the man he turned out to be. Woody eventually got out of his hometown of Okemah, Oklahoma and set out on the open road. He decided to head for Texas, where he met his wife and discovered some hobbies like drawing and painting. When the Dust Bowl made it impossible to survive, Woody set out with many other people to look for any way to support his family; he wandered into California. Here, Woody landed a job singing and playing guitar on the radio. A while after the radio, he was tired of it so, he headed east for New York City, where many people heard him! Almost everyone loved his wisdom and authenticity. He soon became a part of many future folk-singers inspiration.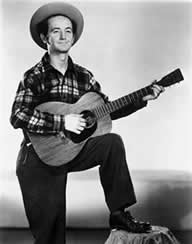 Woody Guthrie's music was made to convince regular people that a change and a better world were possible. The songs like "This Land is Your Land" tell us that everyone belongs together and that things need to change for the better. All of his songs have experiences within them containing a message that all people are equal and they really made people speak up about things. Many people believe he helped change the class discrimination, labor workers, and migrant workers. Many artists like Bob Dylan have been inspired by Woody to promote change and go out to speak for what they believe in.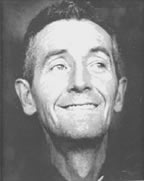 He was a man who loved his country and showed his patriotism through his music lyrics. Basically all of his lyrics have raised American spirit by inspiring the ordinary people to do what they believed they deserved- freedom. Even though now Woody is considered a hero, his ideas and actions were once considered "un-American". He went completely against what people said and gave his opinion to the country. When Woody was drafted into WWII, he found more inspiration for his music and saw true spirit, which is what he stood for.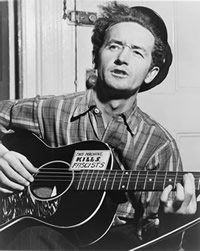 Woody's life was full of historic movements, and after he died he actually became very well known. To this day he's considered a huge hero to America and folk-singers. He loved all people and didn't discriminate, even though he was kind of discriminated against. The Oklahoma Hall of Fame and Rock and Roll Hall of Fame have recognized him for his musical inspiration. Woody's ideas about life will live on for so long. Woody represents hope and freedom not just for big, famous people but the common people. He inspired people like Pete Seeger, Bob Dylan, and even his own son, Arlo Guthrie to become artists. Some bands have done musical tributes in his honor, like U2. People will appreciate how Woody has transformed people through music for a very long time.
As a result of Woody's 3,000 song lyrics, books, art, and more, he became a hero for many people. His life was so interesting and how he has a way with music to convince people about his ideas were fascinating. He's so inspiring and showed the world that no matter how hard it may seem, normal people can make a change in the world.
Page created on 10/22/2010 12:00:00 AM
Last edited 7/14/2021 5:46:22 PM
The beliefs, viewpoints and opinions expressed in this hero submission on the website are those of the author and do not necessarily reflect the beliefs, viewpoints and opinions of The MY HERO Project and its staff.