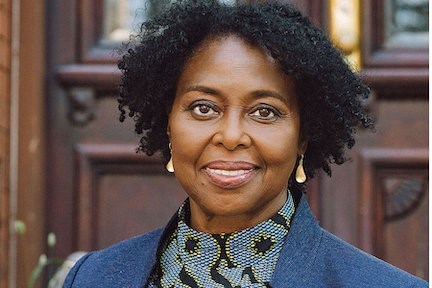 Olmec Toys founder Yla Eason teaches marketing at Rutgers Business School. "If you want to make money and do good, you start with people first," she says.Menelik Puryear/Courtesy of Yla Eason
December 23, 2021
A child's natural inclination is to desire a toy – whether it's the midst of the holiday season or the middle of summer.
The history of Olmec Toys, founded by Yla Eason, begins in this spirit, during a beach trip to the shores of Jamaica. However, what she found was that her son, Menelik Puryear, needed more than something to play with.
"I don't know exactly how it came up, but he was playing with this He-Man toy. And [my then-husband] and I said something like 'You can be a superhero too,'" Ms. Eason says. "He just casually said, nonplussed, 'No, I can't, because I'm not white.'"
Menelik was 3 years old at the time, which added to Ms. Eason's shock. The road to reassurance wasn't easy at first.
"Your skin is not going to stop you from being a superhero. When we get back to New York, we'll buy you a toy, a Black superhero toy," Ms. Eason told him. But then "we came back, started looking for one, and could not find one," she says.
"I started talking to other mothers and found out they were having the same problem," Ms. Eason adds. "They couldn't find any Black superhero toys for their boys either."
Out of that absence, Olmec Toys and its flagship figure, Sun-Man, were created in 1985. Now, almost 40 years later, Sun-Man is seeing a resurgence. Thanks to a partnership with Mattel Toys – and in a piece of "sweet irony," Ms. Eason says – Sun-Man will be sold alongside He-Man as part of the Masters of the Universe collection. Under the partnership licensing agreement, Mattel will be reproducing Sun-Man and the Rulers of the Sun toy collection, but Ms. Eason will retain rights to the property. The toys are slated for a first-quarter release in 2022.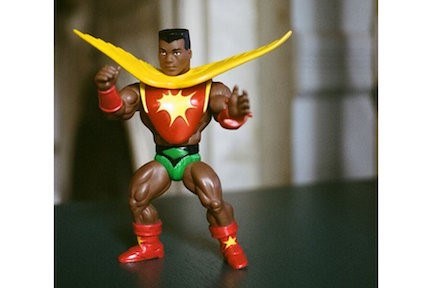 Menelik Puryear/Courtesy of Yla EasonOlmec Toys founder Yla Eason created the Sun-Man toy in 1985 in response to a dearth of dolls with brown skin. This is one of three versions the company produced as part of its multicultural Rulers of the Sun collection.
Marketing to the future
Ms. Eason's career is more than a toy story, though. What made her an innovator and marketing strategist was her approach to demographic analysis, which was ahead of its time.
"Even back in 1985, you could see in America where the majority would become the minority," Ms. Eason says. "In terms of the percentage of Blacks, Hispanics, Asians, and Native Americans, compared with whites, you could see a market was there."
Her studies also led her to cross paths with educator and psychologist Kenneth Clark, whose most famous experiment, conducted in the 1940s with his wife, Mamie Clark, who was also a psychologist, focused on the self-image of Black children. In what became commonly known as the "doll test," the Clarks analyzed the responses of Black children who were given the choice of a white doll or a brown doll. A majority chose the white doll and made positive statements about that doll and negative ones about the brown one. The study was later used as an important point of reference in the Brown v. Board of Education desegregation decision.
"Back then, I just saw myself as going to speak to a noted scholar, but his importance is even more significant to me now," Ms. Eason says. "I asked him, what does it mean when kids can't see themselves, and what did the studies show?"
Page created on 12/27/2021 5:31:04 PM
Last edited 12/27/2021 5:44:17 PM