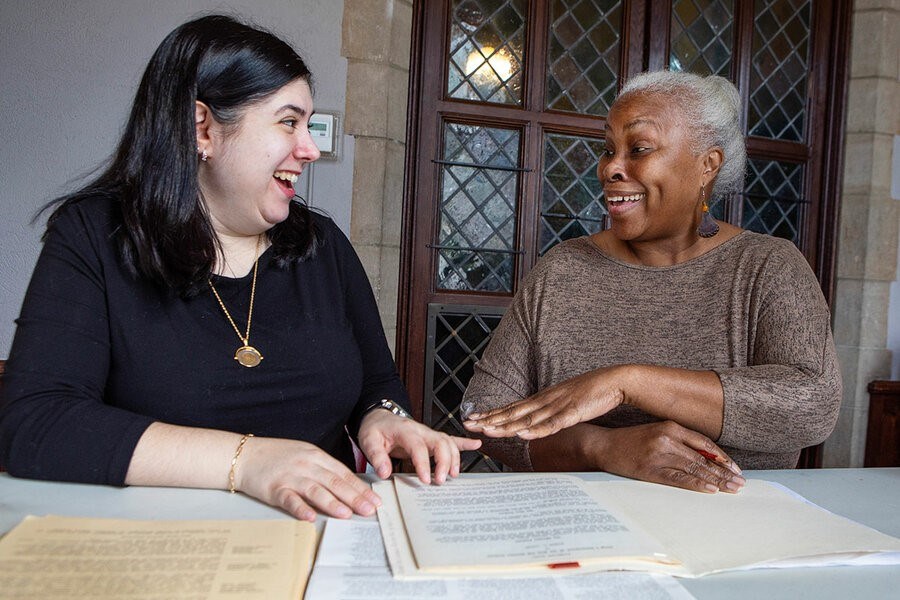 Diane Russo (left), director of the archives at The Riverside Church, and researcher Martha Wiggins look through photos and church bulletins related to racial justice on Feb. 8, 2023, in New York. The archives of the famous church are filled with items detailing social and racial justice related to the church. Melanie Stetson Freeman/Staff
February 14, 2023
No one would argue that a Bible printed in 1493, stained-glass windows from the 16th century, and Heinrich Hofmann's 1890 masterpiece "Christ in Gethsemane" aren't valuable assets. But just as valuable to The Riverside Church, established as an interdenominational church in 1930, are its thousands of institutional documents, committee minutes, sermons, program booklets, membership records, audio and video recordings, and photographs that capture the development of liberal Christianity and a unique slice of American history.
It's a history seen through the eyes of a New York City church grappling in real time with the changes happening in society. With documents from predecessor churches dating back to 1841, Riverside's collections have long been used by local, national, and international researchers, historians, and journalists as primary sources. Today, the church itself is making greater use of its archival materials to analyze the trajectory of its stance on issues of racial justice.
"Our past is integral to our identity," says Diane Russo, who came to Riverside four years ago as director of its archives. "We're looking at our journey – all the good and the bad – to assess who we are as a congregation. We want to see how we've dealt with things. It's important for us to do this work to help figure out where we're going in the future."
"You can't heal what you don't reveal," is a chant echoed by Martha Wiggins, a congregant who has been accessing the archives to create educational programming. Earlier this year, she and a planning team used materials from the archives to design a seven-week online lecture series, "Remember and Repair: Expanding Racial Justice and Equity in Church and Society." A focus of the series was to help congregants and friends look at the church's racial history with a sharp, critical lens.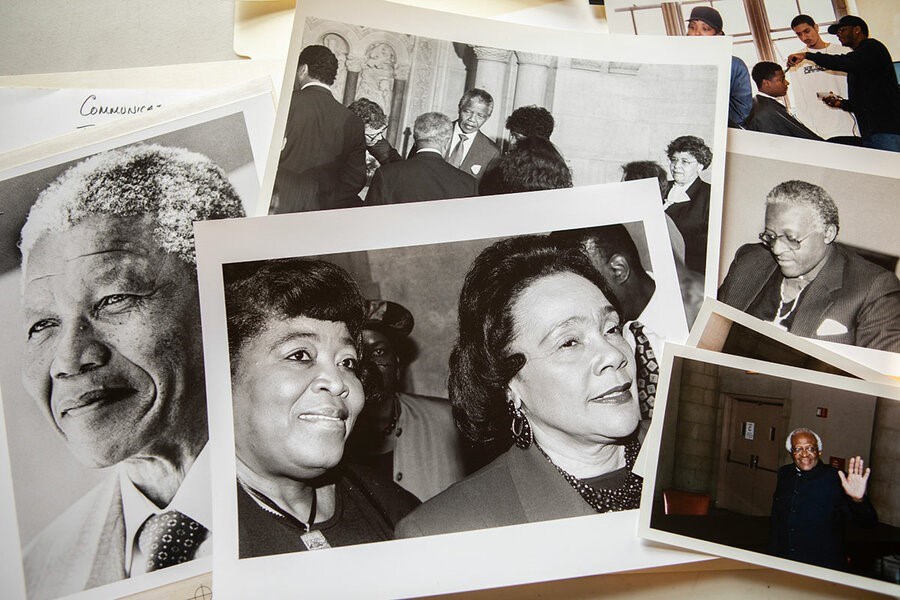 Melanie Stetson Freeman/StaffPhotos (from left to right) of Nelson Mandela, Betty Shabazz with Coretta Scott King, and Bishop Desmond Tutu are in the archive collection of The Riverside Church, on Feb. 8, 2023, in New York.
"The archives helped us take a more factual than anecdotal approach to history," Ms. Wiggins says. "Many people think of an archive as housing a lifeless past, but it breathes, ... it speaks to us of our beginnings and our unfinished work. It houses stories that are begging to be excavated and shared."
"Materials to interrogate our history"
One way Riverside's stories are being told is through its social justice writing workshops and their ensuing publications. The workshops were launched during the pandemic, which laid bare many of the inequities in health care and social services that severely affected marginalized communities. For Riverside's fourth workshop, the planners collaborated with Ms. Russo to identify photographs, media, and works of art that could be used to spark creativity and prompt the writing process.
"We wanted to give people who have been drawn to justice work a creative way to communicate who has inspired them," says longtime Riverside member Luvon Roberson, who designed the online workshops with her team. "In turn, these writers will inspire others to see writing as part of the justice journey."
Rarely seen photos of Nelson Mandela, Maya Angelou, Coretta Scott King, Betty Shabazz, and church members at a protest rally were starting points for writing about social justice.
"The archives gave us evidence, ... materials to interrogate our history," says Ms. Roberson. "We need to know about efforts that championed the good and the right. History has shown us that there can be downturns where injustice and oppression become overwhelmingly present. During that time, it's important to counter injustice with truth."
Riverside's early leaders were considered more progressive on theological issues of the day, as well as on issues of social and racial justice. Yet the archives show little change in the church's racial makeup during its first three decades, which is consistent with most churches of that era.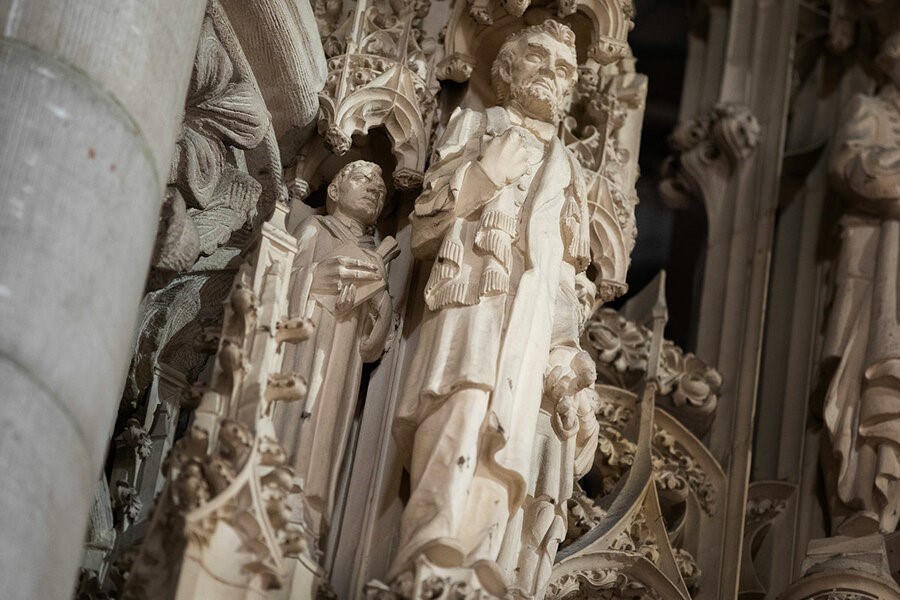 Melanie Stetson Freeman/StaffA carving of Booker T. Washington (left), seen behind one of Abraham Lincoln, is part of the chancel screen in the nave of The Riverside Church, on Feb. 8, 2023, in New York.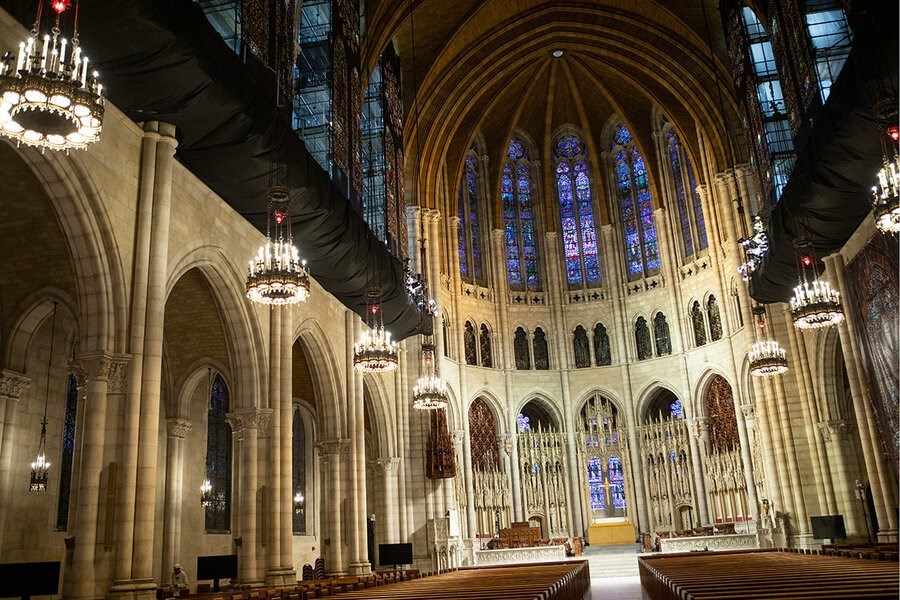 Melanie Stetson Freeman/StaffThe main sanctuary of The Riverside Church, on Feb. 8, 2023, in New York.
"We've found maybe one African American in the choir and an instance of a couple of African Americans who came to our worship services," Ms. Russo says of photos from the 1940s and '50s. "We didn't have diversity in terms of economic class either; the church was on the wealthier side."
The philanthropist and oil magnate John D. Rockefeller Jr. was a primary benefactor when the current edifice was erected in the late 1920s.
Things started to change in the 1950s and '60s. One indicator is the number of photos and recordings of racially diverse individuals who have spoken from the church's pulpit. From 1961 to 1967, the Rev. Dr. Martin Luther King Jr. spoke at the church six times and delivered from its chancel his "Beyond Vietnam" address, which decried that war on moral and economic grounds. Over the years, the church has recorded and kept photographs of speakers such as Nelson Mandela, Marian Wright Edelman, Jesse Jackson, Desmond Tutu, Fidel Castro, Maya Angelou, the Dalai Lama, and Cesar Chavez.
A call for reparations
One lesser known but perhaps equally impactful pulpit orator was civil rights activist James Forman. On May 4, 1969, he interrupted the Sunday morning service to make a series of demands for white congregations to pay reparations to African Americans. "Because the church was recording the service, we have this event on tape as well as news clippings – and the church's response," says Ms. Russo. "This collection is incredibly important because it had repercussions and it's relevant to today's world."
"Riverside's journey toward justice is not a straight line; it zigs and zags," adds Carol Fouke-Mpoyo, who worked with Ms. Russo and others to commemorate the 50th anniversary of Mr. Forman's "Black Manifesto," reflecting on its significance then and now. "We didn't want to present a myth about being a perfect social justice voice; we wanted to look at the complexity of our history. We needed to look at where we failed and where we succeeded. What we're trying to do is use the materials in our archives to inform ... the truthful telling of our own history."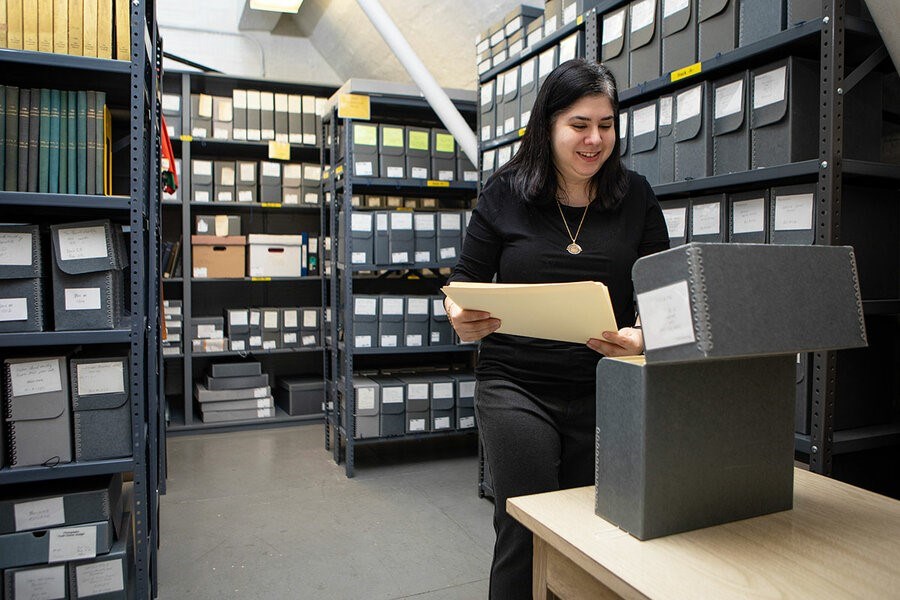 Melanie Stetson Freeman/StaffDiane Russo, director of the archives at The Riverside Church, sorts through items in the church's collection in a room known as "the cage," on Feb. 8, 2023, in New York.
Combing through its archives is also challenging the church to examine its iconography, including pieces that have significant historical and financial value. Looking through decades of committee minutes and other reports has uncovered the context in which visual images were chosen. "Why were certain images used?" questions Ms. Fouke-Mpoyo. "What do we make of art that doesn't reflect our current diversity? ... Are any images seriously problematic? These kinds of questions can be teaching moments. ... They are part of the process, helping us determine who we want to be."
Central to The Riverside Church's process of discovery and identity is harvesting more of the history stored in its archives. To aid that effort, Ms. Russo and the archives' three-member staff launched a digitized platform this year that showcases its fine art collections, sculptures, photographs, newsletters, sermons, media, and other materials. The new site allows easier access to anyone wanting to dive into the church's collections.
"The archives are meant to inspire people to uncover the past and be transparent," Ms. Russo wrote later in an email. "There can be many historical perspectives, but we aim to be as objective as possible. Examining history can often be challenging and leave us with many questions. Our aim is to talk about it, reflect on it, and allow it to inspire a way forward."
Related stories