Young@Heart
by
Amanda Molinaro from Irvine
"Rock 'N Roll will never die!" Meet Young@Heart, the senior citizens chorus that sings rock, punk and disco, and whose average age is 81. These "gyrating geriatrics" refuse to let old age or illness slow them down and they have been touring all over the U.S. and Europe, performing their renditions of classic songs such as The Ramones' "I Wanna Be Sedated," Bruce Springsteen's "Dancin' In The Dark," David Bowie's "Golden Years," Sonic Youth's "Schizophrenia," and James Brown's "I Got You (I Feel Good)".
Young@Heart was started in 1982, in an elderly housing project, by Bob Cilman. Although Cilman was in his late twenties when he took a job at a meal site for the elderly, he felt right at home. Within the first few months, one of the senior citizens approached him and asked if Cilman could play the piano, and if they could organize a music group. When they started meeting on a daily basis to sing, Young@Heart was born. Six months later, they gave their first performance in front of an audience of 90 people. The second night of their performance, they completely sold out: 250 people. All 12 of their shows that year sold out and the following year all of them sold out in advance.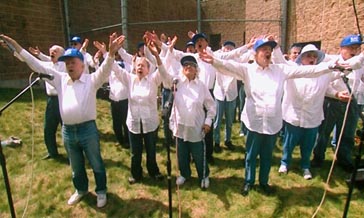 Surprisingly, most of their audience is a much younger crowd. Young@Heart is a novelty act that invokes lump-in-the-throat moments because the chorus members sing from their hearts: they love life and are determined to hold on, even when they are at the end. As Cilman says, "These people struggle to stay alive and to keep doing it." They understand that life is short and, when two members died just days before their next performance, one of the members sang a heart-wrenching cover of Coldplay's "Fix You."
Over the course of their 26 years, Young@Heart has teamed up with other performing artists such as break-dancers, a gay men's chorus group and the rock band Drunk Stuntmen. In addition to performing in theaters for the general public, they also perform in more unconventional locations: in front of the inmates of a county jail, before the musicians of a nightclub, and in front of high school students.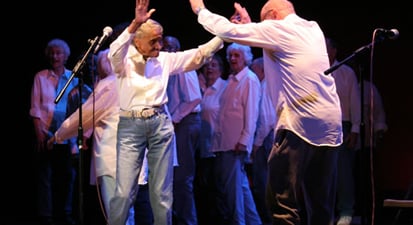 During rehearsals, the Young@Heart chorus is a rowdy bunch. They tell racy jokes and love to dance while they sing. On stage, they dance and sing while bellowing out tunes. These amazing people are well into their 70's, 80's, and 90's, and with wheelchairs, walkers and breathing machines, are able to get on stage to sing and dance. Cilman wants to keep the minimum age at 73 and has been pushing it up, because he has noticed that over the last 25 years people's health and stamina seem to be increasing. The current members of the Young@Heart chorus range in age from 73 to 88. Some have acted or have sung professionally, but most have not. They have recently created a movie documenting their 26 years as a chorus. Although none of the original members are still alive, the spirit they brought to the chorus lives on in their documentary, Young@Heart.
Page created on 10/7/2012 11:03:21 AM
Last edited 1/6/2017 7:20:54 PM
The beliefs, viewpoints and opinions expressed in this hero submission on the website are those of the author and do not necessarily reflect the beliefs, viewpoints and opinions of The MY HERO Project and its staff.