On Saturday March 9, 2002 I found myself in an extraordinary group of peacemakers. Sara Bodenberg, Sarah Leiser, Katherine Clausius, Catherine Bush, and Scott Paul all are members of the youth group of the World Federalist Association and Co-Presidents of Amnesty International at their Graduate school.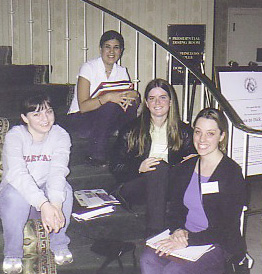 World Federalist Association members Sara Bodenberg, Sarah Leiser, Katherine Clausius, and Catherine Bush.
The WFA is a non-profit educational and advocacy organization advancing, effective means of ending genocide, democratizing the United Nations and other institutions of global governance. The WFA believes that peace is not only the absence of war, but also includes justice of law and order. Their goal is the abolition of war to preserve a livable and healthy global environment, and to promote a just world community through the development of enforceable world law. The students are currently working with the University of Wisconsin to try to get more active members. Their Amnesty group is made up of seven committed members and fifteen members that write letters to Congress. They are a small group because they study at a small college. However they invite many different organizations to get involved.
Bodenberg and Leiser became interested in Human Rights in a graduate course they took together last year. Their professor encouraged them to restart an Amnesty International group on campus. After starting the group they realized how much they had learned in one semester and grasped that the force behind human rights is education.
"People need to be taught and informed on human rights abuses around the world," says Bodenberg. Leiser adds, "These peacemakers believe that in order for human rights issues to be heard, there has to be an overall grassroots effort especially amongst the youth."
One of their many goals has been to promote campus wide education of human rights and get the word out so that people will be aware and able to change things.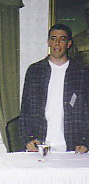 Columbia University graduate student and World Federalist Association member Scott Paul.
When I asked the group what resolutions do they offer to some of the human rights issues around the world, they all told me the "mobilization of shame". The mobilization of shame is a campaign that puts a spot light on the heinous crimes of dictatorships. Bodenberg states that "the mobilization of shame says that the world knows what you're doing and it's outrageous and you cannot do that."
Many of these government dictatorships imprison and torture people who speak out against their government, even in nonviolent protest. These people are not given a fair trial and are often arrested and convicted on trumped-up charges.
However, getting the word out has been a challenge for the youth peacemakers. They believe that to get more Westerners to take them seriously would be a large step forward in their journey of peace. They believe that there is a misperception by the public of their ideas and what they truly represent. They have been described as pot-smoking hippies, but this is a misunderstanding about the type of person the human rights advocate is.
Some of the issues that they have been working on are writing letters to Congress to try and get members to realize that the Cuban embargo is not only unjust, it does not serve American interests. Another issue they are working on is looking at Globalization and how it affects developing nations. The peacemakers arrange speakers on Globalization and are giving presentation on Amnesty International and the International Criminal Court. They hope statewide representatives will take part in these events. This spring they are going to have a Jamnesty concert where three bands are playing and a human rights speaker will inform the school how human rights issues actually relates to students everyday lives.
After looking at some of the results of globalization in the developing nations, the youth peacemakers feel that it is important to stop globalization.
"It can be a great part of a human rights movement or it can be a real nasty beast," says Leiser. "People really don't realize where their clothes that they shop for in stores like Wallmart and The Gap are made. Someone in a developing country may have made them in a 'sweat shop.' People need to be responsible shoppers and find out where their clothes are made."
I asked the group what they thought about the war on terrorism and I got differing answers. For example, Bodenberg believes that a lot of people don't know about all the innocent citizens that are being imprisoned in America. Leiser says: "Somebody didn't just crawl out of a cave and decide to hate America. Sadly that's what a lot of people think happened. People should know what they're talking about before they decide to go and bomb a country." Katherine Clausius adds that a lot of older adults have trouble seeing the world in modern terms and not in cold war terms," and Scott Paul offers this: "the importance of the war hasn't gotten a fair shake. He doesn't think the people of Afghanistan have been recognized and their words have not been heard very well." Overall they believe that there is a difference between the war on terrorism as an idea and how the war is being fought.
The students named several reasons for doing this kind of work: because they have an obligation to try to help people realize peace, because one person's effort brings out initiative in another, and because, as Leiser puts it, "you can't sit by and expect things to change."
Page created on 9/13/2002 10:45:45 AM
Last edited 9/2/2021 8:55:20 PM