FOR IMMEDIATE RELEASE
Contact: Wendy Milette
[email protected]
1278 Glenneyre, #286
Laguna Beach, CA 92651
WINNER OF THE BEST OF FEST FOR THE 2010 MY HERO FILM FESTIVAL ANNOUNCED
Los Angeles, CA - 11/20/10 - The MY HERO Project is pleased to announce the winner of The Best of Fest Award for The 6th Annual MY HERO Film Festival: The Hummingbird, an excerpt from the animated feature film, Dirt! The Movie. The animated segment tells the story of a hummingbird that does what it can to improve the world while others neighbors just look on.
The short film illustrates the philosophy of Wangari Maathai, the Nobel Peace Prize winner and founder of the Green Belt Movement. Her Kenya-based organization works with women's groups to plant trees across Africa, conserving the environment and improving the quality of life for her people. Green Belt has planted more than 20 million trees to date. Maathai's work is a living example of the ethos that small actions, working towards the greater good, can accumulate to have global impact.
The intrepid hummingbird that exemplifies Maathai's worldview was brought to life by the filmmaking team of Bill Benenson, Gene Rosow and their collaborators on Dirt! The Movie. Inspired by William Logan's book Dirt: The Ecstatic Skin of Earth and produced through the non-profit Common Ground Media, this film examines the fascinating history and uncertain future of dirt itself.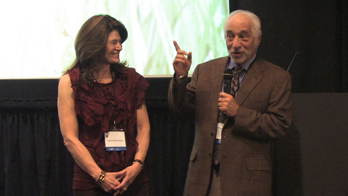 One teaspoon of dirt contains a billion organisms, working in a remarkable balance that helps sustain all life on planet earth. Yet this precious resource is under serious threat from pollution, destructive methods of agriculture, and other consequences of human impact. In Dirt! The Movie, actress Jamie Lee Curtis narrates Benenson and Rosow's travels around the world to study dirt. Along the way they interview renowned global visionaries such as William Logan, Maathai, and Dr. Vandana Shiva. In the course of their journey, the filmmakers discover exciting new ways to consider dirt and repair the damage being done to this natural resource with practical, viable solutions.
The MY HERO Film Festival is honored to bestow its Best of Fest Award upon these passionate filmmakers.
The award will be presented at The MY HERO Film Festival Awards Ceremony. This event begins at 3pm on November 20th, at the Ray Stark Family Theater in USC's George Lucas Building. The 15th Anniversary Celebration Party will follow. Reservations are required.
To view the winning films for the 2010 MY HERO Film Festival, visit http://myhero.com/2010
PLEASE NOTE, SEATING IS LIMITED, SO RESERVE YOUR SPOT NOW:
To reserve your free seat for the Awards Ceremony & Screening, please R.S.V.P. at http://myhero.com/rsvp
The MY HERO 15th Anniversary Celebration Dinner will immediately follow the film festival at USC. Donations are required for this dinner celebration. http://myhero.com/celebration
Page created on 1/25/2011 12:00:00 AM
Last edited 7/10/2017 6:15:21 PM