Jeni Stepanek To Receive 2016 My Hero Humanitarian Award
CONTACT: Wendy Milette FOR IMMEDIATE RELEASE
JENI STEPANEK TO RECEIVE 2016 MY HERO HUMANITARIAN AWARD
SANTA MONICA, CA – 10/27/16 – Jeni Stepanek, Ph.D, mother, author and advocate for peace is the winner of The MY HERO Project's 2016 Humanitarian Award. By mentoring youth and adults who are committed to peace, Jeni has earned the nickname "Mama Peace" from leaders around the world. Stepanek's commitment to global peace has taken many forms, most recently she has been teaching peace workshops at John Hopkins University. Stepanek has a Ph.D. and M.Ed. in Early Childhood Special Education, is also a NY Times Bestselling author for her books Messenger: The Legacy of Mattie J.T. Stepanek and Heartsongs.
"From the earliest days of MY HERO, Jeni and her son Mattie have provided hope and inspiration to people around the world," said Jeanne Meyers, Co-founder and Director of The MY HERO Project. "Jeni has faced enormous challenges with courage, dignity and grace. She has been, and will always be, our hero."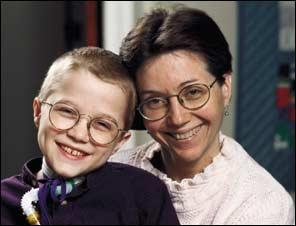 Stepanek suffers from a rare neuromuscular disease that took the lives of her four children. With boundless courage and perseverance. Stepanek's courage and bravery helped guide her as she raised, Mattie, her youngest son, the young poet and peace activist who captured the world's attention. Before Mattie passed away, just before his 14th birthday, he had become a New York Times Bestselling author and a celebrated guest on Oprah, Good Morning America, and the Muscular Dystrophy Association's (MDA) Telethon. After his death, his mother founded The Mattie J.T. Stepanek Foundation, with a mission to further her son's message of peace, hope and service to community (http://www.mattieonline.com).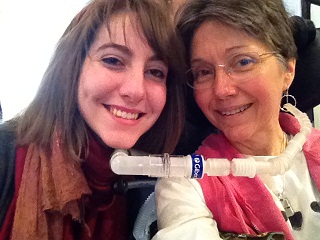 Stepanek serves as an advisor to Three Dot Dash, a global youth initiative of We Are Family Foundation (WAFF), an organization inspired by the heroism of her son. Slater Jewell-Kemker, one of Jeni's global youth ambassadors, met Stepanek at the organization's Just Peace Summit in 2014. Jewell-Kemper at had this to say about her hero Stepanek:

"Jeni Stepanek could easily have chosen to live a life shut off from the world.
She's lived through great physical and emotional pain, the loss of all four children,
and the ongoing trials of living disabled. But this does not define who she is.
Jeni is one of the most beautiful people I've ever met, with a heart as big as a house,
and a spirit that continues to share, and give, and connect despite life's hurdles."
This year's award will be given at The MY HERO International Film Festival's Award Ceremony, November 19, 2016, at:
Ann and Jerry Moss Theater

Herb Alpert Educational Village

Capshaw-Spielberg Center for Educational Justice
Stepanek, who is age 57, recently celebrated her "83rd" birthday. It was a bucket list goal, celebrated early, that included a surprise visit from Oprah Winfrey.
As part of the awards ceremony, MY HERO is thrilled to be able to share a beautiful short film tribute to Jeni, created by Oprah for one of her greatest heroes.
Click here
f
or more information, or to RSVP for The MY HERO International Film Festival and Award Ceremony.
The MY HERO International Film Festival is part of The MY HERO Project, a 501(c)(3) organization dedicated to celebrating the everyday heroes working to create positive change in the world. For more information, or resources for educators, please email festival director Wendy Milette at [email protected] or visit www.myhero.com
.
Page created on 10/28/2016 11:03:57 AM
Last edited 7/9/2020 6:38:28 PM