2018 HERO Festmyhero.com
CONTACT: FOR IMMEDIATE RELEASE
Wendy Milette
Hero Fest Director
949-376-5964
LAGUNA TO HONOR LOCAL AND GLOBAL HEROES AT THE 11TH ANNUAL HERO FEST
MAY 30, 2018 – LAGUNA BEACH, CA – Heroes from near and far will stand in the spotlight this weekend at the 2018 HERO Fest. The yearly Laguna Beach celebration will honor local and global heroes with an evening of Music, Art, and Short Films.
Families
Judith Anderson Ph.D. founder of the Foundation for the Contemporary Family, will receive the 2018 Community Hero Award for her many contributions to families in the Laguna Beach Community. A licensed clinical psychologist for more than 20 years, and an educator at U.C. Irvine College of Medicine, Anderson has been a champion for students and parents.
Oceans
The MacGillivray family's One World One Ocean campaign will present the Sylvia Earle Ocean Conservation Award for the film Gwala Rising in the Bwanabwana Islands.The film, directed by Stephani Gordon for Conservation International, shows the people of Anagusa, an island of Papua New Guinea, who honor gwala, a tradition in which a declining reef is temporarily closed to fishermen to allow the ecosystem time to recover from global warming, population growth and overfishing. Gwala promotes healthier ecosystems and greater prosperity for the islanders.
Art
Award winning artwork by Laguna Beach students will be on display. The family-friendly event will include an art showcase, short film screenings and live musical performances, some with original, hero-themed songs. One highlight will be Laguna Beach High School student Whitney Winefordner, as she performs "My Blue Heart," an original song she co-wrote about hero Sylvia Earle.

Rising Seas by Laguna Beach High School studentsLaguna Beach High
Laguna Beach High students, in conjunction with the Laguna Art Museum's Art & Nature Festival will show murals from the November 2017 Rising Seas Installation on Main Beach that expresses concern over what experts predict will be a climate-driven-sea-level rise that could raise the water level in coastal zones up to ten feet over the next seven decades.
Five young students in the afterschool art program of the Boys & Girls Club in Laguna Beach entered artwork featuring their own personal heroes. Honorees are Mariam Teheri, Mia Juarez, Angeline Elyazal, Sophie Schaefer, Madeline Chu.
For the second year in a row, the Hero fest will honor the winning photographers of the Laguna Bluebelt Coalition's annual photo contest. The coalition unites people and organizations with the common goal of restoring and protecting and restoring marine life, preserving biological diversity and maintaining sustainable marine habitats. MY HERO will honor the Laguna Bluebelt Coalition and the six winning photographers: Noah Munivez, David Hansen, Bryan Greenberg, Michael Fernandez, Rich Everson and Alex Cowdell.
The HERO Fest extends beyond the local beach community to include global artists. The Lowell Milken Center for Unsung Heroes challenged artists to create work that captured extraordinary heroes who were never recognized. For the HERO Fest, they submitted their 2017 winner Guardian Angel, a collage by Karolins Drozdowska a student from Poland.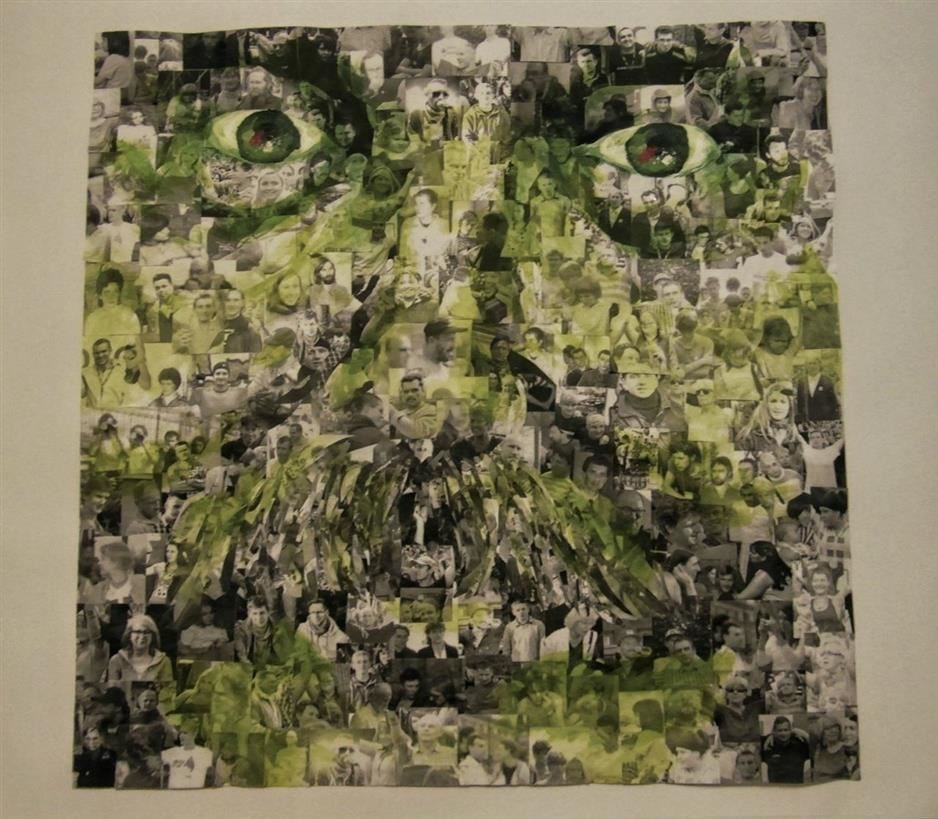 Guardian Angel by Karolina DrozdowskaLowell Milken Center for Unsung Heroes
The Amplifier Foundation, in conjunction with Adobe Project 1324, challenged professional artists to create posters for the March for Our Lives, a national movement to end gun violence. Artist honorees include: Micah Bazant, Shepard Fairey, Chanelle Librada Reyes, Kate de Ciccio, Koy Suntichotinun and Natalie Dettmer.
Other local highlights include:
Laguna Beach Community Clinic | Then & Now, by Cory Sparkhul. This video CELEBRATES the work of the clinic, which provides a wide range of medical services without regard to the patient's ability to pay. Featured are HEALTH HERO HONOREES Dr. Jorge Rubal, MD MBA - CEO & Medical Director and Adriana Nieto-Sayegh, RN - Clinical Director.
Anti Bullying Video by the Laguna Beach Police Department features skateboard legend Tony Hawk and Captain Jeff Calvert of the Laguna Beach Police Department and shows how even the smallest insults can be interpreted as bullying. The Laguna Beach Police Department Social Media Team and the Tony Hawk Foundation produced the video. Each member of the production team will be recognized as a Leadership Hero Honoree.
As a special treat, guests will be treated to a short MY HERO film I Luv Laughing Yoga and will be invited to take part in an uplifting exercise that has become a Laguna Beach tradition. Join in the fun:

June 2, 2018 - 7:00 pm
Forum Theater inside Festival of the Arts
Laguna Beach, CA
Visit myhero.com/hero-fest for more information.
Page created on 5/30/2018 7:01:39 PM
Last edited 5/31/2018 11:30:10 PM