Amelia Mary Earhart
by
Kim from Bradford, Canada
Women must try to do things as men have tried. When they fail, their failure must be but a challenge to others.
Amelia Mary Earhart was born on July 24, 1897 in Atchison, Kansas. Her mother Amy, father Edwin, and sister Muriel lived together at Amelia's wealthy grandparent's house. Amelia loved to ride rollercoasters that had many loops in them. She wanted to become a pilot because planes could loop too. Until Amelia was 12, she and Muriel were home-schooled from her mother. Amelia's grandparents house still is there above the Missouri River. It is now the Amelia Earhart Museum.
Amelia lived in Atchison, Kansas, which is where her grandparents' house was. When she started college, war broke in Europe. Amelia read about the horrible war in the paper. Amelia was concerned and wanted to help. Amelia decided to start nursing to help wounded men. Amelia's nursing job ended after the war ended in November 1918. Amelia and her father went to a air show at Long Beach. Amelia saw the planes swoop and dive and that is when she realized she wanted to fly!! Amelia was inspired by the sight of the sparkling, blue sea and the rolling, green hills when she finally got a ride. Amelia wanted to be like Neta Snook who flew planes. In 1921, she got her first plane called the Canary after saving ever penny.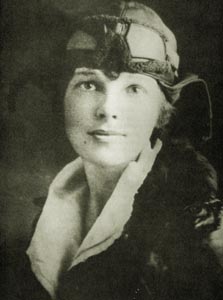 In 1927, George Putnam invited Amelia for a interview. Putnam offered Amelia the Atlantic flight. Amelia agreed and on June 17, 1928, they started the journey. She made it and when she reached land, Amelia Earhart was famous. Over 2000 people rushed to see her. After that, she flew many more flights like the Atlantic alone. It was hard for her because there were no women pilots back then. Amelia wanted to show the world what women were capable in doing. She wanted to make the world a better place by letting other women do what men were allowed like for example flying planes.
Amelia's last flight was on July 2. That was when Amelia's plane called the "Electra" was last seen. In the early hours of July 3, the Ilasca heard calls of increasing desperation from Amelia and Noonan. Suddenly, there was a silence and nobody ever heard from them again. They think the Electra ran out of fuel and crashed into the Pacific.
I think Amelia was a great hero. I am inspired by how brave she had to be when she flew planes alone and also with other people. Amelia did things no other women dared to do. I am proud of Amelia and think of what our world would be like if there were no heroes like her. That would mean that we wouldn't be able to fly planes even now.
Page created on 4/3/2007 2:31:58 PM
Last edited 4/3/2007 2:31:58 PM
The beliefs, viewpoints and opinions expressed in this hero submission on the website are those of the author and do not necessarily reflect the beliefs, viewpoints and opinions of The MY HERO Project and its staff.