"To photograph truthfully and effectively is to see beneath the surfaces and record the qualities of nature and humanity which live or are latent in all things."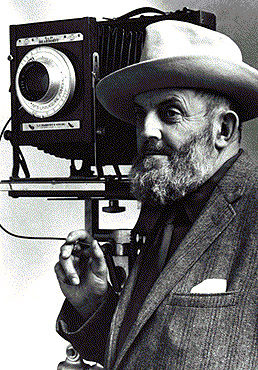 Paul Simon's song "Kodachrome" states: "...everything looks worse in black and white." Most black and white photographs conjure up images of grainy photos with scenes from the olden times. They often have poor quality, as if an ordinary person hastily took a picture of a scene without much skill and attention. However, these descriptions of black and white photographs strikingly contrast with those of Ansel Adams'. Born on February 20, 1902, in San Francisco, California, to Charles Hitchcock Adams and Olive Bray Adams, Ansel Easton Adams found it difficult to concentrate in school due to a possible attention disorder. Adams preferred to explore the outdoors, which foreshadowed his ultimate career. He began taking piano lessons when he turned twelve, and "his earliest aspiration was to become a concert pianist, but he turned to photography in the late teens of the century; a trip to Yosemite National Park in 1916, where he made his first amateurish photos, is said to have determined his direction in life" ("Ansel Adams" Encyclopedia of World Biography). Ever since the first time Adams shot his first photograph in Yosemite National Park, he developed a love for the wilderness and decided to pursue a career in photography. His passion and dedication to capturing astounding moments in nature led him to become one of the most honored photographers in history. With unyielding passion and boundless sacrifice, Ansel Adams utilized his captivating photographs to preserve nature by opening the eyes of those around him to the beauty of wildlife.
Ansel Adams' love for nature motivated him to prevent others from harming the environment by sharing his passion with others. His strong concern for wildlife "remained a dominant theme throughout his life. Long before the environmental movement gained momentum, he was a vocal critic of the way people treated their natural surroundings. In 1950 he wrote of his concern that humankind was spoiling the planet and its resources—cutting down forests, overgrazing land, fouling water supplies. Adams continually used his influence through the Sierra Club and with the U.S. Park Service to help preserve threatened wilderness areas" ("Ansel Adams" U*X*L Biographies). Adams spoke up about the atrocious destructions because he cared about the environment. His concern influenced him not only to voice his opinion, but also to take action by joining the Sierra Club and U.S. Park Service, informing others not to thoughtlessly disturb nature for their own selfish needs. However, Adams' efforts did not stop there; throughout his life, "he endlessly traveled the country in pursuit of both the natural beauty he revered and photographed and the audiences he required" (Turnage). His love for nature caused him to "endlessly travel the country" not only for his own satisfaction, but also for the audiences he sought to share his photographs with. Enduring these strenuous journeys, Adams did not fail to share his affection for nature through his photographs. Adams' endless passion became a reminder to the world that everyone should treat the environment with love and respect.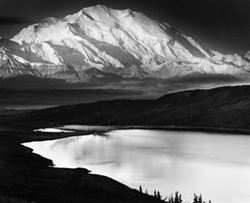 Ansel Adams relentlessly sacrificed his time and effort in order to achieve his aspiration. As a photographer, "he often labored for eighteen or more hours per day, for days and weeks on end. There were no vacations, no holidays, no Sundays in Ansel Adams' life. Frequently, after an intense period of work, he would return to San Francisco or Yosemite, promptly contract the 'flu,' and spend several days in bed" (Turnage). Adams gave up a relaxed lifestyle and did not take the easy way out. He knew that in order to capture and develop perfect photographs, he needed to dedicate his time—often risking his own health. Even after joining clubs and societies for the protection of the wilderness, "Adams tirelessly championed natural beauty and biodiversity. He authored many books, including My Camera in the National Parks and This Is The American Earth, with Nancy Newhall. He lobbied four presidents in person (Johnson, Carter, Ford, and Reagan), and penned conservation letters—thousands of them—until felled by a heart attack at age 84" (Suttle). Though he took photographs daily and developed them, he still took the time to publish various numbers of books. He went above and beyond to present his photographs in different ways: books, galleries, and just simply photos. He devoted his whole life to write letter after letter to "newspaper editors, Sierra Club and Wilderness Society colleagues, government bureaucrats, and politicians" (Turnage). The labor Adams endured to take these photographs did not keep him from sharing his love for nature with others.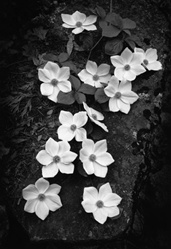 Ansel Adams portrayed his never-ending love and sacrifice for the wilderness in his black and white photographs, inspiring countless people to appreciate the beauty of their surroundings. Adams' efforts to preserve nature sparked passion in other people and influenced them see the magnificence of nature. He never failed to share his love for nature, never acted with selfish desires, never took the easy way out. In turn, his photographs illustrate the adversity Adams persevered through to share the world around him with a different perspective. His contributions to our world with his view are astonishing. Numerous books display his work, along with beautiful calendars with his photographs and museum exhibitions with his spectacular black and white photographs. "His sharply focused, starkly contrasted, black and white photos proved to be very popular and revealed the national beauty of the United States to many people" ("Photography, Environmental"). Unlike the stereotypical black and white photographs most people visualize, Ansel Adams' majestic photographs of wildlife impacted people to find the beauty of wildlife even in a colorless photo. "His images became the symbols, the veritable icons, of wild America. When people thought about the national parks of the Sierra Club or nature of the environment itself, they often envisioned them in terms of an Ansel Adams photograph" (Turnage). The breathtaking, almost impossible, black and white photographs speak for themselves: Ansel Adams is — without a doubt — worthy of the title Hero.
Page created on 5/25/2011 12:00:00 AM
Last edited 5/25/2011 12:00:00 AM