Amelia Earhart
by
Hannah from San Diego
Life's great moments can be on many different levels; becoming a professional athlete, taking your first steps, graduating from college, or even a famous chief. One great historical event is the first woman aviator in the world to fly solo across the Atlantic Ocean, Amelia Earhart. She is a hero to me because she was the first woman pilot; she nursed wounded soldiers, and was extremely courageous.
 Amelia Mary Earhart, born on July 24, 1897 in Atchison, Kansas, was the oldest child in her family. She had a younger sister named Muriel and her father and mother were Amy and Edwin Earhart. She and her sister Muriel were brought up in a wealthy family. As a child she spent the winter with her grandparents in Atchison and the summers with her parents in Kansas City, Kansas. Amelia's grandparents, Alfred and Amelia Otis were also well off. As a ten year old she was more interested in dolls, and climbing trees. Early on Amelia was not interested in planes at all. It was not until Amelia attended a stunt-flying exhibition, almost a decade later that she discovered a love for aviation.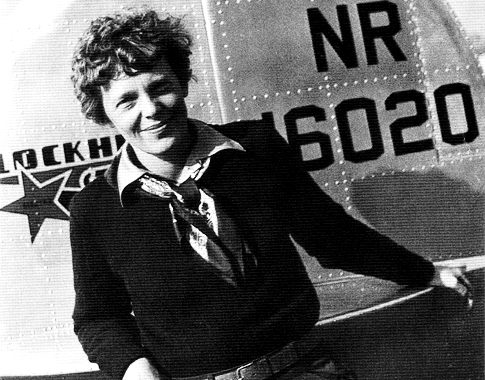 On December 28, 1920 pilot Frank Hawks gave her a ride that changed her life forever. "By the time I had reached two to three hundred feet off the ground," Amelia said, "I knew I had to fly." No one could hold Amelia back from wanting to conquer her dream. She decided to take flying lessons right away. Neta Snook, a graduate from the Curtiss School of Aviation, taught her how to fly. From that time on, Amelia was determined to be the first women pilot. Her dream became a reality.
Amelia Earhart is heroic because she became the first woman pilot. After Amelia took her first flying lesson on January 3, 1921 it took her six months to manage to save up enough money to buy her first plane. It was a bright yellow two seater plane. Earhart named the plane "Canary" and used it to set the first women's record by rising to an altitude of 14,000 feet. (Garber) One afternoon in April 1928, a phone call came for Amelia. "I'm too busy to answer right now." she said. After hearing that it was important, the caller supplied excellent references then she realized he was serious. "How would you like to be the first woman to fly the Atlantic?" he asked. "The idea of just going as 'extra weight' did not appeal to me at all," she said, but she accepted the offer nonetheless. On June 17, after days of delays due to bad weather, Amelia Earhart flew in a plane named Friendship with co-pilots Wilmer "Bill" Stultz and Louis "Slim" Gordon, to set out and fly across the Atlantic Ocean. Amelia's landmark made headlines worldwide, because three women had died within the year trying to be the first woman to fly across the Atlantic Ocean. Once again Earhart achieved her goal.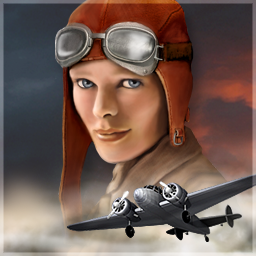 Amelia Earhart was a hero because she also nursed wounded soldiers. It was the Christmas of 1917 that Amelia went to visit her sister Muriel. "Amelia, why don't you come spend Christmas with me." Said Muriel. Amelia was glad to see her sister but she was saddened at seeing all the wounded soldiers in hospitals. The United States just entered World War I. "Muriel, I cannot stand to see all these poor soldiers in hospitals. I just have to do something to help them!" Amelia said. That is exactly what Amelia did. She decided to forget her studies in college and volunteer for the Red Cross. She helped out in a military hospital in Ontario. While aiding the soldiers she heard many stories from the men and their adventures in different states and countries. Being the great person she was, Amelia touched many lives through her mission work.
Amelia was heroic because she was extremely courageous. Earhart proved to the world that no matter how old, what gender or what color you are, you can do anything you put your mind to. "Three women had died within the year trying to become the first woman aviators."(Garber) Amelia conquered a huge deal, not just for flying but having the courage to fly across the Atlantic where more the two women flyers tried to fly before but died. She inspires woman to have the courage to go after what they want.. She inspires us to follow our dreams no matter what challenges you face. "I want to do it because I want to do it." Amelia exclaims. Earhart never gives up, she was a strong woman and nothing could stop her from achieving her dream and flying across the Atlantic Ocean.
Amelia Earhart is such an inspirational heroic person to me because she proved to the world that you can become anyone or anything you want to become. She fell in love with planes and aviation and ended up becoming the first female pilot to fly across the Atlantic Ocean. Amelia Earhart proved that no matter what obstacles you face, you can achieve any goal you believe in.
Amelia Earhart." Explorers & Discoverers of the World. Gale, 1993. Gale Biography In Context.
Web. 8 May 2012.
"Cedarville University." The Early Years of Amelia Earhart. 2012. Web. 09 May 2012.
.
Garber , Stephen. "Amelia Earhart." Amelia Earhart. U.S Centennial of Flight Commission,
Winter 2011. Web. 09May 2012. .
Mergen, Bernard, and Mergen Bernard. "Amelia Earhart." Great Lives From History: The
Twentieth Century (2008): 1. Biography Reference Center. Web. 8 May 2012.
Page created on 5/27/2012 12:00:00 AM
Last edited 5/27/2012 12:00:00 AM
The beliefs, viewpoints and opinions expressed in this hero submission on the website are those of the author and do not necessarily reflect the beliefs, viewpoints and opinions of The MY HERO Project and its staff.