Amelia Earhart
by
Venessa from Sultana
"...decide...whether or not the goal is worth the risk if it is stop worrying..."
Amelia Earhart was a pilot, was a friend, was a daughter, was a sister, now she's a hero, my hero. She taught me to never give up and you can do anything if you put your mind to it.
Amelia Earhart was born July 24, 1897. She was born in Kansas to Edwin and Amy Earhart. Growing up Amelia had to move a lot because of her father's work. So her parents decided that Amelia and her younger sister Muriel should live with their grandparents. Finally when Amelia was five her parents took her to the fair where she saw her first plane. It was love at first sight. With one look she knew that she wanted to be a pilot that moment, but they doubted her.
She got older and trained a lot. It was hard work but she did it and achieved her goal. Soon she was on her first big flight, from Hawaii to California, on January 11, 1935. She was ready. On the runway, right when the plane was lifting off, she crashed but survived. Once her plane was fitted she was off. Finally she made it to California. Plus she set a record. She was the first woman to fly solo from Hawaii to California. Her goal was achieved.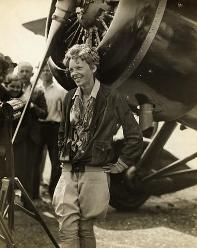 Two years later on July 1, 1937, she set off for a flight around the world. The next day she was running low on fuel. A couple hours later she made a call to the crew in Itasca saying she was low on fuel and that she was going to change stations. They told her not to but it was too late. That was the last of Amelia Earhart. The crew in Itasca searched for Amelia but they couldn't find her. She was declared legally dead January 5, 1939. Because of Amelia Earhart I'm now a great musician. It was hard at first but I put my mind to it and never gave up.
Page created on 4/29/2010 12:00:00 AM
Last edited 4/29/2010 12:00:00 AM
The beliefs, viewpoints and opinions expressed in this hero submission on the website are those of the author and do not necessarily reflect the beliefs, viewpoints and opinions of The MY HERO Project and its staff.
Related Links