Amelia Earhart
by
MacKenzie from Wallingford
"Man cannot discover new oceans until he has courage to lose sight of the shore."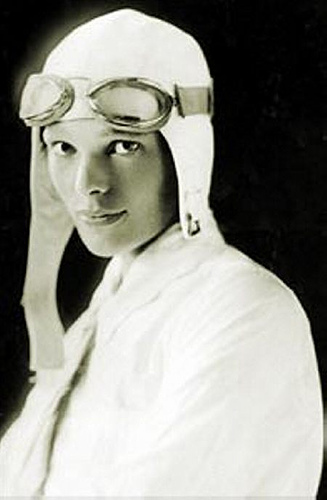 Amelia Earhart was born on July 24, 1897 in Atchison, Kansas and died on July 2, 1937, somewhere in the South Pacific. She was best known for her mysterious death near the end of an attempted round- the- world flight. Amelia was married to a publisher named George Putnam until her death and she was awarded the Distinguished Flying Cross by Congress in 1932. Amelia became one of the greatest female pilots of the twentieth century. Her mother's maiden name was Amelia ("Amy" for short) Otis and her father's name was Edwin Earhart. Sadly her father Edwin was an alcoholic and when it got bad Amy had to take her two daughters, Amelia and her sister Muriel, to their grandparent's house. When Amelia was ten her father had recovered but he still struggled to find a steady job, which meant that they moved all around the world. Amelia attended several different schools altogether. In 1915 her parents separated once again and Amy moved with her daughters to Chicago to live with friends. Due to her father's lack of providing to her family and herself, Amelia learned to be independent and not rely on someone to take care of her. In 1919 Earhart enrolled in medical studies at Columbia University, she quit a year later to be with her parents who had reunited in California. As you can see Amelia has had some troubles in her past but is a respected woman today.
Here are some of the reasons why Amelia reached my definition. In 1935 Amelia was the first person to ever to fly from Hawaii to America's mainland. Due to that Amelia was the first person to fly solo over the Pacific and also was the first person to ever fly solo over the Pacific and Atlantic. This is what really opened a bigger perspective of women and what they could achieve on their own! It showed that men were no better and that they were equal to women, it also opened opportunities for women such as better jobs. Flying around the world by yourself back then took a lot of courage to know that the plane you're flying in could crash or break at any moment. That is one reason why Amelia Earhart is a hero.
"Please know that I am aware of the hazards. I want to do it because I want to do it. Women must try to do things as men have tried. When they fail, their failure must be a challenge to others." - Amelia Earhart
In 1937 Amelia attempted the first round the world flight. Only July 2nd after completing two- thirds of it vanished along with her Navigator Frederick Noonan somewhere along the Pacific. No one knows the truth to how she died but some people believe that they ran out of fuel and went down into the Pacific. Other people thought that they had crashed and had landed on a small island. Anyways I thought of this round- the- world flight as a huge sign of her heroism, because she was daring and brave enough to put her life at risk just to try something new. I admire her because she does things that I would never dare or dream of doing.
"Flying might not be all plain sailing, but the fun of it is worth the price." -Amelia Earhart
I would say that Amelia's legacy is the inspiration she gave women. She gave women the power to see themselves as equals to men. To show that we can do things that are hard, but still do it on our own. One quote of hers that I found interesting is "The woman who can create her own job is the woman who will win fame and fortune." This quote is saying that women are capable of doing so much more than they are given credit for. She shows all of us that you can achieve anything - you just have to jump.
A problem I picked is that nowadays people are afraid to try new things; in other words they're afraid to jump. If people don't have that courage, eventually we're going to run out of things like jobs and so on. Amelia would probably say that you can do anything you put your mind to; you just have to believe and try your hardest and soon you'll be soaring as high as you possibly can. The world will never run out of possibilities, if we all just try.
Page created on 2/20/2010 12:00:00 AM
Last edited 2/20/2010 12:00:00 AM
The beliefs, viewpoints and opinions expressed in this hero submission on the website are those of the author and do not necessarily reflect the beliefs, viewpoints and opinions of The MY HERO Project and its staff.