Amelia Earhart
by
Jaye from Boca Raton
"I want to do it because I want to do it."
Most people probably only know Amelia Earhart as a person who flew a plane somewhere that broke a record or something. Well she was totally more than that and an amazing person. There was a time that women couldn't fly a plane, but there was one woman who broke the ice for all the others as a first female pilot. She had major courage, a lot of determination, and spirit. She was Amelia Earhart.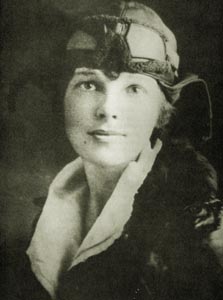 Amelia was born in Atchison, Kansas on July 24, 1897. She saw her first plane at ten years old. That was at the Iowa State Fair and she described it as "It was a thing of rusty wire and wood and not at all interesting,". Later in her life, she graduated from Hyde Park High School in 1915. Later she became a nurse's aid in a military hospital in Canada during WW1. Then she attended collage and soon after became a social worker at Denison. On December 28, 1920, Pilot Frank Haws gave her a ride that would forever change her life. "By the time I had got two or three hundred feet off the ground, I knew I had to fly" she said.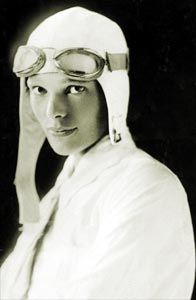 Her first accomplishments in flying were some of her greatest. She used her first plane called "Canary" and used it to set her first women's record by flying to a height of 14,000 feet. In April 1928, she joined Wilmer "Bill" Stultz and co-pilot/mechanic Louis E. "Slim" Gordon and accepted the challenge of flying across the Atlantic. 21 hours later, their landmark flight made headlines worldwide, because three women had died within a year trying to be that first women. When the crew returned to the US they were greeted with a ticker-tape parade in New York and a reception help by President Calvin Coolidge at the White House.
Later, her team made several other plans for more missions for her. Secrets plans for Earhart to become the first women and the second person to fly solo across the Atlantic. After that the she decided to be the first person to fly solo across the Pacific from Honolulu to Oakland California. Then she was the first person to fly solo from Mexico City to Newark.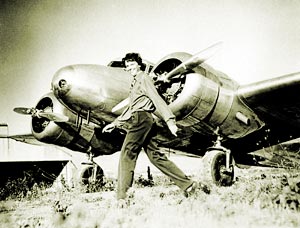 In 1937, as Amelia neared her 40th birthday, she was ready for a monumental and final challenge: she wanted to be the first women to fly around the world. On June 1st, Earhart and her navigator Fred Noonan departed from Miami and began the 29,000 mile journey. By June 29, when they landed in Lae, New Guinea, all but 7,000 miles had been completed. July 2nd when the pair took off, despite favorable weather reports, they flew into overcast skies and alternating rain showers. This made Noonan's premier method of tracking, celestial navigation, difficult. As dawn neared, Earhart called the ITASCA reporting "cloudy, weather cloudy" At 8:45 she reported, "We are running north and south". Nothing further was ever heard from her. A rescue attempt started immediately and became the most extensive air and sea search in naval history so far. On July 19, after spending 4 million dollars and scouring 250,000 square miles of ocean, The US's government reluctantly called off the investigation. Today many theories exist of her fate, but there is no proof.
"Please know I am quite aware of the hazards," she said. "I want to do it because I want to do it. Women must try to do other things as men have tried. When they fail, their failure must be but a challenge to others," said Amelia Earhart on her final flight. She broke the ice, lead the way for most women who were judged by gender. Today there about 6% of the approximately 600,000 active US pilots that are female. There will never be another person with the heart of Earhart, her courage will be remembered forever, and her words should be inspiring in the heart and mind everyday.
Page created on 10/12/2010 12:00:00 AM
Last edited 10/12/2010 12:00:00 AM
The beliefs, viewpoints and opinions expressed in this hero submission on the website are those of the author and do not necessarily reflect the beliefs, viewpoints and opinions of The MY HERO Project and its staff.
Extra Info
People still don't know where Amelia Earhart is or know what happened to her. There are many theories though. Some think that she crashed and sank to the ocean floor. Some think that she escaped from the plane rash then got stranded on an island then died of thirst. Some think she was captured and held by the Japanese. Some think she was running a secret mission for the US Government and abandoned her flight to do secret work for them under a great and famous cover. Some think she returned to the United States and lived her life with another name. But, with that one the lady who looked like her denied the story and called her life nonsense. But, we don't know.