Abdul Sattar Edhi once said, "People have become educated... but have yet to become human (Sommerlad)." Abdul Sattar Edhi was not only a human, but an extraordinary person who exemplified society's desirable traits.
Edhi, born in pre-partition India in 1928, migrated to Pakistan in 1947. Although he was nearly broke, he immediately began helping others and was devoted to assisting the poor. He established the Edhi Foundation in 1951. The Edhi foundation, located in Karachi, Pakistan, is an establishment of social services for the destitute, including: nursing homes, orphanages, soup kitchens, maternity wards, women's shelters, rehabilitation centers, as well as the largest voluntary ambulance fleet in the world ("Statement by NSC..."). The Edhi Foundation has rescued and supported hundreds of thousands of people in need, including the thousands of children that Edhi himself had legal guardianship of (Sommerlad).
Despite the challenges that arose from the opposition of the religious community, Edhi demonstrated selfless and devoted characteristics at every opportunity. Abdul Sattar Edhi, often known as the "Angel of Mercy," lived up to his name as he placed the destitute of Karachi, Pakistan before himself, and pledged to be devoted to them till his dying breath.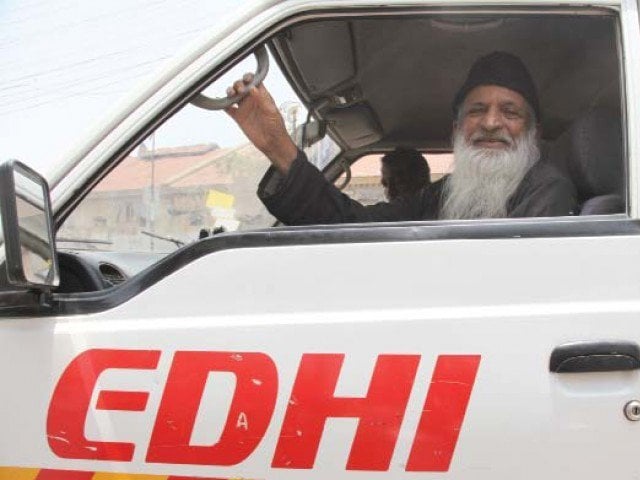 Edhi's compassion, endless generosity, and his sole intention to help others displayed his selfless attitude. Edhi, also commonly known as "Pakistan's Mother Teresa", earned his name from the continuous amount of work both himself and his foundation provided. "Today, the Edhi Foundation has rescued more than 20,000 abandoned babies, cared for 50,000 orphans, and trained more than 40,000 nurses. Edhi himself was a registered guardian for around 20,000 children" (Powell). Abdul Sattar Edhi conveyed the definition of being a literal lifetime hero. Overlooking his own personal needs, 'Pakistan's Mother Teresa' cared for his own four offspring and also thousands more children. Not only did it take an abundant sacrifice of time, and a hero and a half to take care of four kids, but 20,000 changes the criteria. Edhi constantly represented the definition of a hero through his selfless actions by delivering a strong message of compassion and generosity. Edhi gave all he possessed to assist our civilization: "Mr. Edhi often rose as early as 3am to help feed some of the orphans. Mr. Edhi traveled the country and the world raising funds." (Elliott). For Ehdi, personally giving up his time for others had become a part of his daily lifestyle. He heroically helped people he didn't even know, by begging for money personally on their behalf. Throughout the year, Ehdi was often seen caring for orphans, washing and burying the deceased, globally fundraising, as well as driving ambulances as a part of his work with the Edhi Foundation. Edhi showed the love within his work, not only by renouncing his personal time, but also donating his necessities;
At the Edhi Foundation's ramshackle headquarters in Karachi's chaotic old city..Edhi has no house and very few possessions. He lives and works here...At a tiny school for tiny kids, upstairs at the Edhi headquarters lessons... The kids sit on mats on the floor, at tiny wooden desks, with tiny blackboards. These children, abandoned by the rest of society, seem happy. ("The Crime That Has Shocked Pakistan")
Edhi generously contributed many important fundamentals to the success of his foundation. He brought the comfort of home to his foundation for the needy orphans by giving up his own home to the headquarters and school of The Edhi Foundation. Abdul Sattar Edhi portrayed selfless behavior by using his time and space to benefit and improve the lives of the needy, characterizing him as a true hero that our society looks up to today.
Abdul Sattar Edhi exhibited his devotion as he continued to service others despite the numerous personal threats and invasions he received. Regardless of numerous personal attacks, Abdul Sattar Edhi stayed persistent with his work for the needy. The Edhi Foundation, Mr. Edhi's home was robbed:
They held Edhi and his staff at gunpoint, broke open the security lockers and stole nearly a million dollars' worth of cash, 11 pounds of gold and some jewelry. Some of this was donation money, some cash and valuables that people had asked Edhi to keep for them... [Ehdi responded to the robbery,] 'No matter how bad the situation here becomes, I won't give up. I will not lose hope.' Edhi says he'll continue helping the poor and dispossessed until his dying breath. ("The Crime That Has Shocked Pakistan")
Although years worth of money that Mr. Edhi struggled to raise was stolen, he remained positive and persistent. Exemplifying strong attributes, Ehdi managed to stay dedicated, continuing his work and consistently said how nothing would stop him but his own death. The 'Angel of Mercy' even preserved through the resistance of his own religious leaders.
The foundation has encountered resistance from religious leaders and other members of the local community, the Edhi's say, because it takes in abandoned babies regardless of ethnicity or religion. The foundation makes an effort to match babies with people who are of the religion of their parents, if it is known - a highly sensitive issue among the country's religious leaders. 'It's very dangerous here,' Mrs. Edhi says. 'The mullahs right now only threaten to kill us - if we gave a Muslim child to a non-Muslim family, they would kill us for sure.' But despite numerous death threats, they have persisted. (Elliott)
The Edhi Foundation receives unnecessary criticism from the religious leaders in Pakistan. He was personally targeted, given death threats, but he ignored the unworthy judgement from others and continued. Abdul Sattar Edhi was profoundly devoted to his humanitarian work to the point where he is willing to risk his life for strangers. Mr. Edhi was recognized as a true hero due to his devotion towards his passion brimming job.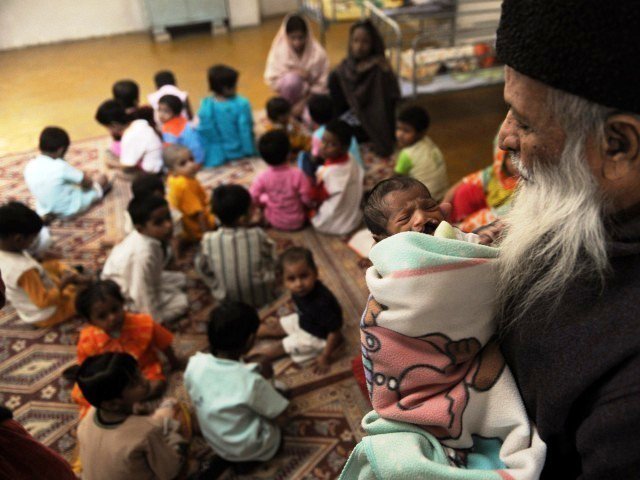 Also known as the "Angel of Mercy," Abdul Sattar Edhi, exemplified selflessness through his compassion, and pure devotion to the destitute of Karachi, Pakistan. Edhi known for personally inspiring people, exceeded his own boundary, and his legacy continues even after his death in 2016. "In the decade since, Edhi ambulances have become a symbol of friendship and welcome compassion throughout Pakistan" (Solomon). Ehdi starting from nothing, had created a symbol of universal peace and safety that inspires the less fortunate in Pakistan to pursue their passions. Not only has Mr. Edhi spread his ways through the regions of Pakistan but he has also set an example for all types of people around the world. "Edhi led a life dedicated to serving others, and his determination to provide equal treatment for all--regardless of nationality, ethnicity, religion, or class-- stands as a sharp rebuke to those who would use fear and violence to create divisions" ("STATEMENT BY NSC..."). Edhi's actions spoke louder than his words as he presented mankind to an approach of being globally accepting and understanding to others situations, sacrificing for the benefit of others, as well as staying devoted to a cause. Through his foundation, Edhi has spread joy throughout the hearts of innocent orphans, and internationally. On one instance he even fundraised money for people in the U.S who were affected by Hurricane Katrina in 2005 (Powell). As my grandmother, who I was surprised to find out is the step-niece of Abdul Sattar Edhi, said, "wherever people need help around the world, he is there helping." Abdul Sattar Edhi reminds us not to get caught up in the insignificant materialistic aspects of life, and to emphasize our human characteristics for the interest of mankind.
Works Cited
Elliott, Joel. "In gritty Karachi, husband-wife team saves unwanted babies." Christian Science
Monitor, 14 July 2008, p. 1. Biography in Context,
link.galegroup.com/apps/doc/A181271532/BIC1?u=powa9245&xid=a71c67ae. Accessed 8 May 2017.
Powell, Ellen. "'Pakistan's Mother Teresa': Google Doodle honors Abdul Sattar Edhi."
Christian Science Monitor, 28 Feb. 2017. Student Resources in Context,
link.galegroup.com/apps/doc/A483536110/SUIC?u=powa9245&xid=4e5ed49e.
Accessed 27 Apr. 2017.
Solomon, Feliz. "Google Doodle Celebrates Philanthropist Abdul Sattar Edhi." Time. Time, 27
Feb. 2017. Web. 01 May 2017. http://time.com/4685113/google-doodle-abdul-sattar-edhi-ambulances/
Sommerlad, Joe. "Abdul Sattar Edhi: 5 Things You Didn't Know about 'Pakistan's Mother
Teresa'." The Independent. Independent Digital News and Media, 28 Feb. 2017. Web. 01 May 2017.http://www.independent.co.uk/news/world/asia/abdul-sattar-edhi-google-doodle-pakistan-philanthropist-volunteer-medical-care-network-ambulances-a7603221.html
"STATEMENT BY NSC SPOKESPERSON NED PRICE ON THE PASSING OF ABDUL
SATTAR EDHI." States News Service, 10 July 2016. Biography in Context, l
link.galegroup.com/apps/doc/A457537189/BIC1?u=powa9245&xid=cb4c2e01.
Accessed 28 Apr. 2017.
"The Crime That Has Shocked Pakistan." Morning Edition, 22 Oct. 2014. Student Resources in
Context, link.galegroup.com/apps/doc/A390420280/SUIC?u=powa9245&xid=b745544b.
Accessed 2 May 2017.