What do you think of when Hollywood comes to mind? Do you think of famous actors and actresses in sparkling, name-brand glamour, the thousands of stars embedded in the Hollywood Walk of Fame, or maybe even the spectacular view of the city at night? This shining world was only one side of Audrey Hepburn's life. On the other side, Hepburn grew up poor, with the heart to succeed, and eventually achieved it. But, her beauty and grace were not the only qualities about her that paved her path to fame; her need for self-expression put her on the right track. In the middle of her acting career, she moved off her smooth path of luxury to become part of UNICEF, sacrificing her lavish future in order care for and raise the hopes of others in need.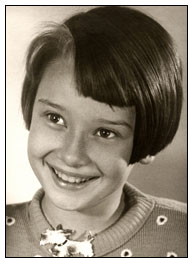 Born Edda Van Heemstra Hepburn-Ruston on May 4, 1929 in Brussels, Belgium, Audrey Hepburn's father left her when she was eight years old Soon after, she was sent to live with relatives in Holland. During her stay in Holland, she witnessed the horrors of World War II. Often malnourished, she recalled memories of "fear, deprivation, and cattle-cars full of deportees" (Hepburn, Audrey (1929-1993), Bourgoin). Her survival through her childhood depended largely on the food and healthcare provided by the United Nations Relief and Rehabilitation Administration, a precursor of UNICEF. After World War II, she and her mother moved to England to pursue a dance career. She achieved her first milestone in acting when she was asked to star in the Broadway production of Gigi, a play based on the book by French writer, Colette. In 1952, she won a Theatre World Award, recognizing her outstanding performance. Furthermore, her successful stint on Broadway sparked her acting career, allowing her to move on to more significant roles. Other than acting, Hepburn had another personal dream. Her experience as a child during World War II opened her eyes to the abuse and neglect that war victims faced. She "understood too well what it was like to go hungry from her days in the Netherlands during the German Occupation" (Audrey Hepburn, Biography.com). Hepburn became the Goodwill Ambassador for UNICEF in 1989 and traveled the world to help raise awareness about children in need. She earned a special Academy Award for her humanitarian work, but did not live long enough to receive it. Audrey Hepburn died on January 20, 1993 after a long struggle with colon cancer.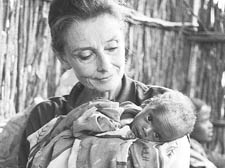 During her acting days, Hepburn could have stayed on her initial career path and lived in a clean, safe, and simple environment. She sacrificed the safety of civilization to live a life working in the fields, exposed to sickness and infection. Hepburn did not work for a salary, nor did she work to take advantage of company benefits. Hepburn said, "I can testify to what UNICEF means to children, because I was among those who received food and medical relief right after World War II" (Audrey Hepburn Quotes, Biography Online). Her experiences as a child during the war showed her what an important role an organization like UNICEF played in an individual's life. She put in the time and effort because she had a vision; a world in which children would not have to suffer as she did, battling hopelessness and death. Hepburn said in an interview with UNICEF, "I felt very powerless when I would see the terrible pictures on TV. But I was offered a wonderful opportunity to do something [and it] is a marvelous therapy to the anguish I feel" (Paris, Barry). She has had this wonderful dream of helping people in a similar state like her youth, and she strived to make this dream a reality. Soon after achieving this job position, she visited Ethiopia, where people were dying of a famine. Leading the UNICEF emergency operations to help the people there, she took the opportunity to talk about their projects to the media. Her purpose was to open others people's eyes, like how hers had opened when she was a child, and let them see all the suffering in the world and put in an effort to stop it. In the years after, she made many trips and traveled to different countries to help people all over the world. Her trips included "visiting a polio vaccine project in Turkey, training programmes for women in Venezuela, projects for children living and working on the street in Ecuador, projects to provide drinking water in Guatamala and Honduras and radio literacy projects in El Salvador. She saw schools in Bangladesh, projects for impoverished children in Thailand, nutrition projects in Vietnam and camps for displaced children in Sudan" (UNICEF People – Audrey Hepburn). Hepburn spent much of her personal time to cease the misfortune of others.
Another personal quality of Hepburn is her never-fading optimism. Even during her horrible life during World War II, she accepted it. A popular Audrey Hepburn quote states, "I decided, very early on, just to accept life unconditionally; I never expected it to do anything special for me, yet I seemed to accomplish far more than I had ever hoped. Most of the time it just happened to me without my ever seeking it" (Audrey Hepburn Quotes, Biography Online). Her acceptance of life put her future in the hands of fate, and she willingly followed it. It was by fate that she had to live through the war; it was by fate that she was discovered by Colette to star in Gigi and start her acting career, and it was by fate that she would want to help children in need. Another example of her positive thinking is expressed in one of her quotes about life. She said, "I'm not beautiful. My mother once called me an ugly duckling. But, listed separately, I have a few good features" (Audrey Hepburn Quotes, Biography Online). She taught that even if you are not gifted with the best, you still can work to become better. Her positive influence on many people made her an idolized role model.
Hepburn's life changed throughout, from when she was a child in the Germanic nation of Holland, to her the acting that brought her the fame, but the most honored part, is that she joined UNICEF to save lives. Audrey Hepburn once said, "The most important thing is to enjoy life - to be happy - that's all that matters" (Audrey Hepburn Quotes, Biography Online) She lived to bring happiness and comfort to others. This makes her an angel, and a hero of the world.
Page created on 5/17/2010 12:00:00 AM
Last edited 5/17/2010 12:00:00 AM