"If there was a cross between the salt of the earth and a regal queen," Shirley MacLaine told people, "then she was it" (Ferran). Salt is used to preserve food and kill bacteria; Shirley compares Hepburn to salt because she does good in the world and sustains the moral ethics in others. At the same time, she embodies a majestic Hollywood icon. Audrey Hepburn has left a remarkable impact on the world, proving herself a hero. Her perseverance in the face of adversity and self-sacrifice for the benefit of others inspires women to be confident in who they are.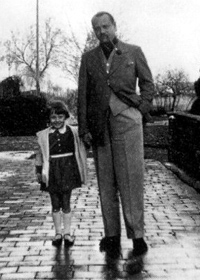 Born on May 4th, 1929, Hepburn grew up in Brussels, Belgium. At the young age of five, her parents sent her to study in London, where she started taking ballet lessons. However, when World War II broke out, Hepburn's mom ordered the school director to send Hepburn back home. Her life soon spiraled downward, with many devastating and spirit crushing events throughout the duration of the war. The Nazi soldiers took away her older brother Ian, leaving Hepburn and her mother with no knowledge of his whereabouts. Hepburn danced in "black-out performances", held secretly to raise money to support the resistance. (Life&Career). On Hepburn's 16th birthday, Nazi soldiers released her brother to her family, renewing her childhood dreams of becoming a ballerina. "Despite the fact that she emerged from the war in a weakened condition suffering from anemia, asthma and malnutrition, the experience served to refocus her dreams"("Life&Career"). "Eventually Audrey was told that she could not become a prima ballerina because of the physical deprivation she'd suffered during the war and the limitations of her height" ("Life&Career"). After her rejection from dancing, Hepburn turned to modeling; in 1948 she starred in her first debut called "High Button Shoes". Hepburn worked her way up to Broadway, then Hollywood, winning an Oscar for best actress at the age of 24. In addition, Hepburn married and divorced twice, bearing two sons, Sean and Luca. However, she never lost her craving for helping others. In 1988, Hepburn earned the title of Goodwill Ambassador for UNICEF, an organization focused on international children's relief. ("Hepburn, Audrey (1929-1993)." Encyclopedia of World Biography.) Ed. Suzanne M. Bourgoin.). She arranged countless trips to foreign countries to spend time with neglected children, and made sure the world was aware of their needs for basic food and water.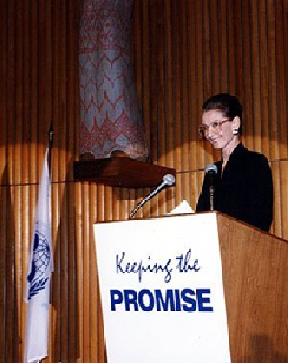 Audrey Hepburn faced many obstacles in her life that she overcame to attain greatness. As a child, Hepburn never had it easy. At the young age of eight, her father abandoned her family. ("Hepburn, Audrey (1929-1993)." Encyclopedia of World Biography.)Thomson Gale). While Nazi soldiers controlled her home country, Hepburn grew up half-starved. She and her mother lived with Hepburn's grandparents, their suffering and malnutrition abated only with the aid of UNICEF. ("Hepburn, Audrey (1929-1993)." Encyclopedia of World Biography.)Thomson Gale). Hepburn could have allowed herself to give up at any time. Instead she rose above her hardship, reaching towards a flourishing future. However, she still faced fears and excruciating memories of her past. "Many years later she politely refused to make a movie of The Diary of Anne Frank as she felt the young Jewish girl's experience of World War II too closely mirrored her own" ("Hepburn, Audrey (1929-1993)." Encyclopedia of World Biography.)Thomson Gale). During the war, Hepburn saw and experienced many terrifying events, including watching her family and friends being killed and beaten right before her eyes. In order to succeed, Hepburn needed to overcome this mindset, by letting go of her past and challenging herself to move on.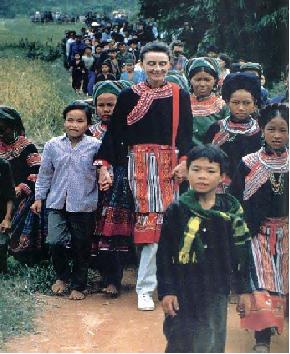 Audrey Hepburn put the needs of the less fortunate over her own needs. "As a fledgling ballet dancer, she sometimes carried messages for the Resistance in her toe shoes"( "Hepburn, Audrey (1929-1993)." Encyclopedia of World Biography.)Thomson Gale). She did what she could to help others, even something as simple as hiding a note in her shoes. Under the austere and severe rules of Hitler, this simple act served a huge violation in helping the Jews and could get her killed. Her persistent attempts to reach out to others stuck with her. "In turn, Hepburn yielded to a calling other than acting, preferring to spend her time with her two sons and working for UNICEF." ("Hepburn, Audrey (1929-1993)." DISCovering Biography). Although she had the glamorous life of a star, Hepburn favored helping others. In addition, she made "extensive" trips to villages in Africa, South America and Asia. (Funk & Wagnalls). Hepburn took time off of her busy life to go to third-world countries. Working as ambassador of UNICEF, she had a passion for supporting others, even at the expense of her personal life.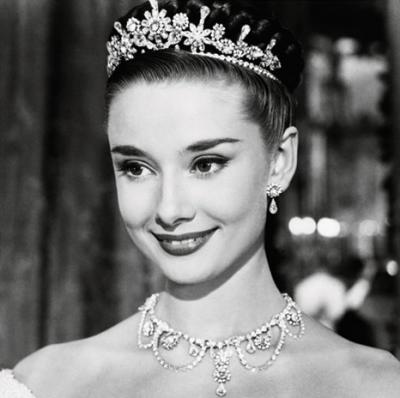 Audrey Hepburn's inner beauty and humility shine through, making her a hero in her own rights. "Hepburn utilized her experiences in ministering to the world's starving children, many of whom did not know that the beautiful woman was a movie star" ("Hepburn, Audrey (1929-1993)." Encyclopedia of World Biography.)Thomson Gale). Unlike many celebrities, Hepburn came to ramshackled villages humble and modest. She did not flaunt the fact that she was a star helping famished children. In addition, Hepburn presented a new idea of how a woman should look. "She was skinny. Her nose was long, her mouth big, her teeth a little bit crooked. She chose not to inflate her modest bosom, and her feet were on the large side. The sum of these irregularities, however, was perfection" (Audrey Hepburn's Perfection). Hepburn's fame peaked during the same time as stars like Marilyn Monroe, considered to by the world to be incredibly beautiful. Hepburn came and showed the world that it is okay to be a few pounds lighter or heavier and a few shoe sizes too big. Hepburn is also described "As unwilling to fake youth as she had been to fake voluptuousness, she looked like the 63-year-old woman she was. Which is to say, better than any 63-year-old woman who's pretending that she isn't. Would that she were going to be around longer, to teach us all how to grow old" (Audrey Hepburn's Perfection). Hepburn was confident in her appearance and although clearly aging, she saw no point in hiding it. She inspired people not to hide age, but embrace it. Hepburn shows the world that organic beauty is the true essence of elegance.
Audrey Hepburn is truly a hero. Many circumstances in her life presented opportunities to give up. Instead, she chooses to triumph over her unfortunate circumstances. Additionally, she let other's needs be the priority in her life. Hepburn also motivated women to be confident with themselves, because no woman is "perfect". On January 20th, 1993, Hepburn lost her battle with colon cancer. From the heartbreak and sorrow of her childhood to her giving and kind-hearted efforts, Hepburn's legacy lives on today, and motivates us to live just as Hepburn lived as "the salt of the earth".
Page created on 5/17/2010 12:00:00 AM
Last edited 5/17/2010 12:00:00 AM