Audrey Hepburn
by
Priscilla from Woodlands
 Audrey's father, Joseph was an only child who lived in Bohemia in 1889. Audrey's mother, Ella spent her childhood with her four siblings in Huis Doorn. When Joseph and Ella had met they both had already been divorced , but Ella had two sons, Ian and Alexander. 
Audrey was born on May 4, 1929 in Brussels, Belgium, where the family first settled. At age 5 Audrey was sent off to boarding school in England, separated from her family for the first time. Ella arranged for Audrey to spend time in the English  countryside while taking ballet lessons.  When England declared war on Germany in 1939, Ella sent for Audrey to come home to Holland. Joseph, who had abandoned the family, was in England and put Audrey on one of the last planes out. On May 10, 1940 Germany invaded Holland and Audrey's childhood changed forever.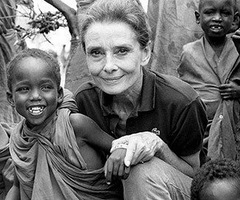 After Audrey's childhood she was thinking of going into the world of ballet but sadly she could not become a ballerina because of the physical loss she'd suffered during the war and the limitations of her height. Then luck turned her way and she became a model/actress. She then dedicated her life to being in the spotlight through 1951 to 1987. In 1988, Audrey accepted what she considered her greatest role as a UNICEF International Goodwill Ambassador. For five years, Audrey traveled to over 20 countries seeing innocent children fighting for survival. She reported these conditions to world leaders, governments and the international media, detailing outrageous, often gross details about millions of children and their families caught in the midst of natural and man made disasters.   
Audrey's work has inspired many others to reach out and commit their time to improving the lives of others.
"Today, the Audrey Hepburn Children's Fund continues her work to bring help and hope to children around the world by raising money and supporting organizations with the health, well being and education of children as their central mission."
Page created on 5/21/2012 12:00:00 AM
Last edited 5/21/2012 12:00:00 AM
The beliefs, viewpoints and opinions expressed in this hero submission on the website are those of the author and do not necessarily reflect the beliefs, viewpoints and opinions of The MY HERO Project and its staff.