A Star Brighter than the Rest
When you turn on the news or pick up the daily newspaper, you are constantly seeing stars doing drugs, going to jail, or making other terrible decisions. These are not the people that deserve to be looked up to in society. We need stars that strut the red carpet one week, then are getting dirty in Africa the next, stars that are modest and kind to all, stars more like Audrey Hepburn. Though she has more than 25 movies to her credit, her life wasn't always so glamorous, especially when she was forced to stay inside her grandparents' house with little to nothing to eat during World War II, but still did her part to help. Her want to do her part continued into her post-film life when she became an ambassador for UNICEF, and made multiple, multiple trips to all throughout Africa, even after falling ill. For the duration of her far too short life, Audrey Hepburn created a truly iconic image for herself, not only because of her admirable film career, but because of her bravery, modesty, and humanitarian efforts.
Starting at a very young age, Audrey Hepburn was faced with more challenges than most adults have to face, many of these shaping the way her life turned out but, no matter what, she showed much courage. At the tender age of 10, Hepburn was sent away to her grandparents' house in so-to-be-invaded Holland once World War II broke out, and she wanted to do whatever she could to help the cause: "Ella did her best to keep Audrey's spirits up and enrolled her in ballet lessons at the Arnhem Conservatory. For her part, Audrey participated in 'black-out performances' held to benefit the resistance and gave ballet lessons in her grandfather's house to refugee girls in the area." (Audreyhepburn.com) Even though she was unsafe to begin with, she didn't care and wanted to do her part to help end the war, and she found a way to include what she loves to do in it. She showed bravery and strength despite most adults inactivity. Hepburn was performing and teaching even though it was her head on the line if she was ever discovered. Liberation came on Hepburn's 16th birthday, and Hepburn and her mother moved to England to pursue her dreams of becoming a professional ballet dancer: "Eventually Audrey was told that she could not become a prima ballerina because of the physical deprivation she'd suffered during the war and the limitations of her height." (audreyhepburn.com) Many people don't know that Audrey Hepburn didn't want to be an actress from the start; she really wanted to be a professional ballerina, and turned to the next best thing: acting. She had the courage to pick up the broken puzzle pieces of her life and fit them together to form the perfect picture that would reward her until the day she died.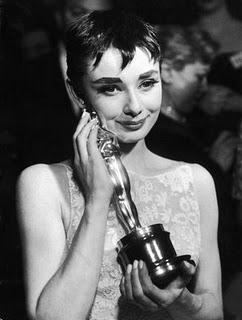 Hepburn's acting jobs started small, and then she worked her way up to the silver screen. Along the way, she starred in a Broadway show, which was directed by famed director, Colette: "When first offered the role of Gigi by Colette, Audrey replied in her trademark modesty, "I'm sorry, Madame, but it is impossible. I wouldn't be able to, because I can't act." But Colette thought otherwise and Audrey accepted the role." (audreyhepburn.com) Like the true lady she was, Hepburn thought of herself no more than anyone else, which only added to the irresistible charm that she possessed. This modesty of talent is so vacant in many movie stars today and the fact that she is so filled with it just adds to her claim to fame. Even when a world-famous director told her she had talent, she denied it. After many captivating performances, astonishing awards, and a failed marriage, Hepburn made a decision that is so opposite many movie stars today: "By the end of the sixties, after her divorce from actor Mel Ferrer, Audrey decided to retire while she was on top. Later she married Dr. Andrea Dotti. From time to time, she would appear on the silver screen" Many actors and actresses are forced to leave the business after a long time or a particularly terrible movie streak, but Audrey Hepburn decided to leave in order to spend more time with her family. She had the bravery to leave on her own terms, because she knew what was really important to her. Her priorities were in the right order, unlike some stars we know who care more about their jobs than their kids. This was her form of a graceful exit from the world she had known for so long.
Check this Out!
Click on the text...
Audrey Hepburn Remembered
Audrey Hepburn's official site-Home for her foundation
Audrey Hepburn's UNICEF page
Works Cited
Anthony, Elizabeth. "Audrey Hepburn." Reel Classics. N.p., 21 June 2010. Web. 16 Dec. 2010. http://www.reelclassics.com///.htm. "Audrey Hepburn." 2010. Biography.com. 16 Dec 2010, 07:54 http://www.biography.com/articles/Audrey-Hepburn-9335788 Gitlin, Martin. Audrey Hepburn: A Biography. Westport: Greenwood Publishing Group, 2009. Print. Greenwood Biographies. "Life & Career." Audrey Hepburn's Children's Fund. N.p., n.d. Web. 14 Dec. 2010. http://www.audreyhepburn.com//.php?idMenu=84&idMenuSub=84#par_126. "UNICEF People: Audrey Hepburn." UNICEF. N.p., 14 Oct. 2004. Web. 16 Dec. 2010. http://www.unicef.org/people/people_audrey_hepburn.html. "Audrey Hepburn." Great-Quotes.com. Gledhill Enterprises, 2011. 5 December. 2011. http://www.great-quotes.com/quote/880654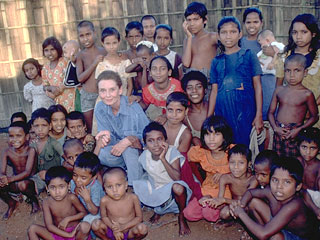 The last part of Hepburn's life is perhaps the most inspiring of all. In 1989, Audrey Hepburn was asked to become an ambassador for UNICEF: "In the years that followed, Hepburn made a series of UNICEF field trips, visiting a polio vaccine project in Turkey, training programmers for women in Venezuela, projects for children living and working on the street in Ecuador, projects to provide drinking water in Guatemala and Honduras and radio literacy projects in El Salvador. She saw schools in Bangladesh, projects for impoverished children in Thailand, nutrition projects in Viet Nam and camps for displaced children in Sudan. Hepburn also worked tirelessly for UNICEF when not making field trips. She testified before the US Congress, took part in the World Summit for Children, launched UNICEF's State of the World's Children reports, hosted Danny Kaye International Children's Award ceremonies, designed fundraising cards, participated in benefit concert tours and gave many speeches and interviews promoting UNICEF's work." (unicef.org) Hepburn remembered what it was like during World War II and took those painful memories and instead of caving in on her own self-pity, she used that experience to power her humanitarian work. Her efforts to better the lives of those children took charge of her life, and eventually even her health took a back seat. Hepburn's increasing age began to restrict her: "Toward the end of 1992, after Audrey's last mission for UNICEF, she felt progressively more and more ill and, at the time, physicians were not able to pinpoint the origin and thus cause of her worsening state of health. Near year's end, Audrey underwent exploratory surgery and was diagnosed with inoperable colon cancer." (Audreyhepburn.com) Her truly extraordinary life was coming to a close at an age far too young. She was unable to do any of the tasks she was really passionate about and eventually she was forced to put down her work altogether. Hepburn was awarded a lifetime achievement award that she deserved and cherished more than her Oscar, but had one of her fellow colleagues to accept it for her because she was far too ill. Finally, on January 20, 1993, Audrey Hepburn gracefully slipped away from the world altogether.
Audrey Hepburn was more than just a Hollywood star; she turned her troubled childhood into humanitarian efforts, and possessed an irresistible charm and poise. She had a difficult childhood in which she had the courage to beat down every obstacle she was faced with, a mind-blowing career in which she had enough modesty to know not to brag about it, but left that all behind to achieve a late adulthood helping the impoverished children in Africa and many other destitute countries. Audrey Hepburn's signature poise and sense of style fills me with awe. The fact that she was able to turn away from her lifelong dream and create a new, more improved life inspires me to believe that anything is possible. "For beautiful eyes, look for the good in others; for beautiful lips, speak only words of kindness; and for poise, walk with the knowledge that you are never alone." (Audrey Hepburn)
Page created on 1/12/2011 12:00:00 AM
Last edited 1/12/2011 12:00:00 AM