Audrey Hepburn
by
Myckena from San Diego
"For attractive lips speak words of kindness for lovely eyes seek out the good in others, for a slim figure share your food with the hungry for poise walk with the knowledge that you will never walk alone"(think exist , Audrey Hepburn). This quote explains the motto which Audrey lived by. Audrey Hepburn was famous for being a movie star but her greatest accomplishment in life was helping underprivileged children survive. In addition she was known for setting a great example all over the world for women because of her loyalty and morals. Audrey's main goal in life was to teach people that what a wonderful world it would be if we were all kind to each other. Ms. Hepburn is a true hero that every woman should look up to.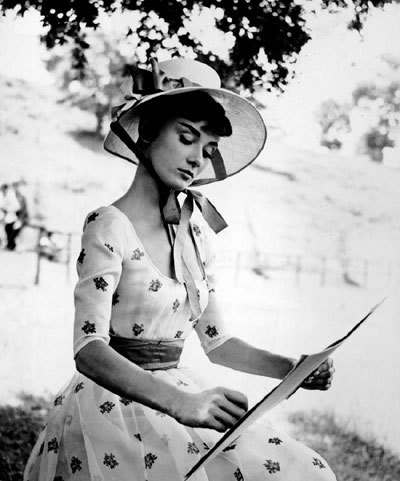 On May 4th, 1929 the world had just opened up to Audrey, not knowing that she would one day be an icon to thousands of people worldwide. Audrey was definitely a child that was born with a halo, but even though she went through a lot as a child nothing ever crushed her dreams. From witnessing deaths, wars and divorces she was a trooper. Ballet was what her major was she always thought she was going to be a dancer but things changed when a producer signed her to film her first movie in 1948. Since Audrey had lived on both sides of the road (fame and poverty) she began to think of others before herself and I believe that's what led her to joining UNICEF. A hero in my eyes is Audrey Hepburn not because she made lots of money but because she was a kind hearted person that would do anything for anybody.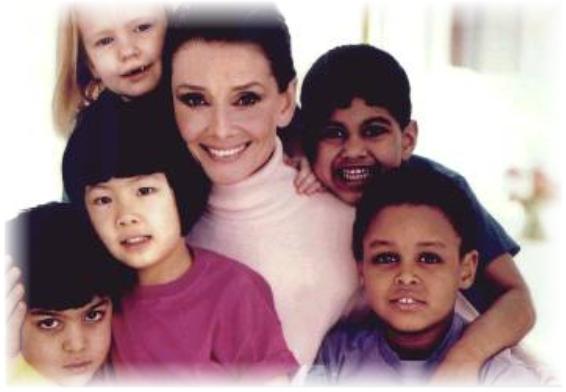 Audrey Hepburn was a woman who portrayed graciousness, kindness and was a truly beautiful woman on the inside and out. Audrey's motto was to help and care for others before herself. Audrey was an international goodwill ambassador a.k.a. UNICEF, where she helped children who struggled with survival. (Audrey Hepburn biography ) This shows how she was a woman who thought nothing was impossible so she did whatever she could to help others. This also proves how she is someone to look up to because she always thinks of others and portrays kindness to everyone. Audrey was the type of person that wouldn't even think twice about helping anyone it was just her natural instinct. "It's a wonderful old fashioned idea that others come first and you come second this was the lady by which I was born by, others matter more than you, don't fuss dear just get on with it" (think exist, Audrey Hepburn). She was definitely someone you would want to be around; she wasn't a negative person, she just lived her life by the golden rule. Audrey lived a life where no one could ever say anything bad about her. Audrey Hepburn died a peacefully death because at the end of the day she knew she lived her life to the fullest and with the best heart.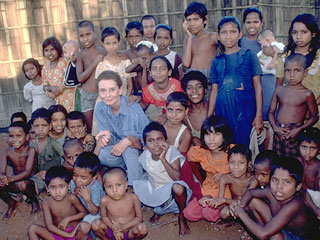 Audrey was a woman who went through a lot throughout her childhood but nothing ever brought her hopes and dreams down. Audrey was a true lady icon where her success came from the desire and perseverance to do whatever she could to help others. "I saw but one glaring truth: These are not natural disasters but man-made tragedies for which there is only one manmade solution - peace." (Biography Online). Peace and Unity for everyone was Audrey's biggest wish. Even though there is still no full peace in the world Audrey still made an impact on the children's lives she saved. Audrey came from a family that never judged anyone on the race, ethnicity or livelihood. "The 'Third World' is a term I don't like very much, because we're all one world. I want people to know that the largest part of humanity is suffering." (Biography Online). Audrey believed everyone was equal the fame and the misfortunate, she said "were all alike we all are born the same way and bleed the same color of blood." I believe success doesn't make a person; sometimes it can create a monster in all of us. A real hero to me is someone that can turn that success into something that will become known because you did something that came from your heart.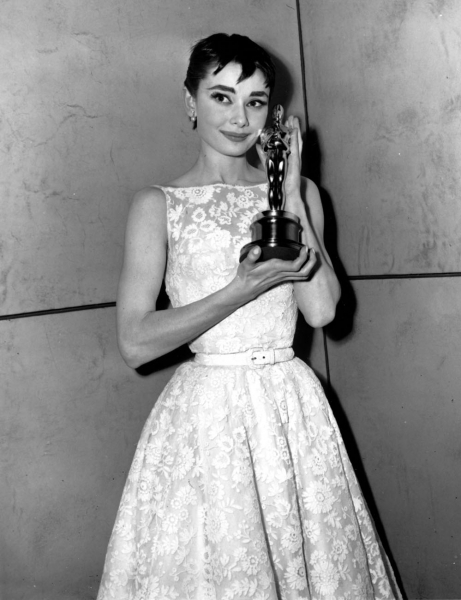 Audrey Hepburn is a hero known worldwide. She helped many people realize that when you help others. Even if it's doing something small, you're still making an impact on their life. She also said that even when you do things for others you help yourself into becoming a better person. Audrey once asked herself "How shall I sum up my life? I think I've been particularly lucky. Does that have something to do with faith also? I know my mother always used to say, 'Good things aren't supposed to just fall in your lap. God is very generous, but he expects you to do your part first.' So you have to make that effort. But at the end of a bad time or a huge effort, I've always had - how shall I say it? - The prize at the end. My whole life shows that" (Biography Online). Audrey shows she is an icon by displaying characteristics you could only dream of having. Audrey Hepburn is my hero that I wish I could live up to the expectations and morals she once had. She is a hero to us all in one way or another; she lived the best of both worlds. What is a hero? You might ask well you can sum it up with two words - Audrey Hepburn.
Works Consulted
cite #1"Audrey Hepburn." Audrey Hepburns Official Site. 2008. Web. 14 May 2010.
Cite #2"Audrey Hepburn." Cannes Day. 1999-2010. Web. 17 May 2010.
Cite #3"Audrey Hepburn Quotes." Biography Online.com. 1994. Web. 15 May 2010.
Cite #4 "Audrey Hepburn Quotes." Think Exist.com. 2010. Web. 14 May 2010.
Page created on 5/27/2010 12:00:00 AM
Last edited 5/27/2010 12:00:00 AM
The beliefs, viewpoints and opinions expressed in this hero submission on the website are those of the author and do not necessarily reflect the beliefs, viewpoints and opinions of The MY HERO Project and its staff.