"As you grow older, you will discover that you have two hands, one for helping yourself, the other for helping others" ( Audrey Hepburn ). Audrey Hepburn's quote really described her character in being unselfish and humble. Audrey Hepburn was a triple threat. She was a mother, actress, and also was the ambassador of United Nations Children's Fund (UNICEF). "Another traumatic mark was left by the Nazi occupation of Holland during World War II. Her mother, a Dutch baroness, had sent the youngster to the Germanic nation at the beginning of the war to live with relatives. People noted that "along with her grandparents, she received food from a relief agency--UNICEF's precursor." ( Audrey Hepburn). And due to this experience it has influenced Audrey Hepburn's life, by influencing her to join UNICEF. In 1988, she became the ambassador of UNICEF. Even though Audrey Hepburn's life had not gone like she would have hoped, and instead of dwelling on this ,she turned her life around and was not just an actress but was as humble as one can be, by helping and becoming the ambassador for UNICEF. With her tireless work, Audrey Hepburn traveled around the world and helped a lot of people through rough times. Audrey Hepburn was known as an iconic character, not only was she an actress of many awarded films, but was also an ambassador for an organization that has helped many children in need, UNICEF. Audrey Hepburn is an inspiring person because unlike many different actresses, she did not use her fame to acquire money or use it for unnecessary reasons, instead she used her fame to help kids that were in need of the basic necessities of life.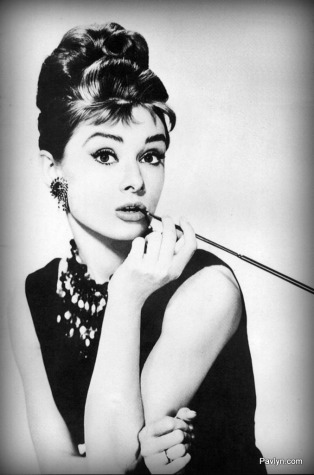 Audrey Hepburn, unlike other actresses of her time, did not use her fame just to get money and buy materialistic items. Instead, she used her fame to help kids acquire the basic necessities. Her sacrifice to put others needs above her own needs explains, her as being humble. "Instead of using the title for travel privileges and charity balls, Hepburn worked in the field, nursing sick children and reporting on the suffering she witnessed" ("Audrey Hepburn" ). She gave up part her career for four years to travel around parts of the world to visit and give her services to those children in need. "Over the next four years, Hepburn, accompanied by Wolders, traveled to remote corners of Asia, Central and South America, and Africa, meeting victims of famine, disease, and war. For these trips, she wore a uniform of jeans and Lacoste shirts, no makeup and her hair pulled back. "Her career can be split into two chapters," her friend Leslie Caron wrote in 1993. "In the first part she received all the glory she could hope for, and in the second part she gave back, in spades, what she had received" ( "All about Audrey" ). Audrey's fame seems to be a big deal to many people, but to her it was just another story to tell. She would have rather listened to her friends and families life story then go on about hers. Throughout the years of Audrey Hepburn's life, others could see the dedication that she tirelessly put into not only her career but also in being able to care for others.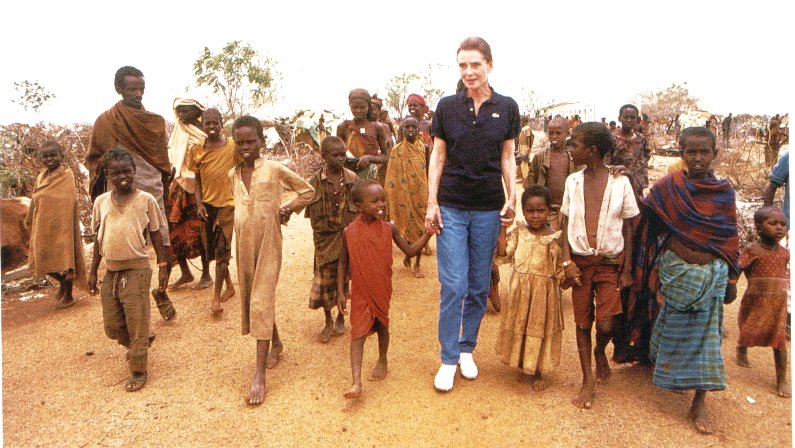 Audrey Hepburn may be known as a great actress of her time, but what some people may not know is that she was an ambassador for an organization. The organization UNICEF, helps kids get on the right path with their emotional and physical needs. "In 1988, she applied to become an International Goodwill Ambassador for UNICEF. As she explained in her application, she had never forgotten the deprivations of wartime that she and her family had suffered in Holland after the German invasion and she remembered clearly the relief provided by the Red Cross and UNRRA...It was a position that suited her maternal instincts perfectly. "This is for me an immense privilege and an answer to my longing to help children in whatever small way I can,"(All about Audrey). Audrey Hepburn wanted to give back and be able to help children like UNICEF helped her when she was little. For some actors and actresses all that people are able to say about them may be that they were in a movie or two, but not for Audrey Hepburn. Audrey Hepburn went further with her career and decided to use that fame and do good. "What do we know about Audrey Hepburn? That she was super-skinny, with enormous eyes and a dazzling smile. That towards the end of her life she worked tirelessly as special ambassador for UNICEF" ("Audrey Hepburn"). At the end of her life, Audrey Hepburn helped lots of children to make sure that their life was made easier. Audrey Hepburn was not a normal actress, let alone a normal person. Normal actresses or people would not do what Audrey Hepburn worked so hard to do, put other people before herself.
"Pick the day. Enjoy it - to the hilt. The day as it comes. People as they come... The past, I think, has helped me appreciate the present - and I don't want to spoil any of it by fretting about the future" (Audrey Hepburn) Audrey Hepburn has inspired others through the act of helping other people other than letting her ego get to her mind "Audrey Hepburn was an engaging screen actress who won an Academy Award in 1954 for her work in Roman Holiday. She also worked with the United Nations to alleviate the misery of the poor" ("Audrey Hepburn." ). Even if Audrey Hepburn was an actress that a lot of people loved, she was able put other children before herself, and was proud about the mark she was able to leave on the world.
Works Cited
"Audrey Hepburn: a new kind of movie star; To mark the 60th anniversary of Roman Holiday, Anne Billson looks at the qualities that made Audrey Hepburn such an enduring star." Telegraph Online 22 Aug. 2013. Biography in Context. Web. 26 Mar. 2015
"Audrey Hepburn." Encyclopedia of World Biography. Detroit: Gale, 1998. Biography in Context. Web. 23 Mar. 2015.
"Audrey Hepburn." International Dictionary of Films and Filmmakers. Vol. 3. Gale, 2000.

Biography in Context. Web. 25 Mar. 2015.
Fiori, Pamela. "All about Audrey." Harper's Bazaar Feb. 2013: 200+. Biography in Context. Web. 23 Mar. 2015.
Fiori, Pamela. "Bazaar's new funny face." Harper's Bazaar Sept. 2014: 610+. Biography in Context. Web. 25 Mar. 2015.
"UNICEF." UNICEF. N.p.,n.d. web. 15 Apr. 2015.
"Audrey Hepburn's Fashionable Life in Rome." Vanity Fair. N.p., n.d. Web. 15 Apr. 2015.
Page created on 4/16/2015 12:00:00 AM
Last edited 4/16/2015 12:00:00 AM