Audrey Kathleen Hepburn
by
Anvita from Roseville
"The 'Third World' is a term I don't like very much, because we're all one world. I want people to know that the largest part of humanity is suffering.
What exactly is a hero? Is it a person who can fly and swoops in at the nick of time to save somebody? Or is it someone who can climb walls or run really fast? Maybe if you take away all the superhuman qualities in a hero, you would see a hard worker, a devoted and compassionate person. Maybe you would see a person like Audrey Hepburn.
Audrey Kathleen Hepburn was born on May 4, 1929. Her parents were Joseph Ruston, an English Banker, and Ella van Heemstra, a Dutch baroness. During World War II, she was sent to Holland which was a neutral country. As a child her dream was always to become a prima ballerina. Unfortunately, because of the severe malnutrition and physical deprivation she suffered during the war, she was unable to attain this. Hepburn was deeply disappointed but soon after, she turned to acting.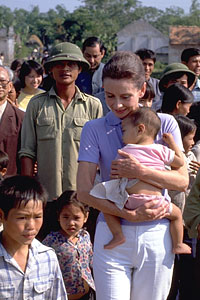 After an dazzling performance as Princess Anne in Roman Holiday, Audrey immediately flew into the Hollywood limelight. After acting in almost 30 films, she became what she considered the highlight of her life- a UNICEF ambassador. For five tireless years, Audrey traveled to over 28 countries helping children around the world. She performed all sorts of tasks including the polio vaccine project in Turkey, training programs for women in Venezuela, projects for children living and working on the street in Ecuador, projects to provide drinking water in Guatemala and Honduras, projects for schools in Bangladesh, projects for impoverished children in Thailand, nutrition projects in Vietnam and camps for displaced children in Sudan. As a result of her efforts, she received the very well-deserved United States' highest civilian award, the Presidential Medal of Freedom, in December 1992.
Near the end of 1992, Audrey was diagnosed with inoperable colon cancer. On January 20, 1993, surrounded by her friends and family, Audrey Hepburn passed away.
"Let us never forget those children who do not know peace,
who do not know joy and do not smile.
It is for these children that I speak,
children who cannot speak for themselves."
Audrey Hepburn - April, 1988
In 64 years, Audrey Hepburn was able to influence the future of thousands of children all around the world. She definitely fits my definition of a hero because of all her amazing and selfless charity work. She was the type of person that put others before herself. My hero is a person that may reach fame and fortune but their main goal is to make a difference in other people's lives and Audrey did just that.
"The greatest victory has been to be able to live with myself, to accept my shortcomings. ...I'm a long way from the human being I'd like to be. But I've decided I'm not so bad after all."
--Audrey Hepburn
I really don't know what type of person Audrey was aspiring to become. But honestly what she considered "not so bad" to me is a devoted humanitarian that I look up to. She may not be able to fly or climb walls, but she still is my hero.
Page created on 9/3/2009 12:00:00 AM
Last edited 9/3/2009 12:00:00 AM
The beliefs, viewpoints and opinions expressed in this hero submission on the website are those of the author and do not necessarily reflect the beliefs, viewpoints and opinions of The MY HERO Project and its staff.