Angelina Jolie
by
Angela from Poquoson
"If I think more about death than some other people, it is probably because I love life more than they do."
I believe a hero is someone who is helpful and caring, has perseverance, and is someone you can look up to. A hero is someone who sets a good example to encourage you to do good things. Angelina Jolie is my hero. She is helpful and caring towards others. She also has perseverance. She sets a good example for others to hopefully follow.
Angelina Jolie was born June 4, 1975 in Los Angeles, California. She is the daughter of actor Jon Voight and actress Marcheline Bertrand. Her mother died of cancer in the year of 2007. Angelina attended the University of Southern California School of Cinematic Arts in 1993. She modeled in Los Angeles, New York, and London. She became an actress when she starred in an HBO movie, Gia, in 1998.
Angelina Jolie sets a good example for people to do good things for others by doing charity work such as donating to the poor and helping people out, even if it's just a young child seeking a friend. She is a humanitarian. Jolie is also the good-will ambassador for the United Nations Refugee Agency. She showed she is helpful and caring by adopting two children. The first child she adopted was in 2002, a boy from Cambodia which she named Maddox. In 2005 she adopted a second child and she named her Zahara. Angelina Jolie and Brad Pitt later had a biological daughter named Shiloh. She was born in the African country of Namibia in 2006. In 2007 Jolie adopted another child which she named Pax.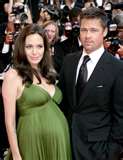 I believe Angelina Jolie has perseverance. When she was an early teen and throughout her mid teens she wore braces and second-hand clothing. She wore glasses and was often targeted by her distinctive features. She was extremely thin. When she was really young she made her first attempt at modeling and failed. Jolie had a very low self-esteem. This was when she went through a state of depression and wanting to "disappear." She went through cutting her wrist and self mutilation. She wasn't close to her father. They were fairly distant. I often feel the same feelings as she did. And in this way she and I are most alike. However, she went through the feelings and kept trying. She never gave up. This is a quality a hero should have. She shows me that it is possible to get through even the toughest situations.
You would never think that Angelina Jolie would want to "disappear." You would never guess that she would have time to care for others and to do charity work. She is a busy celebrity and has more movies yet to come. She didn't give up through tough times, dealt with it, and tried her best at everything she did. When she needed help, she helped others, rather than helping out herself.
Page created on 2/15/2011 12:00:00 AM
Last edited 2/15/2011 12:00:00 AM
The beliefs, viewpoints and opinions expressed in this hero submission on the website are those of the author and do not necessarily reflect the beliefs, viewpoints and opinions of The MY HERO Project and its staff.