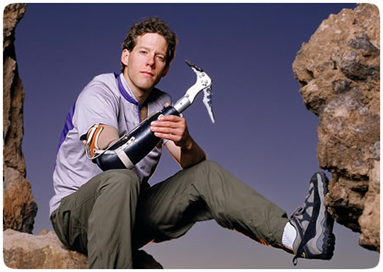 A hero is defined as someone who is distinguished by their exceptional courage, nobility, strength, and truly creates an inspiration for many. Heroic actions change people's lives; these actions can include being the best player on a team, finding a cure, creating inspirational beliefs, or even rescuing a helpless kitten that is stuck in a tree. Aron Ralston, the man who proved that as long as you have a strong enough will, you can accomplish anything and survive any situation. Aron is any average athlete, adventurer, and photographer who once was overly self confident and completely independent. That is until a bizarre life-changing accident occurred and changed his perspective of life completely. Aron Ralston is widely famous for being trapped by an eight-hundred pound boulder by his forearm in the Blue John Canyon, a very remote part of the area, having to amputate his own arm and travel a six hour hike until he was rescued. This unbelievable accident changed Aron's view on how to treat life and now is more cautious and grateful; he has learned to be reliant on others and to always leave a note behind before he travels. To have the strength and will to continue fighting to live after all positivity and hopes are gone is one of the key elements to be a hero. A hero must also want to make a better difference in the world. Aron Ralston possesses both the will to live and now the gratitude to make a difference; his inspirational story to live on no matter what drastic measure he had to take truly makes him a hero.
Works Consulted Page
Ralston, Aron, and Robert Saunderson. "Between a Rock and a Hard Place (Sep 2004)."NoveList Plus. New York: Atria Books 2004; Xiii, 354 P.: Col. Ill., Maps, 1 Feb. 2005. Web. 31 May 2012. .
Ralston, Aron. "Aron Ralston Shares His Incredible Story of Survival." YouTube. YouTube, 12 Nov. 2010. Web. 01 June 2012. .
Aron Ralston's amazing will to live makes him a hero because having the ability to survive his experience under such circumstances has inspired many that if you truthfully want and need to live on then you truly can! While being pinned to the wall by the boulder, this was the realization of his situation and the starting change of his perception on life:  "He had little food and water. No one would even wonder where he was until he didn't show up for work on Tuesday. Unable to sit, lie down, use his right arm (that was the part between the rock and the wall), or sleep, he knew right away that he was in for an excruciatingly difficult time. Those 120 hours of what he calls 'uninterrupted experience' tested to the fullest his physical, mental, emotional, and spiritual being" (School Library Journal, Saunderson). This shows that while his situation was extremely drastic and beyond miserable, this was the point where he thought of his final goodbyes and who good his life was before the incident. This was when he realized that all his life, all the things he has done up until before the accident, has led him straight to this point. This caused the dramatic change to create Aron's more heroic side to want to fix all his mistakes. Years after the incident, Aron continues to motivate others by telling them about how even when he was trapped, the thought of his final words would encourage him to fight: "It wasn't that I'd given up, I just knew; I wasn't going to be able to get myself free, nobody's gonna find me, and this is it. With my final words to the world, I said them and they were all about my family and my friends; my loved ones. And when I would say those things on the videotape. I noticed time after time I was smiling. Even if I had been crying. I was smiling" (Aron Ralston). Only the memories and regrets that Aron felt during these lonely days and nights kept his will to live strong and needs to return home greater than any pain that he faces. This helps prove that the memories of loved ones and all the happiness shared with one another really connects to the human mind like no other feeling like love that will ignite the spark of strength to carry on. The cherishment of family and friends will always be enough to boost up one's heroic strength and will to do whatever it must take to get back to them. 
The will to live and the continuation of making a difference in the world proves Aron Ralston to be a true hero as recognized my thousands after his terrible  canyoneering accident. Everyone has someone truly meaningful to them that give them a meaning to live on each and every day. Aron's family, friends, and other loved ones gave him enough courage to stare death straight in the eye and say, "No. I will live on," instead of giving up, for that kind of motivation and bravery is extremely rare. Even after his accident, he still bravely continues his climbing, hiking and exploring! Aron's courage, will to live, and motivation will inspire everyone who hears about his experience. Inspiration to make a difference in the world, live life fully without holding back, to live with no regrets, to never give up, and much more! Aron Ralston will continue giving motivating speeches and helping to support those who feel weak and want to give up. Be a hero, like Aron, and help motivate someone to do good and live life while they can. Share with everyone this inspiring quote: "When the world says, 'Give up,' Hope whispers, 'Try it one more time'" (Unknown author).
Page created on 6/2/2012 12:00:00 AM
Last edited 6/2/2012 12:00:00 AM