Aron Ralston
by
Anthony from Newark
Imagine staring death in the face, would you be afraid? If you were stuck in the same situation as Aron Ralston, what would you do? He had been climbing by himself for a while, he had scaled all 59 14,000-foot peaks, he did 45 of them solo in winter. He climbed North America's highest mountain Mt. McKinley. His incident happened when he was 27, he still had his life to live and wait till you hear what made him do what he did.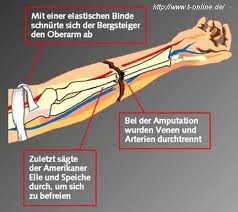 His arm had been pinned between a rock and the cliff walls in 2003 for six days. Aron had wrapped a tourniquet around his arm then snapped the bones and began to cut just below his elbow with a blunt pocket knife. He had been riding his mountain bike for a 15-mile ride to Bluejohn Canyon Trailhead. He had planned to canyoneer down Bluejohn Canyon and hike out Horseshoe Canyon. He had in his backpack two burritos, less than a liter of liquid, a cheap imitation of a Leatherman brand multi-tool which he used to amputate his arm, a small first aid kit, a video camera, a digital camera, and rock climbing gear.
Ralston was above the final rappel maneuvering in a 3-foot wide slot. He was trying to climb over a 800-pound boulder and it seemed stable, but as he was climbing down the other side it moved and pinned his arm. He had considered 4 things that could happen to him: someone would come along and help him, he would be able to chip away at the rock enough to free his hand, he could make a pulley with his ropes and equipment to move the rock, or he could amputate his arm. There was death but Ralston didn't want to think about that possibility. The pulley didn't work no matter what he did with it.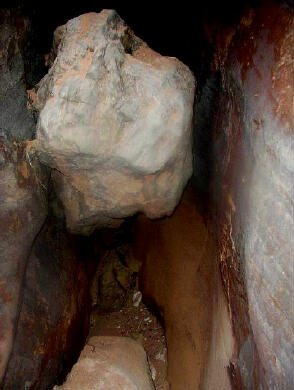 Temperatures dropped below 40 degrees at night but Ralston still tried to free himself. Sunday and Monday passed by and still his arm was far from coming free. He only got a short period of sunlight each day and he treasured every moment of it. Tuesday was when he ran out of food and water. Out of desperation he started saving his urine. It's now Wednesday and he still hasn't made much progress. That's when he started sipping on the urine he had been saving. He had recorded a message to his parents with his video camera. He honestly thought he was going to die to the point to where he had carved his own epitaph into the cave walls. On Thursday he said that he had saw a premonition of his future son. On Friday is when he started cutting away.
He later met his wife and now has a son which he says saved his life. And even though this happened he still does all the same things he did before the accident. He inspired me to always do what I love, no matter what life throws at me.
Page created on 10/8/2012 12:00:00 AM
Last edited 10/8/2012 12:00:00 AM
The beliefs, viewpoints and opinions expressed in this hero submission on the website are those of the author and do not necessarily reflect the beliefs, viewpoints and opinions of The MY HERO Project and its staff.