Andrew White, 'the Vicar of Baghdad,' aids Iraqis of all faiths
by Jane Arraf
Correspondent of
The Christian Science Monitor

The Baghdad church run by the Anglican priest provides food, education, and medical services to nearly 5,000 Iraqis in need.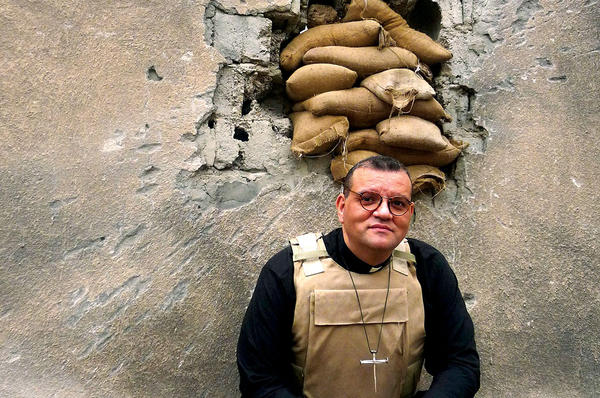 Courtesy of FRRME
BAGHDAD - Outside the brick walls of St. George's Anglican Church the concrete barriers, soldiers, and police with bomb detectors are a reminder, if anyone needed one, that, in Iraq, violence is never far away.

Inside, the Rev. Canon Andrew White has created an oasis of calm and support – and until recently an unlikely space for reconciliation. The Anglican priest from Coventry Cathedral in England first came to Baghdad amid rising tension between the West and Iraqi dictator Saddam Hussein in 1998 as part of a mission to try to avert war.

When those efforts failed, he turned to reviving the abandoned Baghdad church, damaged by nearby bombing in the 1991 war and then looted in 2003.

As well as spiritual comfort, St. George's now provides food and other assistance to nearly 5,000 Iraqis of all religions. It has also restored a sense of community that was one of the first victims of the religious violence in Iraq.

"I felt an immediate connection here," says Mr. White, who, before he was withdrawn in October because of security threats, had spent more than half of every year in Iraq for the past decade. "When I first came here it was bad, and we thought it wouldn't get worse. But it's far worse now than it ever was in the old days."

White says more than 1,000 of his parishioners have been killed in the past five years – most of them in bombings but some in targeted killings designed to terrorize Christians and other minorities and drive them out of their homes. An increasing number of those who are left are fleeing to Turkey or Jordan. But there are still hundreds of thousands of displaced Christians in desperate need of support.

On a recent Sunday, White officiated over evening mass – the church filled with Iraqi worshipers who had come from all across a city where the Christian population has dropped by more than half since the 2003 war that toppled Mr. Hussein. Women with traditional lace head scarves covering their hair stood next to teenage girls in T-shirts and tight jeans – part of the vanishing cultural freedom that had characterized Iraq for decades.

The young women in the choir exuberantly singing hymns have set aside their fear and worry over relatives in even more precarious parts of Iraq. Children – black, white, and disabled – scramble to stand next to White as he waves his arms in time to the music from an electric organ.

Next door in a church annex dozens of Muslim women chat, waiting for parcels of food that include frozen chicken and cartons of milk to be handed out to anyone who registers.

White's organization, the Foundation for Relief and Reconciliation in the Middle East, also helps destitute parishioners pay their rent, provides funds for children to go to school, and supports disabled Iraqis. As part of its outreach program, White and his assistant, Sarah Ahmed, visit parishioners in their homes and in orphanages and psychiatric hospitals. The work is funded through donations raised around the world.

"We've still got thousands of people in this church because we provide everything," White says. "We provide the clinic; we provide food every week. We have a school now. So we try to have a holistic approach to providing for their needs so they're not just in a pew on Sunday."

His relief work has underpinned efforts to reconcile religious communities both from the ground up and through top religious officials. Three years ago amid attacks on Iraqi Christians in churches, he persuaded Sunni and Shiite Iraqi imams to meet in Alexandria, Egypt, with Christian and Jewish leaders – drafting a declaration that Christians were an integral part of Iraq and that their murder is un-Islamic.

White, who has studied Judaism and attended a Jewish religious school in Israel, helped negotiate an end to the 2002 siege of the Church of the Nativity in Bethlehem, in the West Bank.

Dr. Ahmed, who is director of operations for the foundation, is Muslim. A dentist by training, she treats patients in what has become one of the best-equipped clinics in Baghdad. The clinic includes medical and dental facilities as well as a pharmacy, laboratory, and X-ray lab – all on church grounds.

On a recent day, the waiting room was filled with young mothers, older patients, and a few Iraqi policemen.

"We provide quality health care for people who can't afford to go to a doctor or a dentist, and we don't treat them differently just because it's free," says Ahmed, who is also a key figure in White's religious reconciliation efforts. "We have our own budget so we can provide for people who have no place to stay – we pay the rent, we distribute food, we visit poor families and give them love. We don't differentiate between Christians and Muslims."

White and Ahmed also deliver and distribute food in northern Iraq, where hundreds of thousands of Christians and other Iraqis have fled the Islamic State group's takeover of their traditional homeland in the Nineveh plains. They also provide emergency funds to families from the parish who have fled Iraq for Turkey to seek asylum.

White, who towers over most Iraqis, is a magnet for children. At the kindergarten he leads them in songs – his tortoiseshell glasses and cherubic cheeks making him look like an overgrown schoolboy. When he sits down, he is mobbed by children wanting to climb into his lap.

At an impromptu game of soccer on the church lawn after a Friday youth service, White sets aside the cane he uses and kicks the ball around with the teenage boys. Walking back to the church he hugs almost everyone he meets.

In addition to his own two children in England, White has informally adopted five Iraqi children – taking care of their living expenses and educations. On a recent day 13-year-old Ammar came with his mother – who had been forced to marry a senior government official before the war. Ammar was 6 when White baptized him.

"He said to me, 'Will you be my daddy now?' " White recalls. "I said 'Yes, I will.'"

"With intelligence and exuberant energy allied to a profound personal faith, he would be a force to be reckoned with in any walk of life," writes Lord Carey of Clifton, the 103rd Archbishop of Canterbury in a forward to one of White's books, "The Vicar of Baghdad." "But what sets him apart is his capacity to love and be loved.... Andrew is truly one of the most remarkable men I have ever encountered."

Earlier this year, White organized a reconciliation meeting in Cyprus that brought together an Israeli rabbi along with Iraqi and Iranian imams. He says he hasn't abandoned those efforts but that they have been set back by the war rekindled by the takeover of large parts of Iraq by Islamic State militants.

"Everyone is fearful," he says. "We still want to do key meetings, but how do you consider reconciliation when at the moment what you're trying to work for is keeping your people alive?"

White says he reluctantly agreed to the order he received from the Archbishop of Canterbury to leave Baghdad, but says he plans to continue his work in the north of Iraq and to keep on with his reconciliation and relief efforts in Jerusalem and Gaza.

"I made a promise to my people," White says when asked recently why he had stayed in Baghdad despite the danger. "I told them 'I won't leave you if you don't leave me.' But now I can't keep that promise – I can't tell them to stay if they are in danger."

- To learn more, visit http://frrme.org.
Page created on 11/19/2014 12:00:00 AM
Last edited 1/4/2017 11:06:13 PM
The beliefs, viewpoints and opinions expressed in this hero submission on the website are those of the author and do not necessarily reflect the beliefs, viewpoints and opinions of The MY HERO Project and its staff.
Extra Info
How to take action
Universal Giving helps people give to and volunteer for top-performing charitable organizations around the world. All the projects are vetted by Universal Giving; 100 percent of each donation goes directly to the listed cause. Below are groups selected by Universal Giving that promote peace and community development:
• Volunteers For Peace organizes volunteer opportunities in the US and abroad as a means of intercultural education and the promotion of peace. Take action: Find a volunteer opportunity in the Middle East.
• Global Citizens Network provides immersion experiences for volunteers. Take action: Renovate a school in Tanzania.
• Asia America Initiative builds peace, social justice, and development in impoverished, conflict-plagued communities. Take action: Support refugee relief for displaced families.